Getting last week's blog posted was really an adventure. All the trouble had to do with something my son called a "replicating virus".
Oh well …
~~~
Autumn is upon us in many ways … some expected, some not.
Dawn is coming later and dusk earlier (the ladies are in their house and up on the perch by 1930).
The hummers are mostly gone. I've left out one feeder just in case. It will come down in a week or so.
The fawns have lost their spots.
The sand cranes are still in the meadow. They were right beside the drive entrance one day last week. Such majestic birds … and so grating on the ears. However, it was just the pair. The fledglings are gone.
~~~
Follow-up with George's back and hip has been determined. The neurologist said he didn't see anything which caused him to" jump up out of his chair" (and that's a quote) to order immediate surgery or intervention … and George's VA medical provider said "Whew".
The current regime calls for continuing the joint specific supplements, adding back stretches to his daily routine (to re-train his muscles as to how they are supposed to function), gradually lowering the back on the lounge chair in which he is currently sleeping with a goal of getting him back in a real bed, using the pain pills as needed, and a follow-up appointment in October.
We're both still doing well for a pair closing in on 90. George says he plans on living until he is the last of the WW II vets.
~~~
Further thought in re which performer dictates style when sharing work on a piece of musical art … who decides, a singer or the conductor? a dancer or the conductor? the choreographer or the dancer or the conductor? the director or the choreographer or the dancer or the conductor?
I suppose it doesn't really matter to anyone other than the artists involved.
However, in answer to last week's question about soloist vs conductor … a friend of a friend gave me some answers. The friend of my friend played French horn professionally, including with one of the major symphonies in Australia, and his wife is a pianist … so he has backstory for his reply.
"… soloists and conductors usually work together on interpretation, though it is generally the orchestra and conductor's responsibility to work within the soloist's overall concept of the piece.  There are conductors who are famous and beloved by soloists as "accompanying conductors", and others who are famously combative with soloists.  Of course all this varies depending on the personalities involved.  A young pianist may welcome performing with a great orchestra and conductor as a learning and developing experience, while conductors  –  even famous ones  –  usually defer almost completely to big time opera singers.  I also imagine that by now there is not a conductor in the world who would argue with Itzhak Perlman.
Men's wear in most orchestras is usually very specifically described, often within the orchestra contract.  Women are usually asked to wear something like "appropriate black concert attire", which these days may include dresses or pant suits.  My sense is that there are rarely conflicts about women's wear, though I do remember a very busty cellist who was once asked to raise her necklines in order to minimize her distracting décolletage.
While many conductors consider it a point of honor to wear the same "uniform" as the orchestra, I have noticed in recent years that many young conductors wear modern variants of traditional concert attire.   For example, Yanick Nezet-Seguin, the current music director of the Philadelphia Orchestra, has a closet full of beautifully tailored modern formal suits but rarely wears a necktie, and when he does it's usually a long tie rather than a bow tie.
The growing number of women conductors mostly wear what I would call feminized versions of men's formal wear. I'm given to understand that conducting in a dress presents a number of, er, logistical challenges, it can be distracting to the audience, but you still see it from time to time.
I found his response so interesting I thought I'd share (with his permission, of course). After all, where else are you exposed to such profound trivia?
Thank you, Craig, for the response. It triggered more thoughts.
I was particularly interested in the bit about the attire of women conductors. That hit home since it didn't take me long to switch from skirts to pants when I started work as an emergency nurse. Can you visualize a nurse on her knees up on a gurney (been there – done that) … or on her knees on the ground (done that too) … with her rear in the air administering CPR?  Just a bit distracting as well as extremely undignified, even if you have great booty.
~~~
Last week I read an essay about "dark ages". The premise was that disdain for knowledge is the trigger for descent into a dark age; that erasing knowledge of what existed before thereby creating an absence of not only knowledge but of memory as well needs to be seen as the precursor.
A premise worth further thought …
http://www.npr.org/sections/13.7/2015/09/01/436519649/science-knowledge-and-darkness
~~~
Up in Medford, there is a business whose commercials on the local telly station always make me smile in spite of the fact I will most likely never use their services.
They have been in business for over 60 years. Their company name is "Father and Sons Jewelers". They buy and sell jewelry and precious metals.
What catches my attention is that the patriarch of the family is just plain fun. It would be a good bet that he was probably a grandson when the business was established … BUT he had a daughter who had a daughter.
Their commercials are always interesting. At the 4th this year, Dad/Grandpa dressed in an Uncle Sam hat holding a sparkler and did a little dance to Yankee Doodle while being watched, with slight head-shaking, by two Lady Liberty statues. Last Christmas, he was a rather frayed Santa who was rejuvenated by a pair of wand waving elves.
You get the idea.
Currently Dad/Grandpa is a solemn business man assuring you that you will be treated honestly and fairly by "Father and SONS" with all transactions taking place out in the open … no backroom weighing. He stands between the girls who are watching him intently. He is so sincere it isn't until the daughter gives him a pie in the face and he says (while wiping off the shaving cream) "This was supposed to be a dignified commercial" that you notice the girls are wearing big, black mustaches and the daughter points to her mustache saying "And this is dignified?"
I may stop in sometime when we are in Medford just to tell them how much I enjoy their commercials.
~~~
Last week's reading included articles about racism and prejudice, both purposeful and unconscious, which got me thinking about myself.
I consider myself to be without group prejudice. I do hold prejudices against individuals based on personal interactions or publically exhibited behavior.
So it struck me as interesting when I realized I was aware of the increasing number of non-whites on the television we watch. What struck me was not any opinion concerning the change but that I notice. I found myself wishing it were so common place I didn't notice at all.
~~~
Cooking is prominent this week … including a lesson in faith and trust.
Despair over no garden this year and the loss of the supplier of tomatoes for preserving (sauce and salsa and Ruby's soup) led to a request put out into the universe. Ask and you will receive. Last friday a friend whose garden (up in Oregon) did well this year called to say she is unable to handle her tomato crop, would I please take them so they don't go to waste.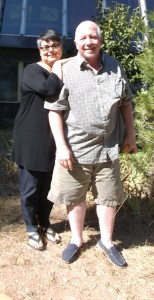 Friends stopped by yesterday … ribs, sauté green beans, green salad, fresh hot bread, watermelon, or ice cream with central valley peaches/Happy Camp blackberries and cookies
Radio club swap meet and potluck coming up this weekend … green salad, tamale pie, and brownies. Others are bringing beef something, pizzas, pilaf, pie and who knows what else. I hope someone brings deviled eggs.
~~~
Recently finished reading a book from the NPR list … "In a Dark, Dark Wood" … a Gothic style mystery. I grok Gothic … lots of build-up and atmosphere. This book had an interesting non-ending. It's worth an hour or two.
~~~
A thought on Random Acts of Kindness, Ripples, and the Butterfly
Effect …
Rabbi Nachum Braverman writes, "On Rosh Hashana we make an accounting of our year and we pray repeatedly for life. How do we justify another year of life? What did we do with the last year? Has it been a time of growth, of insight and of caring for others? Did we make use of our time, or did we squander it? Has it truly been a year of life, or merely one of mindless activity? This is the time for evaluation and rededication."
L'Shana Tovah and Aleichem Shalom …
~~~
Last wednesday, clouds began to build over the Eddys …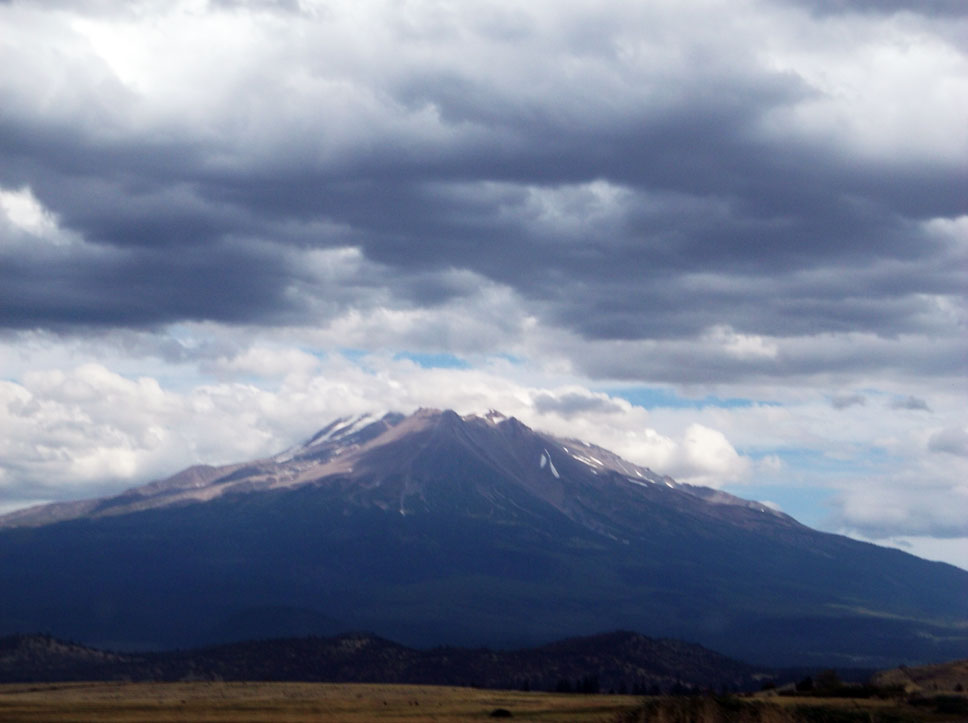 and the Mountain welcomed the rain last friday evening … drops large enough to bang on the chimney topper.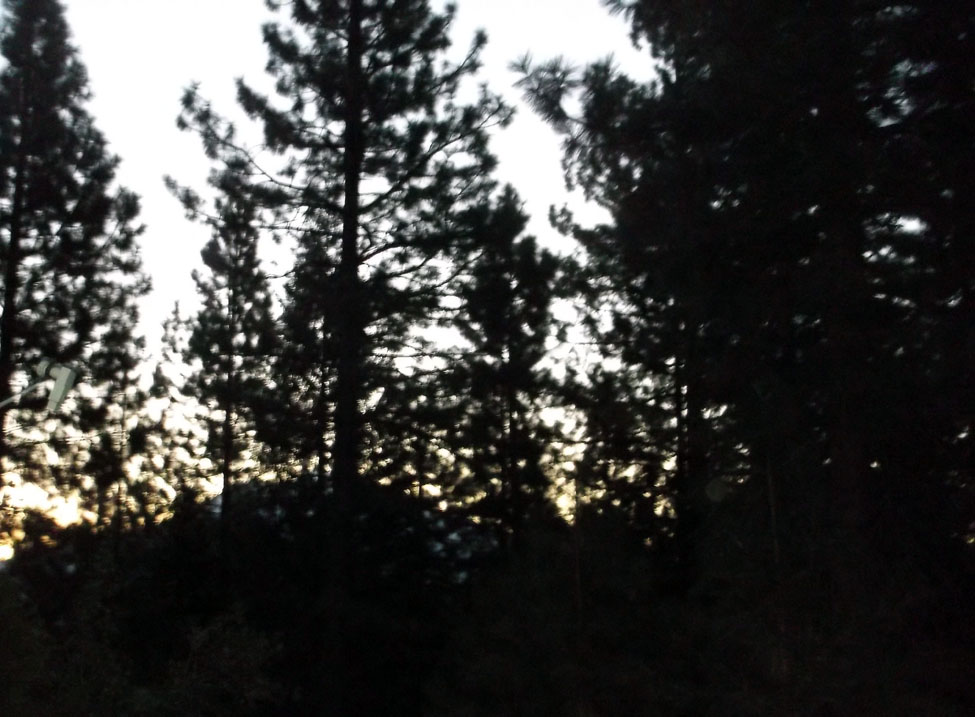 Weather this morning is clear … but no sunrise yet.
~~~
… and your "ponder" for the week …
Dancing is dreaming with your feet.
I'm sure I was a dancer in a previous incarnation. I can feel the movements while watching … just can't do it this time around.
So … 'til next week …