27 January …
Weather …
Thursday  –  warmer with wind, out after mail
Friday  –  rain all day with wind after dark
Saturday –  rain and snow with melt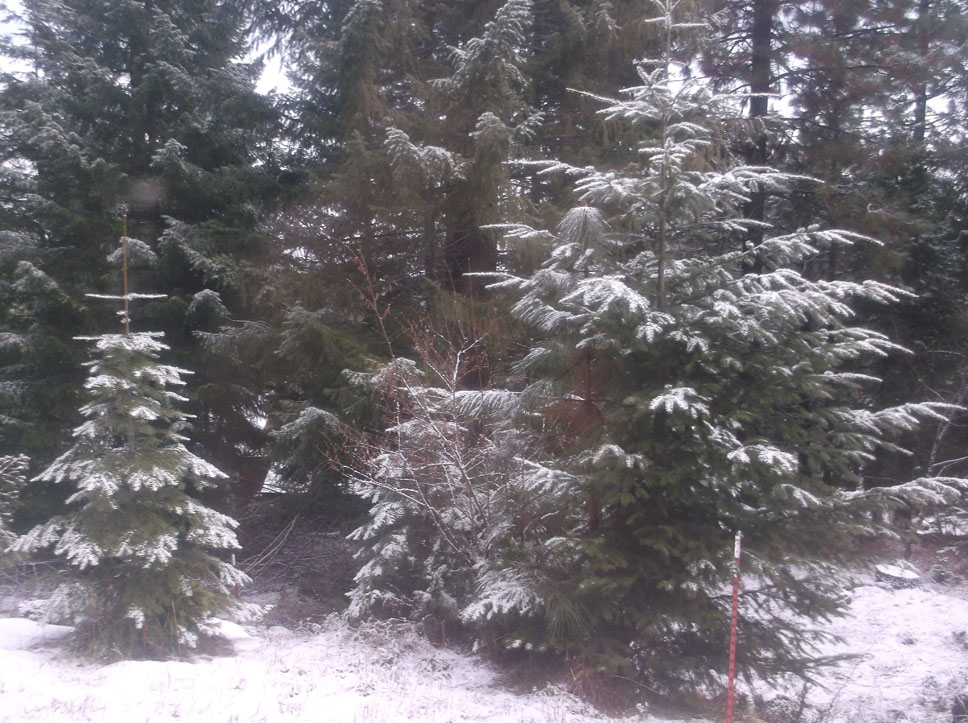 Sunday  –  light snow with no accumulation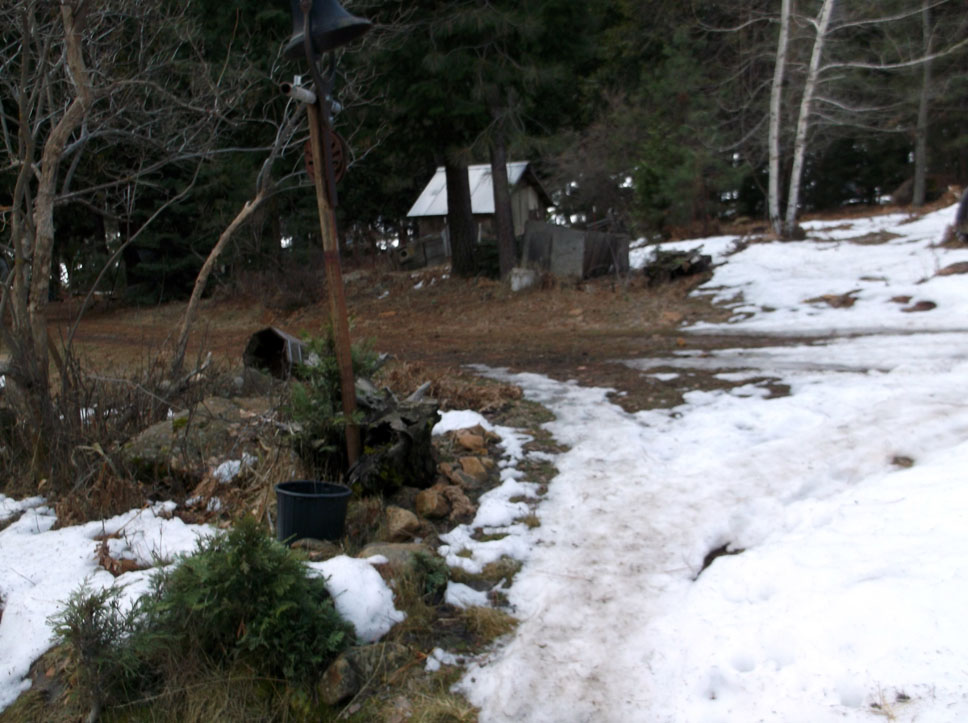 Monday  –  cold sun with melt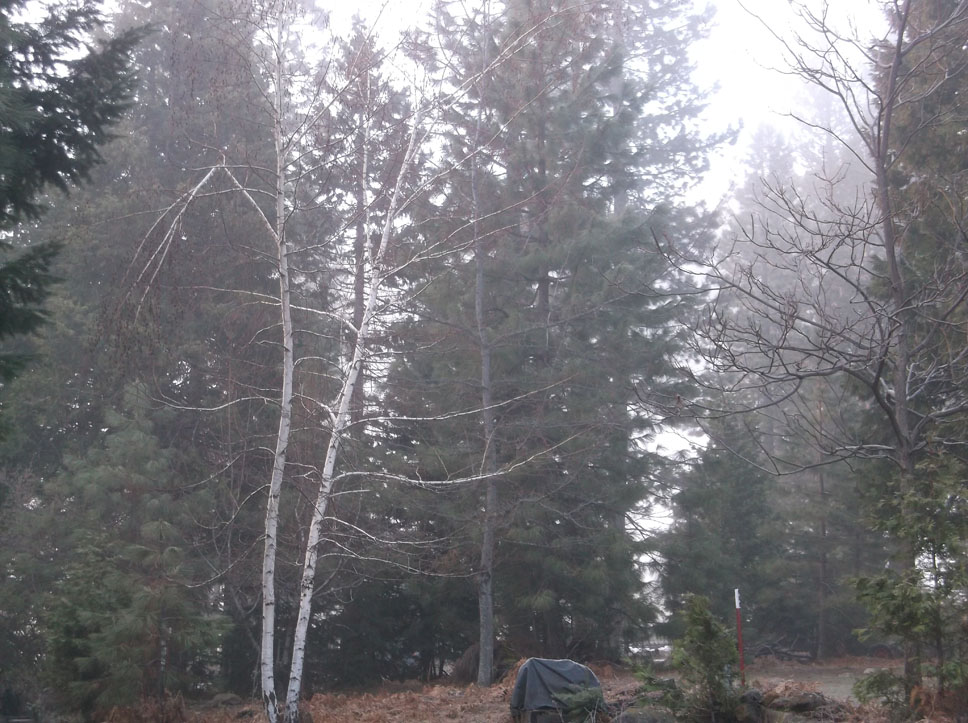 Tuesday  –  fog at home … clear and sunny, but chilly, from paved road to  Medford and back … fog at home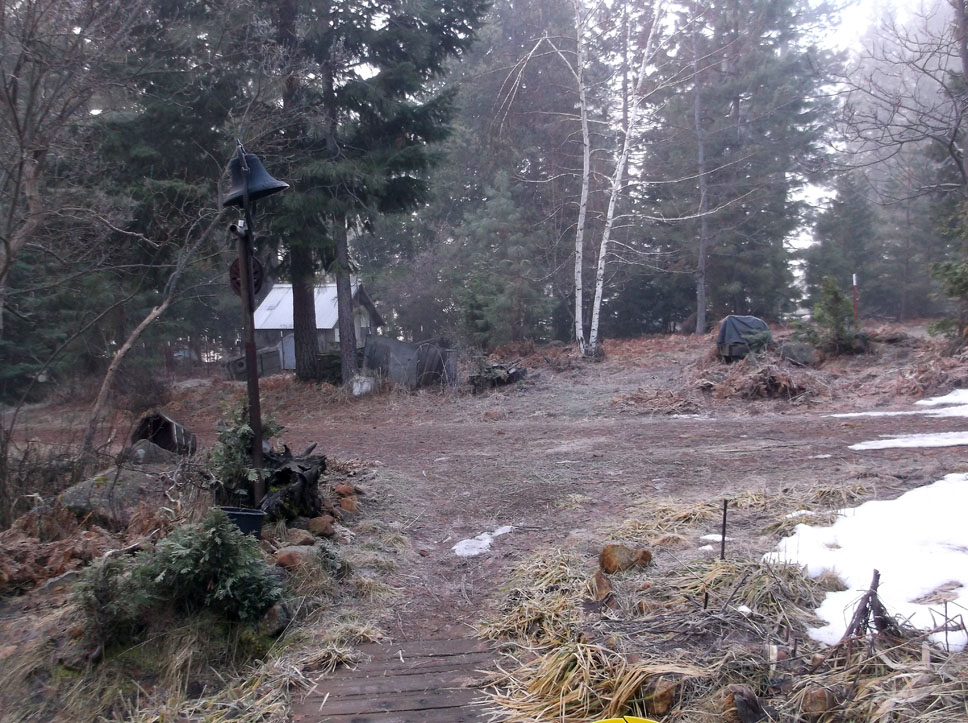 Wednesday  –  clear and cold  with light fog
What good is the warmth of summer, without the cold of winter to give it sweetness?    — John Steinbeck
~~~
The trip to Medford was interesting. 
The fog that we had at home stayed with us, but high, with a layer of wood smoke close to the ground.  The surrounding mountains were hidden.  We could have been in Kansas except for the rising elevation of the highway.
Low areas all along I-5 were muddy and brown with the cattle huddling on the high ground, and in a field north of Yreka someone was shower irrigating.
The railroad between Weed, California and Roseburg, Oregon is running again.  We were run over by a freight (railroad bridge) north of Hornbrook.  Wouldn't it be nice if they could add a passenger car a couple times a week?
These are the things that keep travel over that route from getting monotonous.
~~~
Once again I missed my session at the Family History Center.  Our driveway and the section of road down the hill were not in the best of condition last thursday.  Guess I won't be working on the genealogy for the neighbor until at least February.
~~~
We were able to watch the Met production of "Il Trovatore" on PBS friday evening.  It was interesting for a couple three reasons. 
I am not a Netrebko fan. Part of that may be because she pushed Fleming out of her place at the Met.  I also think her middle range is not as clear as Fleming's.  In "Trovatore", there were at least two places where she was obviously straining.  Her range seems to be getting lower, almost mezzo.  That made me wonder (another orchestra question here) if the key is ever shifted to accommodate a "star".  In addition, age and pregnancies are not being kind to her.  She is looking more and more like Montserrat, still pretty but on the chunky side.
Second thought was that evidently I had never listened that closely to the nuances of the story.  George thinks Tosca is silly.  I think Leonora is simple … at best.  And I kept seeing Kitty Carlisle as Leonora.
But the capper was to learn that Dimitri (you remember Dimitri) had been diagnosed with a brain tumor early last summer.  It affects his balance but not cognition or speech.  As a result, he is limiting his performances while he has treatments in London. 
~~~
We had been looking forward to the Met opera saturday morning, as we do nearly every week.  Last week the incompetence of those currently running our Southern Oregon University NPR station made it impossible for us to hear and enjoy "Tannhauser". 
Ever since we were first able to hear what was then KSOR back in the 80s, we have been members of that NPR service and its subsequent repeater stations which became JPR (Jefferson Public Radio).  For years, these stations were headed by a man named Ron Kramer.  Under his leadership the expansion to cover a broad area of southwestern Oregon and far northern California with quality programming occurred.  The original KSOR became three services … Rhythm and News, Classics and News, and News and Information (an AM provider of more local news).  Currently, all three supposedly serve this area.
With Ron at the helm, several attempts to cutback on this service, such as religious station incursions and a rival NPR outlet based to the south in Chico (without the variety of programming) which wanted exclusive access to Redding and northern California, were thwarted. 
Also under Ron's leadership, a long abandoned Art Noveau movie theatre in Redding was renovated and turned into a profitable venue for a broad spectrum of art, and renovation on a similar theatre in Medford was begun (and has since been relegated to the back burner).
Then something happened … something BAD.
A couple of years ago, a new President took over at SOU.  I don't know all the details, but what I have heard indicates she brought some new Board members with her …
and Ron was fired.
The reason given was that he held conflicting jobs as head of the radio system and as leader of the fund raising group for the system.
He was replaced by another who was given the exact same jobs … and both programming (the laughing car boys on Classics?) and service (reception has deteriorated big time) went out the door.
In the past, required fund-raising occurred twice a year with the rest of the time being clear of those incursions.  Now requests for funding is an every day, all day occurrence. 
NPR is supposed to be free of commercials.  We are now subjected to supporter commercials at the rate of at least four or more every hour (except during the opera).
In addition, outages when one or more, and sometimes all, of the services are off the air have increased exponentially.  We lived with occasional weather interruptions for years, but this is different. The interruptions are more frequent and last longer.  The latest one lasted 2 and a half days.
We have no other radio source for classical music (including the saturday operas).  We are old and live on a fixed income.  We can't afford unlimited internet access or satellite radio.
We will not be renewing our membership until these situations, which seem to be based on someone's need for personal power, have been corrected. 
End of rant.
~~~
Paul Michael turns four tomorrow.  We will call him and sing to him … poor kid.
~~~
Another fallout from the death of Bowie.
https://www.youtube.com/watch?v=9G4jnaznUoQ
Sounds okay to me.
Be sorry for the things you were never brave enough to try rather than those you were.
~~~
If you ever want a lift, check out the Capeless Heroes Facebook site.
~~~
So … 'til next week …