28 December …
For those of you who celebrate Christmas … I hope your day was spectacular.  John and our neighbor Eric were here for dinner.
For those of you celebrating Hannukah … may light and blessings be yours.
For those of you three days into Kwanzaa … may your example spread the attributes necessary for a good world and may good food and fun be yours.
And to all of us awaiting a New Year … Mazel Tov.
~~~
For this house … what a ride.
Mark and family are still in New York state, and that distance is not one I would choose.  It will be rectified by this time next year.
Last wednesday, when we got home from the radio club party (at which I drank only sparkling cider), as I was going down to the back door I took a header and wound up in a most ungraceful position …
Fortunately John was at the house, so I had two rescuers. 
My injuries were an abraded right knee with a bone bruise which made bending that knee rather difficult for several days, a hit to the little finger side of my left hand which resulted in a bit of swelling and some bruising to my pinkie and ring finger areas (which made knitting and spinning out of the question for a day or so),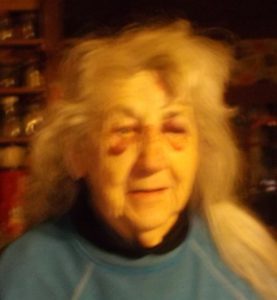 and an abraded forehead with a couple of impressive goose eggs as well as bilateral shiners complete with king-sized red bags under both eyes.
I'm not sure how I managed to injure my right knee, my left hand, and my forehead with just one fall. John says it is a good thing I bounced rather than broke so maybe I did bounce.
I am so grateful for the care given me by both George and John.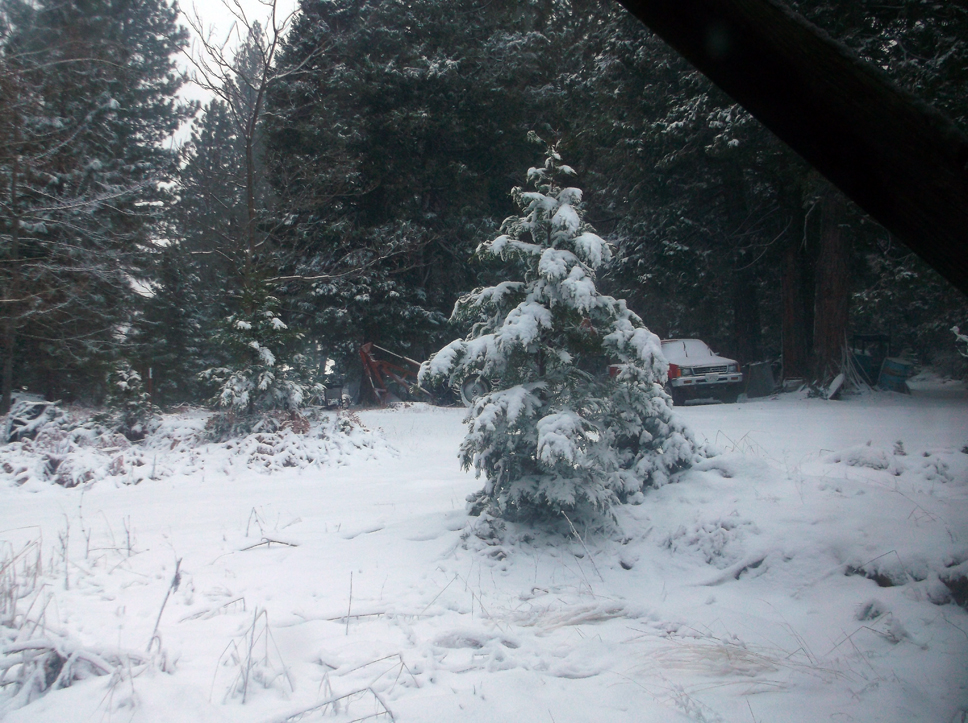 On Christmas Day, John arrived not feeling well.  He had stomach pain and bilateral lower abdominal pain.  He had shoveled snow out of his new driveway the day before, had no nausea or fever, and no obvious point pain, so we concluded it was muscles not used to shoveling snow.  But pre-dawn on the 26th, he was in Emergency being prepped for an immediate appendectomy.  All went well and he will be out of hospital today or tomorrow.
During dinner on Christmas Day, George experienced a food block at the entrance to his stomach and was unable to move it in either direction.  It took until 0200 the 26th for it to break loose.  Neither of us got much sleep that night.
And, because of the COLD weather, there is a break in one of the water lines in the hydro-electric system out in the meadow which means we are temporarily on electricity use restriction.  As soon as things thaw, it will be repaired.
George is once again able to eat and drink without problems.
John is repaired and soon will be at home recovering.
And my face no longer resembles a Hallowe'en mask, although I still have slight shiners.
2017 will be better …
I still believe in miracles …
I do, I do, I do …
~~~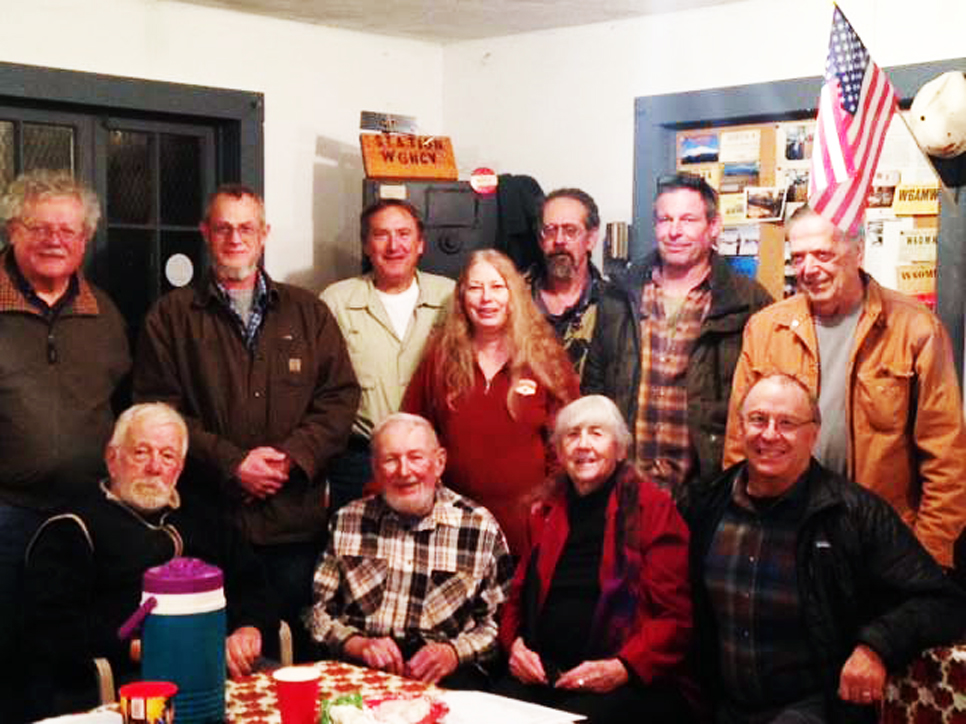 The holiday party at the radio club went well.  Thirteen people were there (including two wives who are not in this club picture).
The food was spectacular.
The conversations were entertaining.
And the "Who the Devil is THAT?" game was a much bigger hit than I had expected.  The remarks and sharing and laughs were well worth the time spent getting it ready. 
Not a single member identified everyone.  The most identified out of the fifteen photos was six and that was by one of the wives who is not a club member. The prizes of stemmed glasses with sparkling cider and mugs with cocoa mix went to three members, each of whom got five correct. 
Next year (if I am still responsible for planning the potluck) we will play RADIO bingo and the prizes will be rice bag bed warmers.
~~~
AC and Fluffy have taken up cohabitation in the old dog house which allows them to look in the back door to watch happenings in the kitchen and dining area.  Because of my allergy, they are not allowed in the house and I have to wash my hands thoroughly (the ABC song hummed through twice while soaping) when I come back in after petting.
Fluffy has taken to caressing one ankle while AC rubs the other.  She allows me limited petting permission (only if AC is there to protect her).  And they now share food without any growling or hissing.
~~~
We had snow last friday …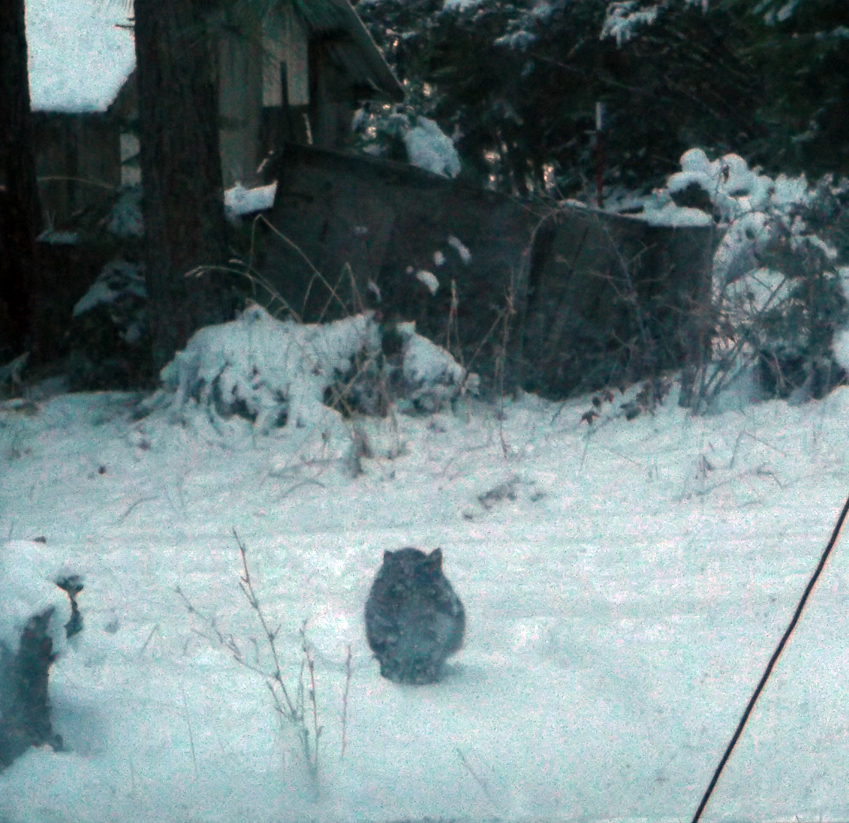 which is still with us …
and on Christmas Eve a car with its rear off the road at the base of our first hill nearly closed High Meadow Road.  It was a young city couple who had rented a small house up the road from us for the weekend (a couple of the "new" owners on Hammond  Ranch have their places listed on AirBnB). 
On his way here, John rescued them.  We didn't hear from them later and the car was no longer blocking the road on sunday, so we think all went well.
~~~
P.S.  At the time I fell last week I was carrying a bag containing a pint of IPA given me by one of the radio folks and the remainder of a bottle of Cabernet which no one else would take home … and neither bottle broke !!!
~~~
Ready to start the New Year?  Maybe Ray Bradbury said it best …
 "Go to the edge of the cliff and jump off. Build your wings on the way down."
So … 'til next year …