30 September …
Still well up on the list of things I'm thinking about this week are the Pope's visit to the US …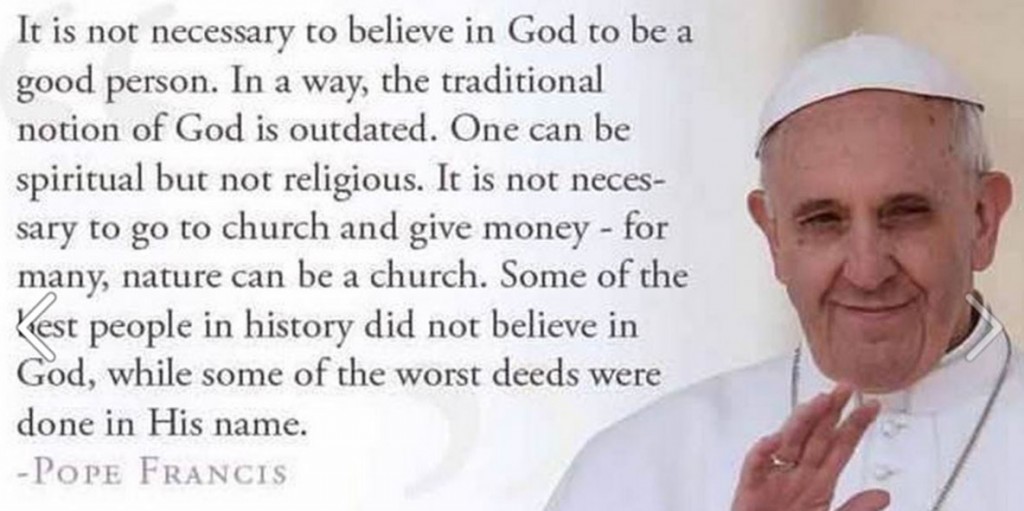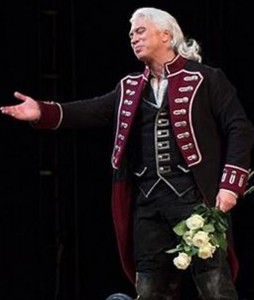 and Dimitri opening the season at the Met as the Count in "Trovatore".
~~~
Well … the event in McCloud went as well as could be expected  … in spite of the failure of one member to engage until just hours before the event, even though he was supposed to be in charge, leaving the club to go it without him. On friday he suddenly surfaced with plans.  I was angry. 
His behavior left the club in limbo (and with egg all over its face) as well as putting George on the spot because the event sponsors contacted him for information and planning when Larry failed to respond to any and all contact efforts.
For the first time in a long time I came home from one of these events exhausted by down.  The radio frequency hadn't been checked and so communication was poor.  That meant those of us in the field were a tad short of information.  Then the net control went home before all the riders had returned to the finish line.
I will have a couple of things to say at the follow-up.
Kvetch Kvetch Kvetch …
One side note … In spite of protests that we get only what other volunteers get, they gave us food chits to be used at any of several places in town.  George and I had planned to stop at Casa Ramos on the way home, but free is free and we went to Floyd's Frosty to have not just big but juicy Juicy hamburgers, fries, and an IPA.
~~~
I went out into the pasture sunday evening to see the Blessed Moon.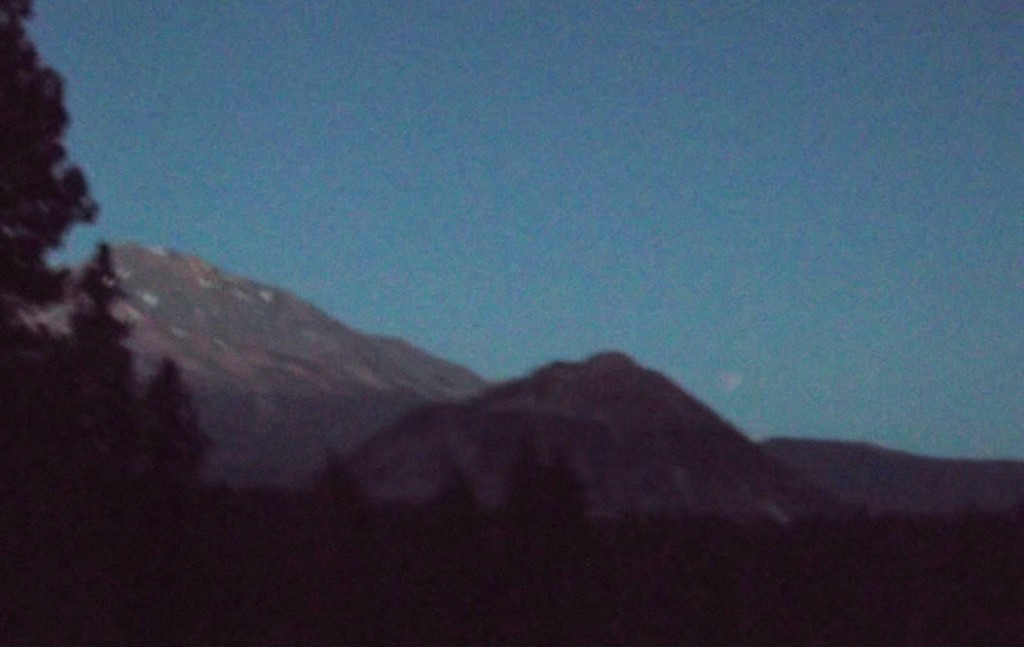 When I first saw her beside Black Butte I wasn't sure it was the Moon.  I thought it might be a small cloud.  There was still sun on the Mountain and the small spot of something I was seeing didn't seem to have a definite shape.  Can you see it?
It took a few seconds, maybe even a minute, to accept that what I was seeing was the Moon in almost full dark. 
As she moved higher and a bit away from the Butte, her shape became more clear.  George joined me and we shared the moments.  I could hear a train, an owl, and some coyotes as sound track for the show.
I had my camera with me and tried to take some pictures, but I'm afraid it wasn't up to the task (as you see in the photo above).  There are so many good pictures available so it was no big deal.
As she passed full eclipse, and a light spot began to show, it became apparent there had been a moon-watch party up the road.  I had heard voices when I first went out, and had seen what looked like a flashlight.  But as I started toward the house, cars began coming down the road.  I counted seven before I got to the house.
I'll be only 103 next time the Moon puts on this kind of a show.  I wonder where I will be to watch …
~~~
Latest "Father and SON Jewelry" ad has grandpa singing and dancing in the rain, ala Gene Kelly, on the sidewalk in front of the store and being accused by the girls of being a romantic when he suggests that a diamond might be a good way to express love. He grins and glows in response as he says "YUP".  Fun …
~~~
I'm currently caught between joy over events involving the County Tobacco Education Council and holding a pity party.
The project I've worked at for so many years (i.e. getting the County Board of Supervisors to let go of some of the Tobacco Settlement monies for use by the TEC, and then implementing some of the ideas once the money was made available) is bearing fruit.  Last year, before I resigned due to family needs, we were allowed $3,000 which was used to hold educational seminars for teachers, nurses, counselors, and others in places from which the word could spread as well as to introduce a computer facial morphing program (which ages faces with and without tobacco use) to events attended by teens.  Both were successful and done on the cheap. Not all of the money was used.
A fairly new member of the Council, who took over as Presiding Officer when I resigned, took a proposal to the Board of Supervisors the middle of last month asking for another year's funding.  The BofS was impressed enough with what had been accomplished this year they gave the Tobacco Education Council $5,000 for the next fiscal year.
That's the joy part.
The pity part comes in with the news that one of the nationally funded groups serving Siskiyou County wants to do an article in it's national magazine highlighting my successor and his accomplishments … interviews and photos and the whole nine yards.
That has happened before when I've worked on a project or created something and someone else gets lauded so I sort of expected it.  Still, in spite of personal glory not having been an impetus and feeling real pride over my work's success, …
Poor Me.
~~~
Remember I mentioned a man called Little Bear a couple of blogs ago?  He is a puzzle.
His anglo name is Al Bartow.  He says his father was a blue eyed, blond white man but he looks native American.  He claims membership in two tribes and a blood line in a third.  He talks electronics and other engineering with knowledgeable ease and recites prayers in Karuk and Bear tribal languages fluently.  He leads spiritual treks on the Mountain but goes above Panther Meadow which most of the natives I know consider a no-no.  He makes prayer rattles and talking sticks of deer horns and asks hundreds of dollars for them.  He claims he has "sponsors" who give him millions and, when he can't spent it all, tell him to give it away … $700,00 last year.
He is either one very unique individual with strange and unique support sources, or one top class charlatan.
I hope I get a chance to talk with him again.
~~~
Did anyone else notice the voice coming out of Putin's mouth at his speech to the United Nations last week?  Someone in the translation assignment department has a real sense of humor. I giggled as I watched Putin expounding in a soft female voice.
~~~
Our every-five-weeks visit to the retinologist was yesterday.  George is a bit down over having to go to the doctor every few weeks forever and over the fuzz in his right eye since the last injection.  He had thought a short series of shots and all would be over and done.  He is now getting concerned about the grant which is funding the injections running out.
It is turning out as I had thought … the rest of our life will be arranged around medical appointments. There will be four next month.
Good aspects are that he likes the new doctor, and we get to hit Sizzler's all-you-can-eat salad bar as well as CostCo and Harbor Freight on these trips to Medford.
And this time we made a stop at WebSters as well to get the rest of the needed fiber for Spinzilla.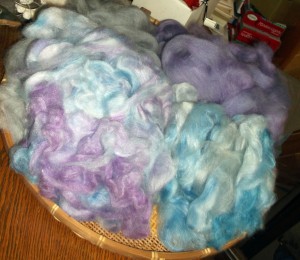 Here's what I will be spinning … fiber names are Silver, Wisteria, Blustery Day, and Blueberry Cream. Next week I'll show you how I'm doing.
~~~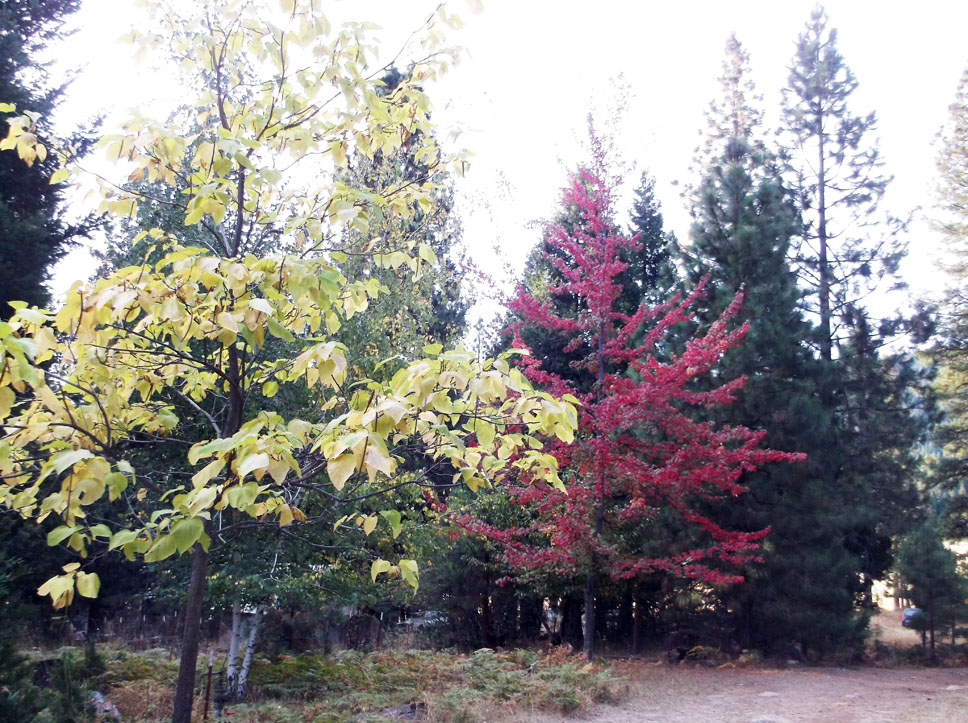 The maple continues to add red …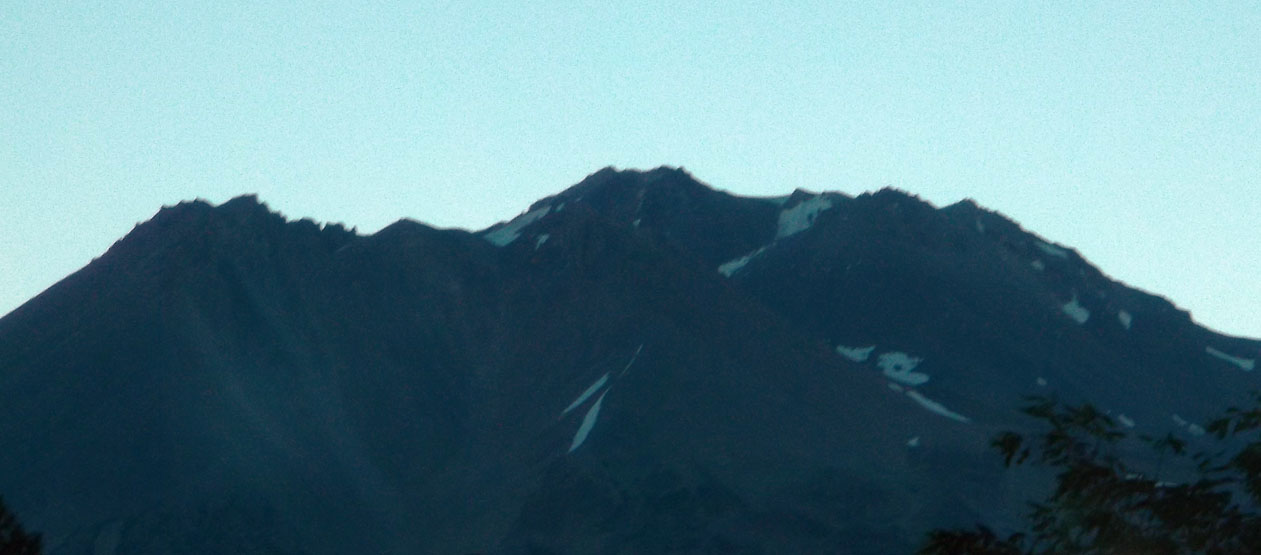 and the Mountain NEEDS snow.  
I doubt the glaciers will be replenished and she will get back to her full beauty in my lifetime.  Maybe by time for the next superMoon eclipse?
~~~
Here's an affirmation for the week to come …
"I believe that imagination is stronger than knowledge. That myth is more potent than history. That dreams are more powerful than facts. That hope always triumphs over experience. That laughter is the only cure for grief. And I believe that love is stronger than death."
Robert Fulghum
                                'Til next week …