30 March …
Eric and Julie are due to arrive sometime saturday afternoon.  We have met Julie only once … when she visited us in Northridge on their honeymoon.  We are looking forward to establishing connections.
They are to be here for two days only.  Not a lot of time.  We will be doing some sightseeing.  Watch for photos.
~~~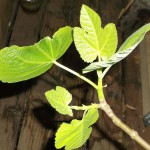 I can't recall (and don't have time to go check) if I showed you the new growth on the fig …
the narcissus at the front door …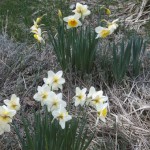 and the blooms on the apricot.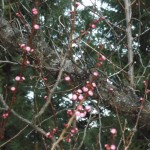 ~~~
Clear-cutting in Oregon has become a controversy.  Those in charge of timbering want to clear cut last year's fire areas. 
Environmentalists and native tribes say "no" since it would invite erosion and landslides and further endanger salmon spawning. 
At least the opposition is no longer being swept under the carpet.  It is being heard.  Maybe better land management will happen.
Coming home from Medford last monday, we could see clear cut areas because of the overnight snow.  They show up as large flat white areas inside forested areas.  And they are appearing in some areas of California as well.
~~~
The monday Medford trip to the retinologist started with snow.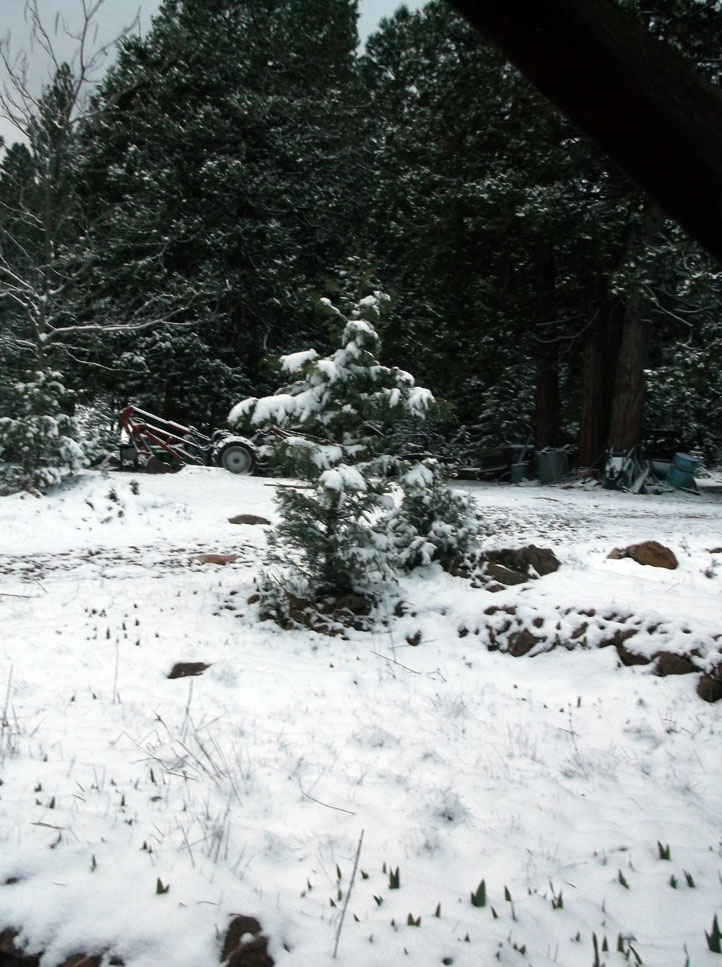 Overnight we had about 2″.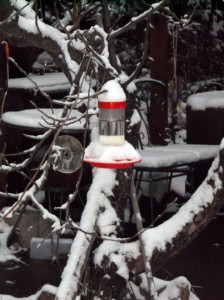 The hummer feeders which I put out last week were decorated, and the truck needed to be cleared.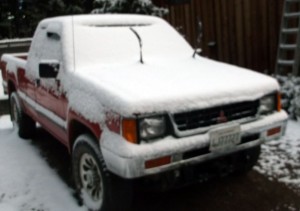 However, it is spring and it was gone by the time we got home.
In the Ashland-Medford area, the plum trees are all blossoming.  Time for the Plum Blossom Festival and Run.
~~~~~~~~~
I've been having trouble with my oven.  I've had this range for quite some time and lately the oven has been taking a looooooooong time to heat (and more and more often it just doesn't heat), the temperature is not always accurate when it does heat … and the whole process has gotten VERY frustrating.  So I began looking for a replacement. 
I remember the ranges when I was young … a small oven, a large oven, a broiler, a warming oven, four burners, maybe a pot storage drawer … a real cook's range, and they cost about $200.
I thought I would like to have at least two ovens … one large for the holiday turkey and cookie sheets, and one small when all I want to bake is a pie or a small casserole for the two of us.
WRONG …
To get the basic range I wanted the price starts at $1,200 and goes up from there all the way to $6,000.
I've been thinking about the current expectations and wondering what changed.  I think it was the 60s and 70s when housewives started using prepared foods rather than cooking … just peel off the covering and put it in the microwave … just dump it into a bowl, add water, and heat … recipes began with "1 box of xxx or 1 package of xxx" … or just don't bother with any of that, have someone pick up take-out on their way home.
What a loss. 
It appeared I would have to settle for a stove in my price range with just one big oven, four burners, and maybe a broiler.
Oh well …
But monday, while we were in Oregon for George's monthly visit to the retinologist, we stopped by Sears to look at their ranges.  What we found was their annual sale of stoves had just begun. 
Surprise … Coincidence?  Or a gift?  Or both?
When we said we needed a new stove, the sales person said she needed a sale and we all laughed.  She showed us her range of ranges starting with the cheapest.  We looked, took her information, and told her we'd think about it and get back to her.
As we were walking out of the store we began comparing what we had seen with the two others we had been considering … advantages and prices.  Before we reached the outside door we agreed, turned around, and went back to the appliances department.
We bought a high price range for nearly 40% off which put it within our purse.  Still only one oven (with warm holding and dough rising settings, a window, a broiler, and self-cleaning), 5 burners (fast boil, simmer-slow cooker, oblong griddle, and two others), stainless at no added cost, and a three-year warranty including what they call a "lemon" clause (i.e. more than three service calls in the first year and you get an entirely new range).
We go get it next week.  I'll be using it by the 8th.  Kaloo Kalay !!!
~~~
Tyler turned 19 last thursday.  As usual, we called to sing the birthday song to him.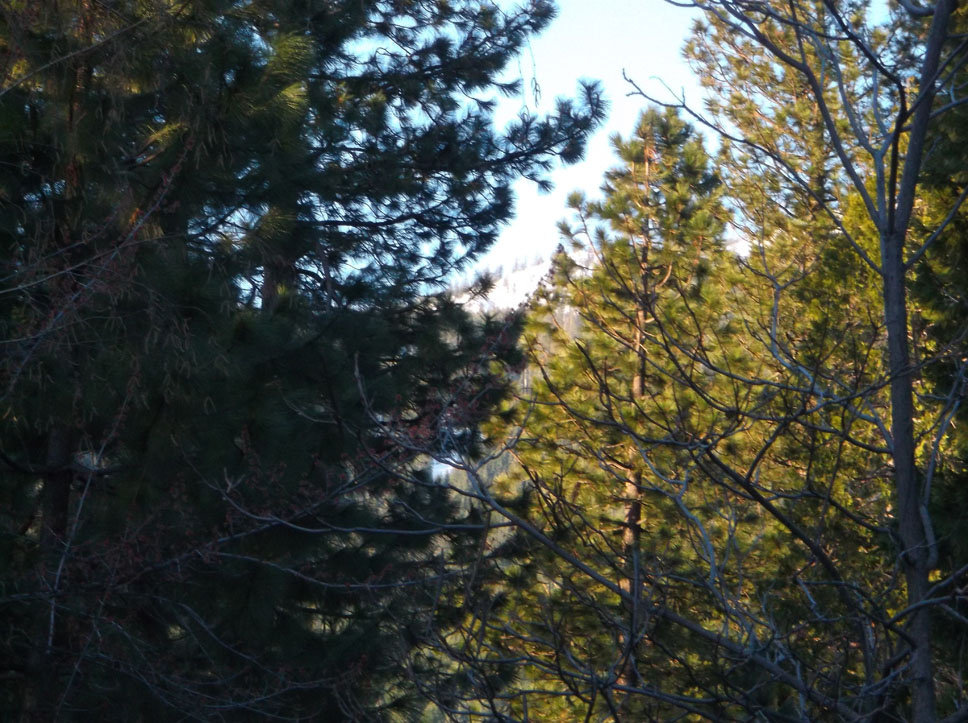 Today is lovely and we'll be singing to Mark later (my younger son turns 46 today).
They never get too big or too old to be sung to.  And when family is here this summer, we'll have birthday parties.
~~~
… following the fortuitous events of the last few days, this rings so true … 
The happiest people don't necessarily have the best of everything; they just make the most of everything that comes their way.
So … 'til next week …