29 June …
Trip to Medford was not normal this month.  Our appointment was a bit later which threw off the regular routine.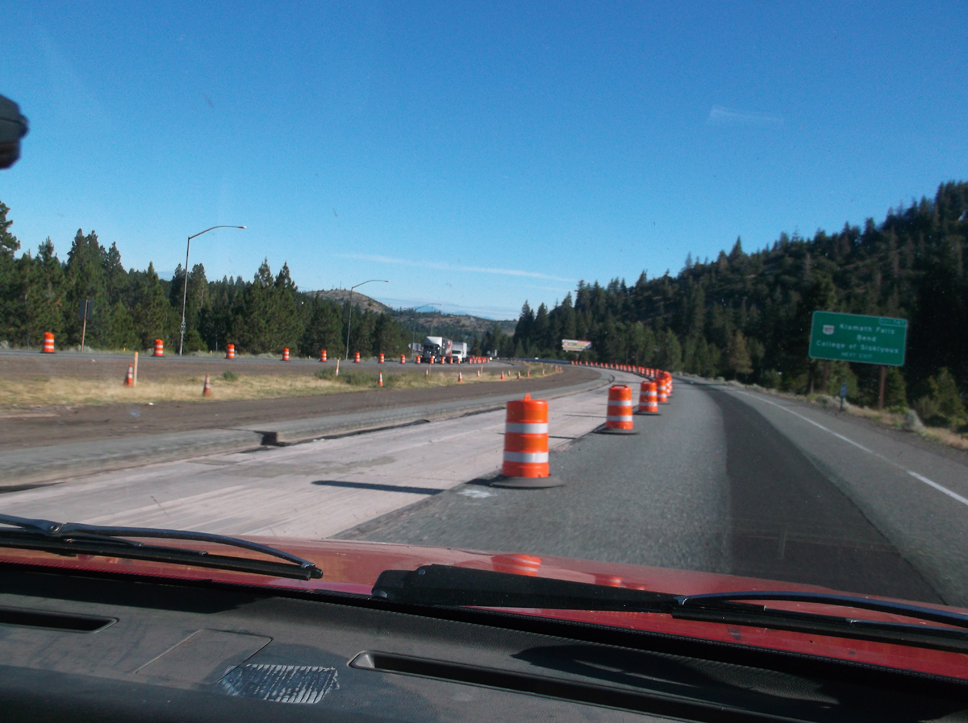 And there was a long stretch of road work just north of Weed which slowed us a bit.

It was sort of hazy, but we watched the Mountain as we went north.
In addition, going to Oregon every month means shopping isn't as important on every visit. This month we went to only the restaurant supply store and CostCo after the retinologist which meant we were done in Medford by 1130. We decided to head for home rather than eat up there. We made it to Yreka a bit before 1330 and headed for Casa Ramos. Special of the day was a quesadilla plate.
Yum …
~~~
Some things I didn't get around to telling you about last week's radio event …
I came home with a box of bananas … not a hand, a box.
I had been told to take them from one rest stop to another but, when I got there, they didn't want them so we left them in the back of the pick-up and I brought them home.  Banana bread, banana muffins, banana cake … and sharing.
The river was flowing FULL which was spectacular.
The flower display this year was different.  The ceanothus was in full display, but the azaleas had not yet opened.  I saw only two Shasta lilies. There were yellow lupine but no blue. It was all eye-candy, but I was driving alone and needed to be on station so I didn't have time to stop and take pictures.
The Castle Crags catered after-ride dinner this year was excellent.  There was marinated bar-b-que chicken breasts which were set out serve-yourself style with two pasta salads and fresh bread and butter.  And, of course, the Dunsmuir Brewery provided a couple of kegs of pilsner and IPA.
And I forgot to tell you about the rider who was doing the 100-mile course with a straight-across, non-displaced fracture of his left knee cap. He was wearing a wrap, but …
Mountain bikers are interesting people.
The amateur radio operators are still getting compliments. 
They like us. They like us. 
They really like us.
Next up?  Mt Shasta 4th of July.
~~~
On the current list for harvest …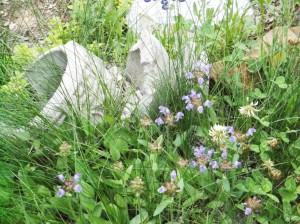 all heal,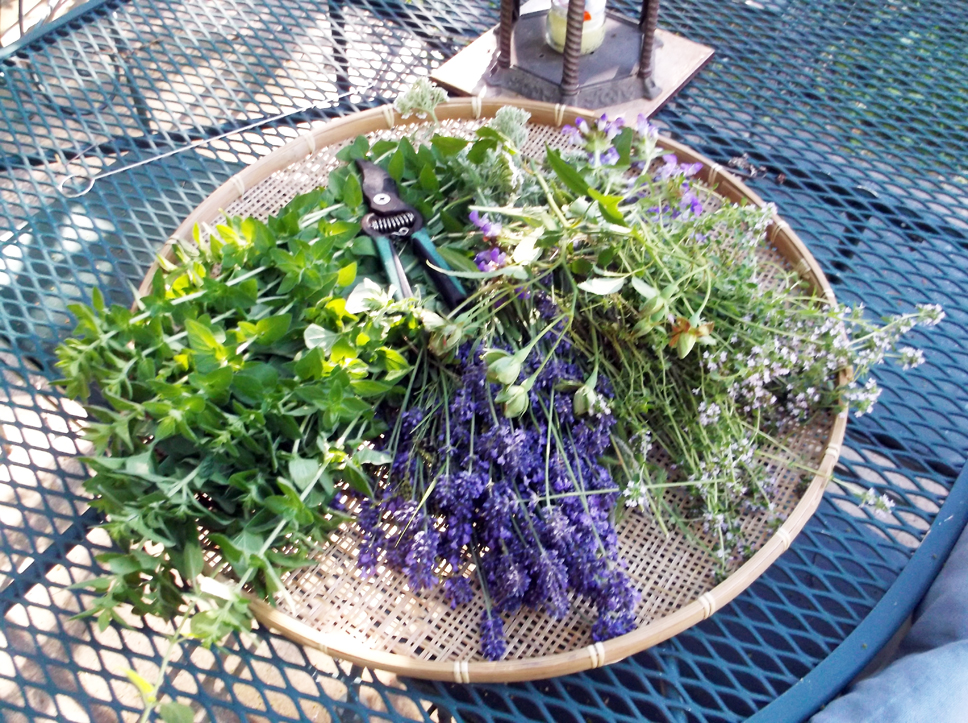 the first of the lavender, motherwort, French thyme, oregano, and elderflowers as well as more yarrow, lemon balm, and apple mint.
Tinctures, washes, and oils to come.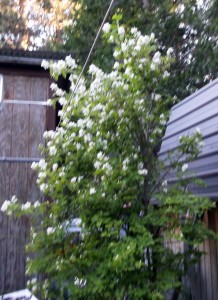 The mock orange has burst forth, but it is strictly for pretty and aroma … not for drying.  If you know something about extra uses, please tell me.
~~~
The radio club's involvement on the Castle Crags event so impressed some folks from the Cycle Siskiyou group they asked if we would be interested in doing a couple of other events.  I will be presenting the request to the club at the next meeting.
They are talking about a fairly flat ride through the Tulelake area which would include Captain Jack's Stronghold, the Lava Beds area, and the Internment Camp with lectures and historical presentations at each rest stop.
The other ride they mentioned would be a circumference ride around Medicine Lake, maybe to coincide with the autumn indigenous PowWow event.
And we got another request from the Shasta-Tehama group.  They need five operators for Whiskeytown. 
The planned events sound interesting but …
All of these are quite a distance from home and might require overnight stays someplace. That could be a drawback. The club will need to be very careful, and possibly set requirements and limits, so we don't work ourselves out of existence.
~~~
It has been a bit since I last posted a word of the day … but this one caught me. 
I love rhyme and rhythm and unexpected results.  How about you?
tohubohu  … chaos, disorder, confusion
My first thoughts … possible confusion, but the rhythm and rhyme of the word itself belies chaos and disorder.
Of course, that could be said to add to the confusion.
~~~
Last monday morning, as I was out in the garden, a doe came past with her fawn.  Naturally … I didn't have the camera.  Oh well …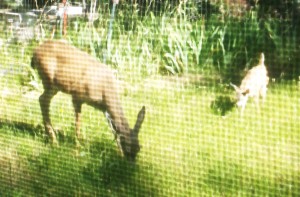 But I did have the camera handy when she brought the baby into the backyard yesterday. (Sorry it isn't a really clear picture.  I'll try again later.)
~~~
Small Aggressive Cat (AC for short) is learning.  He is a very smart animal.
While I work in the garden he follows, talks, and plays. Then as soon as I finish, he no longer tries to run along between my feet (troublesome at best) but now takes off directly for the area where I give him his morning milk and kibble. Then he waits, calling, until I make it around there.
~~~
I recently learned that a young relative (I've told you about him before … his great-grandmother was my cousin) is a ham.  He told me his Uncle Marvin (his great-grandmother's brother and so also my cousin) had gotten him interested in amateur radio. He is planning to bring his family to visit next autumn.  Maybe, if he's here at the right time, I'll get him and his older son involved in a radio event.
That would be interesting.
~~~
Friend Liz will arrive next sunday.
And a letter from cousins Merna and Gordon say they will be here the 11th.
Too bad I have no time to be bored.
~~~
My middle son used to say "Coincidence?  I think not." Last week I saw this …
Coincidence is the Creator's way of staying anonymous!
So … 'til next week …