27 July …
Well … my oldest child has turned sixty.
George and I made our monthly trip north while John was here. He drove.  It was interesting and welcome having a chauffeur. Weather was getting hot, so we didn't dally and were home and napping by 1500.  A thoroughly good day for us.
When the "boys" were at home, they each got to choose dinner for their birthday.  John's choice this year (as it had often been) was for ribs cooked my style, potato salad the way his father makes it, and Grandma Tyler's lemon pie. I added warmed baguette with butter, roasted corn on the cob, and chunked tomato on romaine. It was good and we were all so busy eating and talking there are no pictures.  Oops …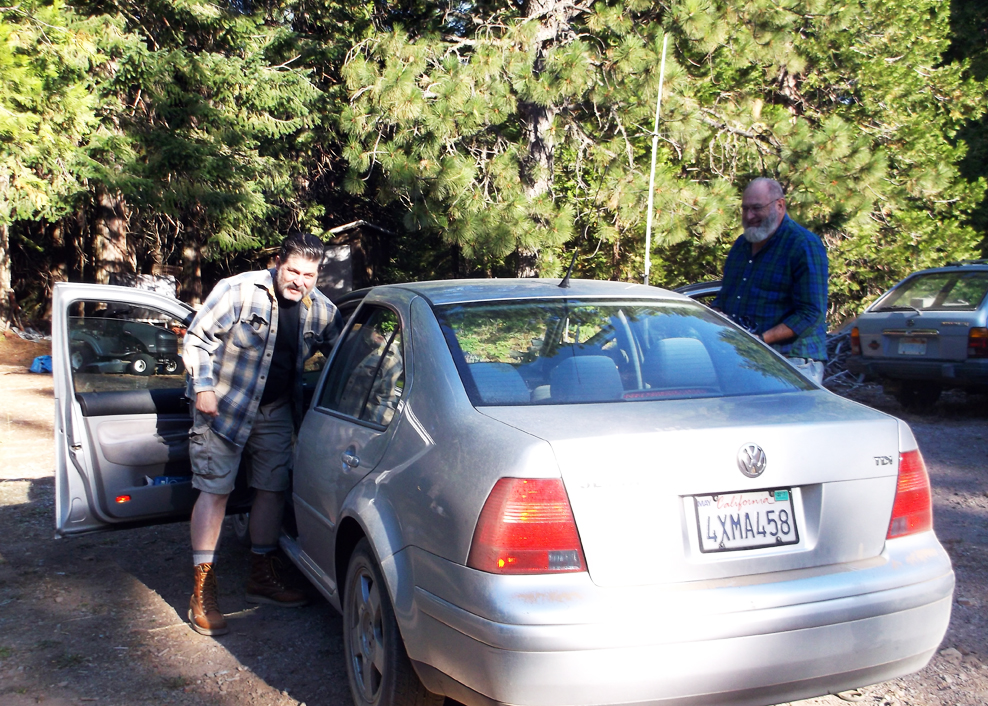 He and Michael H. left this morning about 0800. It is supposed to be HOT everywhere today and they wanted to get home to Marysville asap.
~~~
This trip, John brought peaches and cherries and apricots and corn with him. I'll be making jam and canning and freezing the rest of this week
This edition of the blog may be a bit short because I need to get at all that before the house gets too warm.
I'll let you know how it turns out..
~~~
At the radio club meeting last week, some decisions were made (1. any decision to work an event more than 30 travel miles from Mt Shasta will be an individual choice, and 2. the club will purchase good quality orange communication vests with reflective stripes identifying the wearer as a member of the Mt Shasta Amateur Radio Club). In addition, plans were set for the upcoming potluck and swap meet. A short and not really exciting meeting.
Those are good.
~~~
A couple of things about recent events has made me think about perceptions. I have realized that in addition to seeing friends as they are, I also see them as they were.  That may be because in the mirror I see myself as I am while at the same time, in my mind's eye, I see myself as I was in my prime.
Although it pains them, my children will always, in one way, be children to me because they come with so many great memories.
~~~
The pullets are getting big.  Only another six weeks or so and they will be laying.
This morning, AC displayed a new trick.  He knows he doesn't eat in the morning until the ladies are taken care of and are out in their yard, eating.  So when I open the coop door to let the ladies out, AC oversees.  This morning the rock came out and instantly went to foraging.  But the red stepped out the door and just stopped. Right away, AC reached out and slapped her on the leg as if to say "Get with the program. I'm hungry."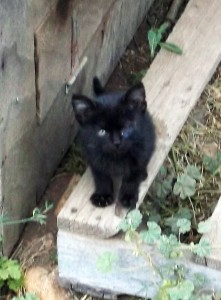 He is still not too big and watching him is a hoot.
Today, when I went out, he was nearly as far toward the house as the pullet house.  He is exploring more and further afield.  I give it about three weeks until he joins the panthers out front in the morning.
~~~
One morning last week, George greeted me as I came downstairs with "Good morning to you …" and I was instantly five-years-old again starting the day in kindergarten with a teacher we called Miss Sunshine and we were all singing …
        "Good morning to you.
        "Good morning to you.
        "We're all in our places with sunshiny faces.
        "So this is the way we welcome each day."
Memory of the past is still good.  Isn't that a sign of getting old?
~~~
I did another session at the Family History Center last week. The only client was a woman whose father (with the interesting given name of Ostap) didn't talk about his youth but who, she had learned, became an orphan during WW II and came of age in United Nations Relief and Rehabilitation Camps in Germany before coming to the US in 1950.
I didn't do much specific research for her, but I had a blast tracking down leads for her to follow on her own.
An interesting aside is that the surnames on both sides hinted at Jewish origin, but the client reacted forcefully to that idea at first.  By the time we had to close the center, she was seemingly ready to track down that aspect for possible leads. I think the turning point came when we started imagining what had happened when (according to a conversation her father had, just days before he died, with her older brother) Ostap came home from school one day to an empty house and neighbors, whom he had know all his life, telling him no one had lived there for several months.
It is an intriguing tale and I sort of wish I had time and permission to get involved.  However, I don't have the time and we do research only when specifically asked.
Oh well … maybe she'll come back to the Center and I'll learn a bit more.
The writer in me says that with a bit of imaginative guessing it might make a good book.
~~~
Have you ever read Kurt Vonnegut? He is well worth your time.
" … for heaven's sake … Sing in the shower. Dance to the radio. Tell stories. Write a poem to a friend, even a lousy poem. Do it as well as you possibly can. You will get an enormous reward. You will have created something."
… Kurt Vonnegut,
So … 'til next week …