25 May …
The summer season for the Radio Club got a boost last wednesday.  We had visitors from the Shasta-Tehama ARES group to tell us about their events and ask for help. 
As a result, George and I went down to Anderson last saturday to help with a bike event.  We were both assigned to ride along in SAG wagons, probably because we don't know the area and it was safest to put us with others who did.
There were five ride routes from 28 to 126 miles.  They had a SAG wagon on each of the routes.  George got assigned to one of the shorter routes.  I got put on board the wagon tracking those on the longest ride.  We left the starting point about 0830.  Riders were already on the route.  We got back to the park after 1600 and there were still five riders out.  But we knew where they were and could have gone out after them if they didn't show up in a reasonable amount of time.
The driver with whom I was riding was the President of the club sponsoring the rides.  He had been a transplant from Oakland back in the 80s, but since the move, he had become a historian in re the Redding area.  I saw a lot of great landscapes and heard a lot of stories about what I saw.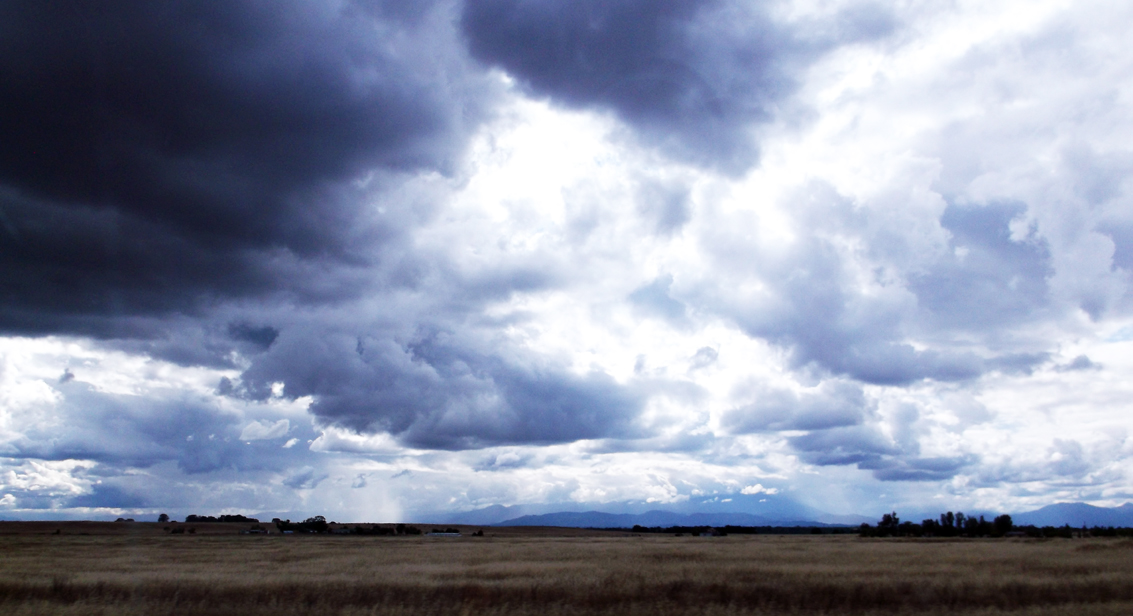 At one point the clouds were magnificent in their threat.  However, it was a great ride in spite of the weather.
We left home about 0515 to get to the start of the rides by 0700 when we were expected.  There was fog in the canyon.  Not down on the roadway so driving was restricted, but along and among the mountains and cuts.  It resembled drawings from Japan or China.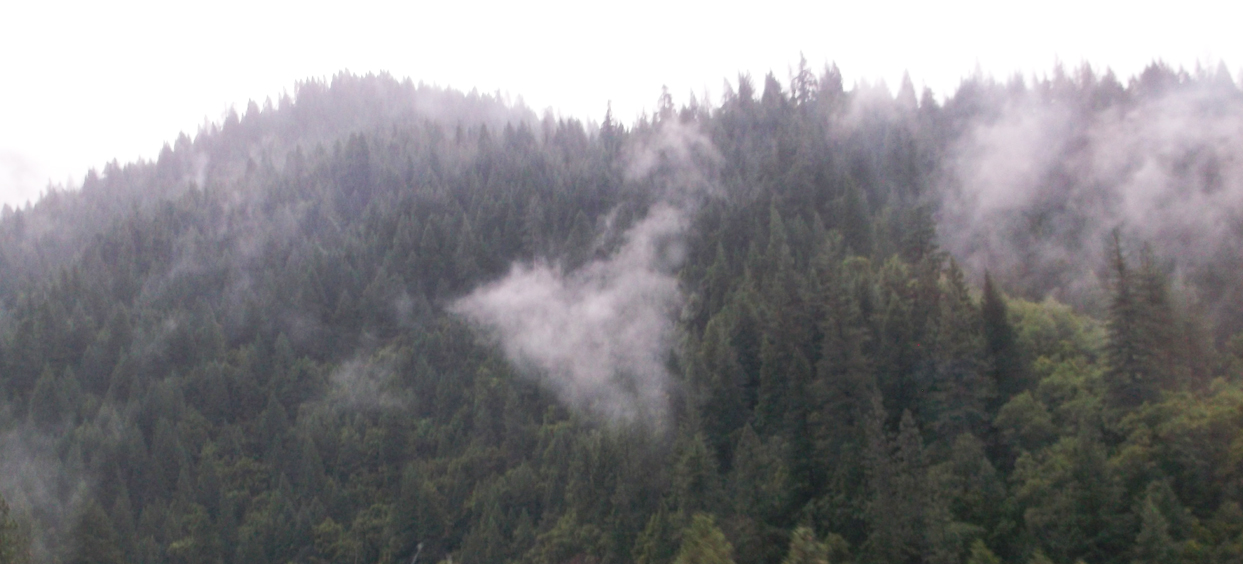 Mesmerizing.   This was the best I could do, in order to share the view, from a moving vehicle.  
It was misting most of the way south, but just past Mountain Gate we ran into a cloud burst.  The water was coming down so hard the wipers, even on high, were unable to keep the windshield clear.  But it didn't last.
Then during the day there was occasional mist until we got to the lunch stop. While we were there the sky opened, including hail.  Fortunately, every rider with whom we came in contact had planned for the possibility of cold and wet.  No problems with hypothermia.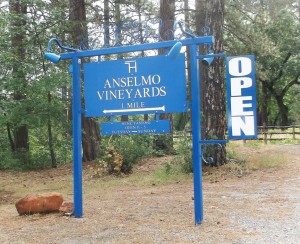 One Rest Stop was interesting. 
It turned out the "Open" sign didn't mean us.
Up in the mountains (I don't know what range it is, but it is west of the Cascades and the highest point we reached was about 3,000′) there are HUGE ranches and estates.  One in the Ash Creek area, which has to be thousands of acres, is surrounded by a hand-build stone fence which appears to be 4 feet high and 4 feet wide.  It is built entirely with lava stones culled from the fields and everyone I met during the day asked what I thought of the "Stone Wall"?. You can see it clearly on Google World.  Just enter "Ash Creek Road, Anderson, CA" and look for it along the road.  Sorry I didn't get a picture.
Another ranch, a bit higher, was also huge (just more like hundreds of acres rather than thousands).  It was surrounded by what looked like a Moorish fortification and named Bear Run Ranch, but I didn't get any pictures there either.  Oh well …
There were Old Old houses (probably original homesteads) and ramshackle trailers mixed in with the new houses and estates.  Altogether a fascinating ride.
Oh yes … and there was odor in several places which spoke of pot farms of rather impressive size.
When I got back to the park, I had a good dinner of slaw, green salad, beans and bacon, hot bread, and grilled tri-tip with an Arnold Palmer and an ice cream sandwich.  There was plenty of food since they had planned for 125 riders and wound up with only 85.  That was a surprise since the events we usually work would consider 85 participants a failure.  Oh well … do your job, Wilma, and shut up.  Remember, you aren't on that committee.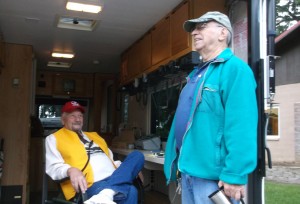 I met several interesting and friendly folks.  As usual, I was the only female ham.  George said I did well and that others were impressed that not only am I female, but I knew what I was doing.  High praise in spite of the one time I forgot and slipped back into Emergency lingo and said "10-4" which is an amateur radio no-no. 
As it was coming out of my mouth, I thought "Did I just say that?"   George says if that ever happens again, just follow it with "… good buddy" and laugh.
We got home at 1930.  A gift on the way out to Cold Comfort was a view of this year's crop of geese on the reservoir.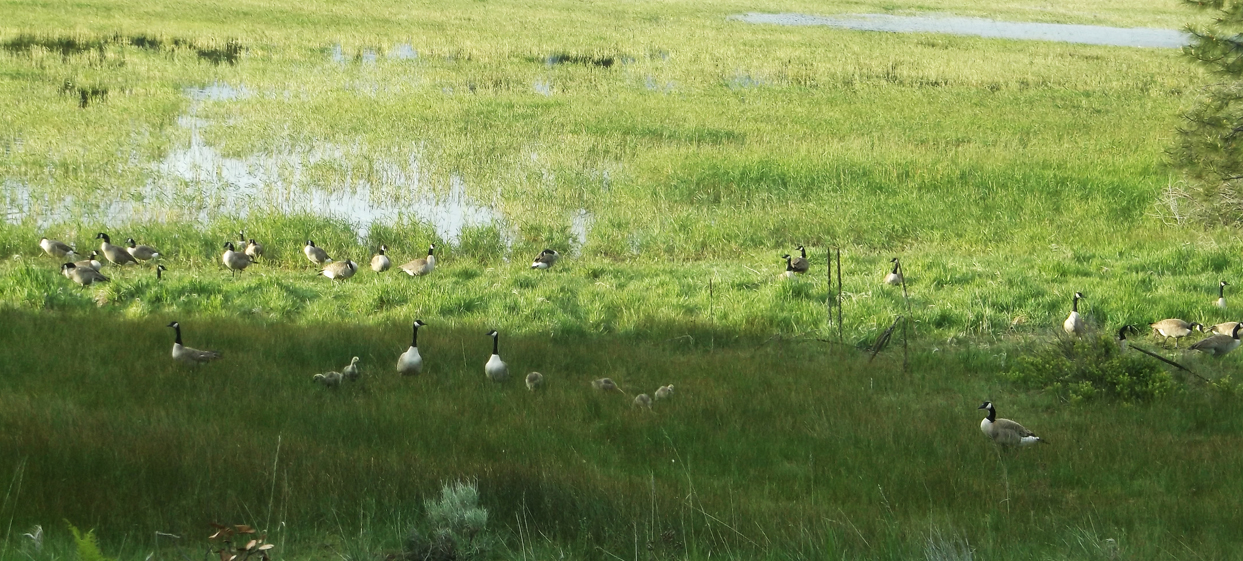 It was a long day.  We spent sunday quietly restoring energy levels and ate leftover meatloaf for dinner.
~~~
Our own local bicycle and run events are beginnings as well.  The final (?) planning meeting for the Castle Crags Bicycle Event was last thursday.  That event is scheduled for 18 June.
This year they added another rest stop and a fifth SAG wagon, both of which will require additional radio operators.  I will repeat my station at Mumbo Crest where I am done about noon, but I may have to double on a late shift at the new station in Grenada or possibly as Net Control relief.  George will be on one of the SAG wagons.  We will be busy all day whatever happens.
The post-ride meal this year promises to be interesting.  They are using a new caterer who does wood smoke bar-b-que pork.
~~~
Tuesday was our monthly trip to Medford.  It was overcast but we hit only slight showers.  There was a great view of the Mountain on the way north.  We could see

Whaleback …     the Mountain …    Black Butte …    and the Eddys.
And remember the outhouses I told you about?

They're still there … out in the middle of nowhere. 
~~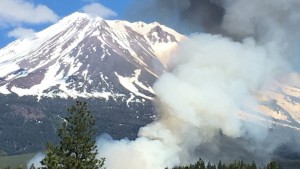 A new fire started in Weed last thursday afternoon around 1530 close to where the BIG one burned through two years ago.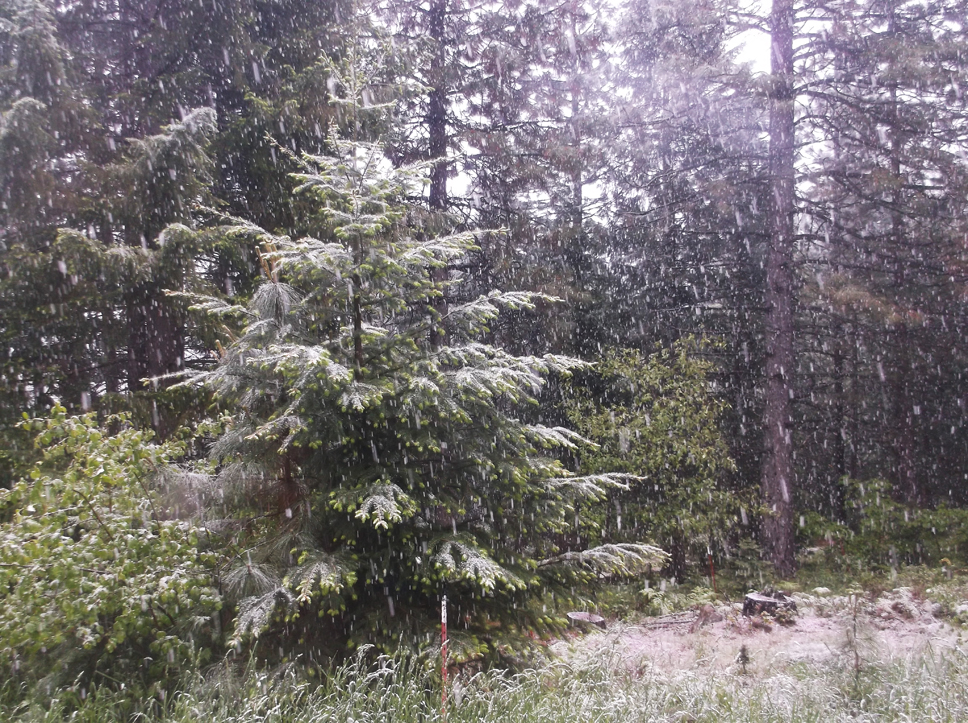 There was rain and snow on friday which helped bring it under control without much damage other than to a dry area close to the old dump.  No residences involved.
Our younger son in New York gets CalFire Twitter tweaks (or whatever they are called) concerning events in this area and so usually knows about fires before we do.  Twice now we've learned about fires in the Weed area when he called to see how close they were to us and if we were okay.
~~~
And in closing, this adventure for friends we've know for a long time …
http://www.sfchronicle.com/outdoors/article/A-tale-of-sudden-danger-on-Mt-Shasta-7939246.php?t=d7df452fc8
Life keeps presenting us with problems.  By deciding that they are gifts, we become beneficiaries.
So … 'til next week …