Had a problem with the program which I use to post the blog.  I've switched to a different computer and the site evidently didn't want to recognize it.  So the blog is late.
The following is what I had ready to post before we went to Redding yesterday.
Oops …
31 May …
Today is George's birthday, it is raining so I don't need to water, and we will soon be off for a trip to see the cardiologist in Redding.  Walter Fletscher is a good doc and a good man, although a bit hyper.  We've been seeing him for twenty years now.  He often ends an appointment by saying something along the lines of "You kids get out of here now."
~~~
And speaking of George …
Earlier this month when I was out of commission for a time, George had to do kitchen duty.  Mostly that consisted of opening cans.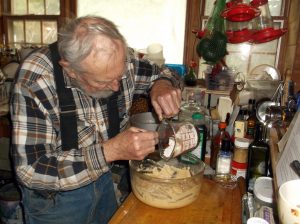 But one day when the problem was my hand, I stood by and helped him bake an apple cake.
Not too bad for a rank amateur.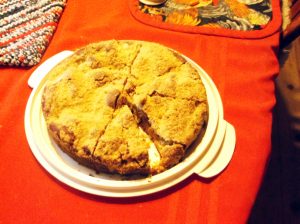 ~~~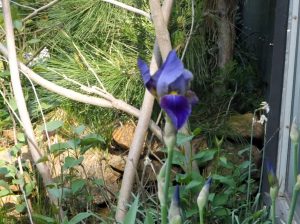 The first iris of the year appeared just after I posted the blog last week.  It was beside the front door. They are now appearing everywhere.  Lovely.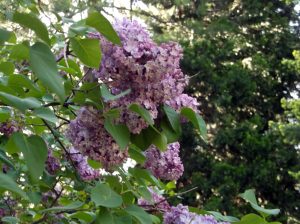 The lilac aroma as you go out the boardwalk is almost overwhelming.  It is pervasive nearly all the way to the barn.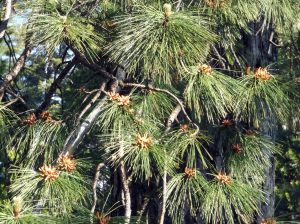 It is the season for yellow dust as the pine trees do their reproduction thing.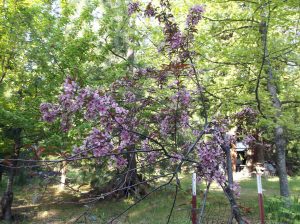 Tyler's tree is bursting.  We may have enough fruit for jelly this year.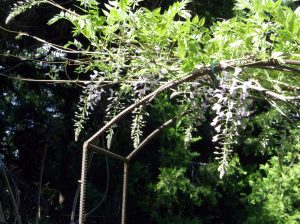 The wisteria is providing pleasure (I wish you could see the colours, but this is the best I could do).
And the sounds of the sand cranes are heard at dusk as they parade in the meadow.
~~~
One night last week when I went out (or as an endorser on a local auto dealer's ad said "had went") out to collect the eggs, the sky was a study in silhouette.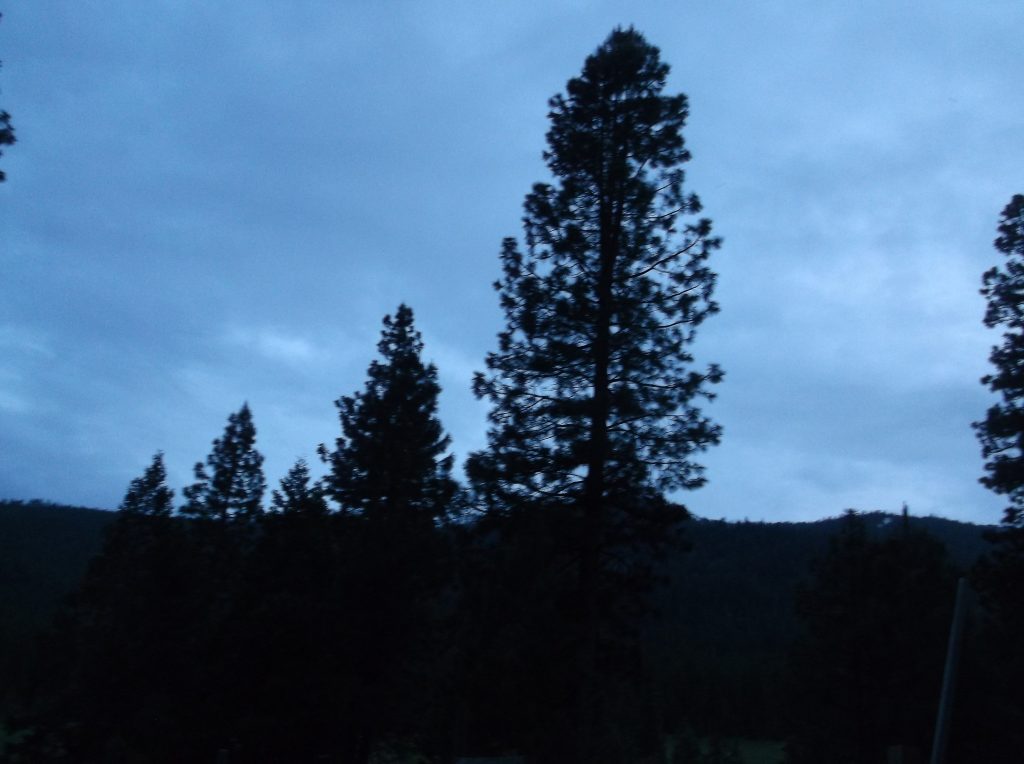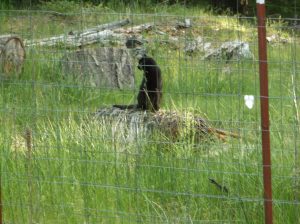 And AC was standing watch as I waited for the ladies to enter the coop for the night.
~~~
Earlier, on the trip up Shasta Valley to Yreka, there was a lot to see. 
The fields of alfalfa and hay are a mosaic.  Some had already had their first cutting and are lying spread to dry.  Some had been raked into rows awaiting the baler.  Some had been baled (into 3-string bales for family ranches and 7 string bales for commercial operations) and are ready for transport. 
Others have been all the way through that process and are being irrigated for a second cutting.
It would appear they will have an excellent harvest year.  Depending on the rains this summer, they will surely have at least three cuttings, maybe four.  But so far, none of the storage barns are being filled.
~~~
One evening last week, George and I watched Meryl Streep in the film "Florence Foster Jenkins".  We had already seen the French version of that woman's life.  It was an interesting study in how one set of "facts" can be seen so differently by different observers.
In the French film, Florence (there called Madeleine) was seen as a deluded object of ridicule and those around her as connivers.  I found myself feeling sorry for her.
In the British film, Florence is a strong woman with a dream, making the most of what life has dealt her.  And those around her, who foster her dream, are portrayed as actually caring for her enough to help her achieve her dream.  I did not feel sorry for her, even when she was being laughed at.
Florence's final words in the Streep film were a lesson in life which I find well worth remembering …
"People can say I could not sing … no one can say I did not sing."
So … 'til next week …