21 October …
Well … we have now moved up a year on the marriage longevity list. The only couple in the last four generations in either of our families to have been married longer than us are George's maternal grandparents, George and Gertrude Shaffer. They lasted 67 years until Grandmother's death in 1954.
For celebration this year we did absolutely nothing. We've been traveling so much lately, staying quiet at home was nice.  
Oh well … four years to go and we'll tie Grandfather and Grandmother.
~~~
Do vs Don't … you knew you hadn't heard the last of it.
My son, the police lieutenant, wrote … In policing, we do not train via negative example.  When training, we demonstrate the right way to do something and then have the recruit display that s/he can do it correctly.  Failure to carry out correct action is routed to remedial training and a failure to respond to training is washed out.  At no time is negative example used because a police officer is expected to make a split second judgment … and s/he does not have the time to rule out actions, only to respond correctly and definitively.
Of course, that got me thinking … and the first thought was that his example is a clear demonstration of the "Because that's what I was taught" reasoning. That is valid when the teaching is valid.  I'd been thinking about ethical/moral decisions in regard to actions, not possible harmful (don't touch the woodstove) or life threatening situations (don't try to pet that BIG cat). 
Further thought on the general question led to … if you do what you think is right, but society in general sees your thinking as flawed or immoral or just plain wrong, then what?  However, if you refrain from doing something because you wouldn't want it done to you even if the intent of the other is positive, is that better?
Seems I'll be dealing with this question for some time to come. 
Stay tuned.
~~~
I did another day at the Family History Center last week.  It was a quiet day.  I had failed to take my genealogy thumb drive with me, so I made notes the old way … by hand.
There was one interesting event there.  A gentleman came in asking for help and told us he was confused because he was named James Brown (!) and there was at least one James Brown in every generation back to the early 1800s.
When I got over the covert giggles (the man was tall, nearly bald, and very white), we went to work.
Never a dull moment.
~~~
The time at the FHC led to another possible involvement … a return to the DAR.
Some years ago I had joined the Daughters of the American Revolution in order to make scholarships available to my grandchildren.  The member who served (and still serves … ?) as Registrar raised road blocks.  I was not the only one facing this situation, but I'm a pushy broad and she finally had to admit me but by then the rules in regard to scholarships had changed.
I then found out she was only one of an old guard who resisted any change.  Every time I would suggest something it was deemed out of order because I was not an officer or committee member.
Another member and I talked one day and I found she was as dissatisfied with situation as I was, so we contacted the State chapter to ask for help.  They responded, but did not really mean to do anything so I made my membership inactive and stopped going to meetings.
The woman with whom I share days at the FHC is a DAR member. She told me the old guard is gone (cancer, stroke, etc.) except for the Registrar and meeting attendance is anemic.  She asked me to come back and help restore the chapter since their choices now are to dissolve, merge with another chapter, or somehow rebuild.
I went to their meeting yesterday and am still undecided regarding what I will do.  I think the chapter can be a positive scene if it can get past that one member.  Oh well …
~~~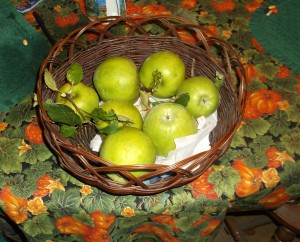 We've been having short bursts of soft rain for several days.  Monday night, when I went out to put the ladies in, it was dark so I was carrying a flashlight and moisture on the ground was sparkling … ice.  I went out the next morning to gather the last of the Granny Smith apples.
~~~
For sometime I've been watching for heroes without capes … common folks who step up under unexpected circumstances and do the "right" thing.  When I came across a report of such a person, I'd post it on my Facebook timeline (look, I'm speaking social network-ese).
In conversations with FB friends I decided to build a special place to share what I was finding.  Of course, I didn't have a clue as to how to do that.  I blundered on and set up a page which was not what I wanted or intended.
Fortunately, I have two sons who are computer wise and got some help. 
John helped me set up the site I wanted.  If you are on Facebook, look for the Capeless Heroes site.
~~~
And on the subject of heroes …
On my way home from the DAR meeting, I had a tire problem on the side of I-5 at the south Yreka on ramp.  It was a bit scary.  Those big rigs raise quite a suction wind as they roar past.
I needed to call George and had started to walk down the ramp to get to a phone when a car pulled in back of my car.  She was young, well-groomed, and on her way home to Davis from a visit with a friend in Seattle.  She let me use her smart phone to call George who then left to come take care of me and the car. 
Her name was Katey and she offered to take me into town to have coffee and  wait, or said she would stay with me until George arrived.  I declined both offers since I wanted to stay with the car and it was going to be an hour before George could get to me.  I didn't get her full name or address (I was a bit shook), but Katey is a real capeless hero.
And about half an hour after Katey went on her way, reluctantly, a second capeless hero appeared.  I was parked on the side of the freeway headed south.  He had been headed north and made a u-turn through the center area (which is technically illegal) to come check on me.  He was not a typical hero … scruffy beard, dirty work clothes, long braid down his back, and tattoos … but said he'd want someone to help his mother if she needed it and so came to help me.
We determined help was on the way and I was okay alone waiting, so he made another center u-turn and was on his way.
Two heroes in one day … wow.
Shortly after George arrived, a CHP officer drove up and was there to help George do the tire thing.
So we made it home and all is under control.
~~~
Yesterday (a very busy day) we were treated to a view of snow on the Mountain …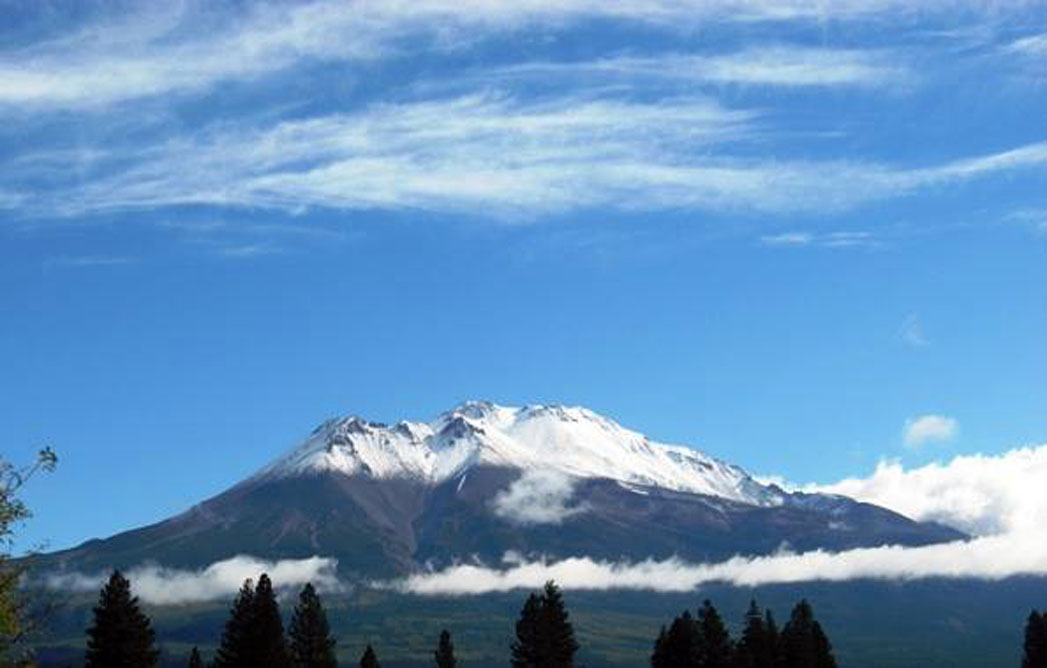 not much, just a dusting.  But most everyone around here is grateful and hoping.
So, 'til next week …
Great adventures begin each time you open the door …