20 November …
I want to say thank you to all of you who were concerned about not hearing from me for those weeks.  The phone conversations and the emails (when I was able to access them) were nice. 
It is a real upper to realize that there are folks who remember me and think about me.
Bless you all.
~~~
As reported previously, we had been without an internet connection for 15 days. 
We were caught in an unreal situation.  Where we live there is no option for internet service other than dial-up or satellite.  We know the man who owns the cable internet service in the local towns, but he says there aren't enough users in the rural rural areas (and the double is not a mistake) for him to be able to afford the cost of laying cable.  So, of course, we have gone with satellite. 
We haven't had any serious trouble for 10 years.  Then on Hallowe'en it began. When the problem began to stretch out in time, we considered switching to the only other satellite provider.  Then, while trying to get service out here, we discovered all the service for this county comes out of Red Bluff and/or Oroville, and that both satellite providers use the same service providers … so changing ISPs wouldn't change the service situation.  I wish I could believe that whatever government bureau controls, or has governance over, ISP providers would do something about the rural situation … but I'm afraid that is beyond my current belief capability and I expect it to only get worse.
However, after wading through reams of emails, trying to see what I had missed or done wrong, and catching up on radio club responsibilities, I'm baaaaaaaaaaaaccccccccccccck, although early (or late) this time.
~~~
The pullets have begun laying in earnest.  We are getting an average of five or six eggs a day.  George is not a fan of eggs except in cookies, cake, or other desserts and eats them for breakfast reluctantly.  But he acknowledges their value as protein and I acknowledge his preferences … so I will begin baking.
~~~
This is posted on a sunday rather than the usual wednesday (although there has been no "usual" wednesday this month so far)  because we had to be in Redding at 0830 wednesday morning for George's annual check-up with his cardiologist.  The results weren't bad, but not as good as in the past.  Looks as if I'll be modifying diet.
Then thursday we had to make a trip to Yreka.  While there, I took a look at shopping at Raley's.  I used to shop at Raley's when I was in Yreka every week working as a Weight Watches leader.  Then I quit shopping there because we didn't want to make the trip.  But thursday I discovered the prices at Raley's were enough better than the local Ray's to make a trip every other week worthwhile. Ray's is giving free turkeys if you buy a $30 ham.  At Raley's I got a 14# turkey and a 10# ham for $22.  Several other items on my list were less expensive as well.
Plans change.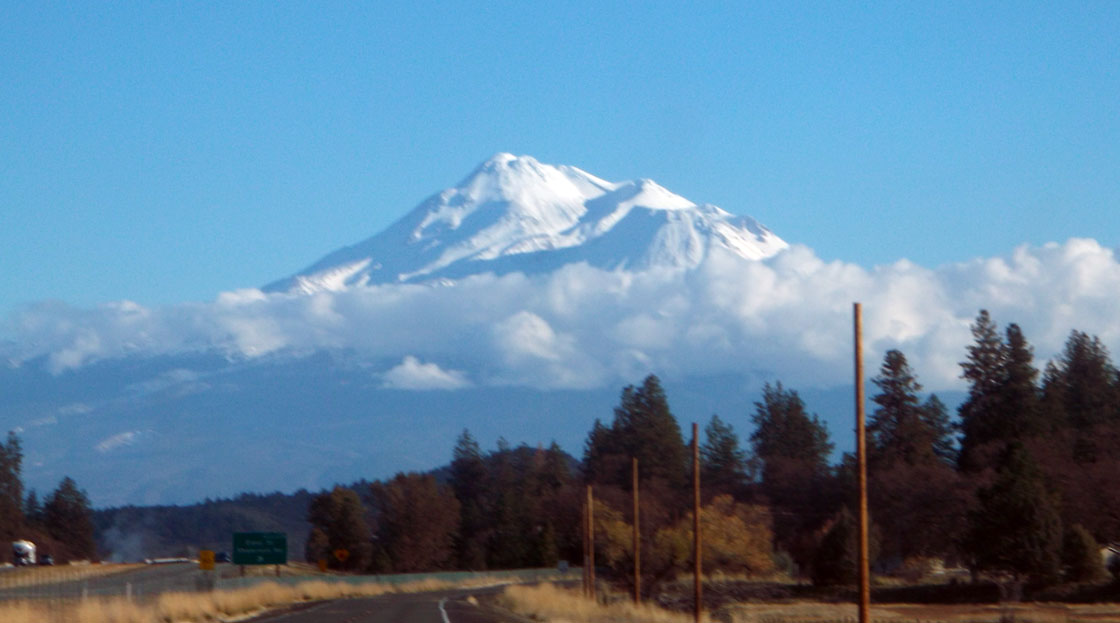 This was the view on our way home that day.
~~~
Last wednesday evening was the monthly meeting of the radio club.  It was a short meeting since things slow down during the winter.  The main item discussed was the upcoming holiday potluck.  The evening's entertainment following the holiday dinner will be an identify-the-members game … "Who the devil is that?"  Members have been giving me pictures of themselves aged between 10 and 20 to use and it has been fun working with them.  We were a really good looking bunch of kids. 
I'll share some of them after the game.
The election of officers is coming up in January.  I was asked if I would run again.
~~~
Ever since I can remember I have been a fan of scifi and fantasy and horror.  Not slasher or snuff stuff … Lovecraft and Bradbury and Rice and anything Gothic.  As a result, I have become a fan (rather "we have become fans" since George got hooked as well) of a series called "Grimm".  We are currently watching the fifth season via NetFlix.
It is basically one of the 46 story lines … the one about good vs evil with interesting confusion of roles and uncertainties.  Much like the world today.
We're enjoying it and the parallels it draws.
Did I mention it is set (and filmed) in Portland?
~~~
Autumn has done its thing with the deciduous trees in front.  The maple and catalpa are bare, and the birches are almost there.
The trees out back are impacted by the season change as well.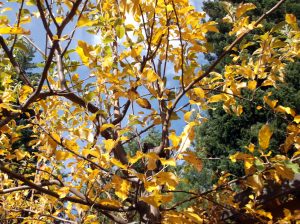 The apple has turned (it was the last to turn last year),the apricot and plum are both bare, and the smoke tree is gorgeous.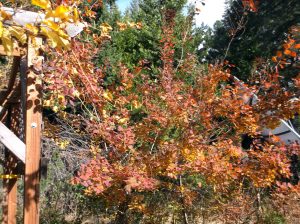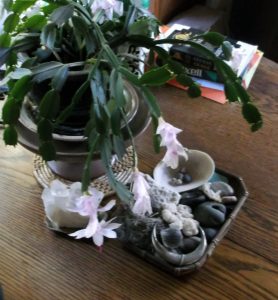 And indoors the white cactus is blooming.
~~~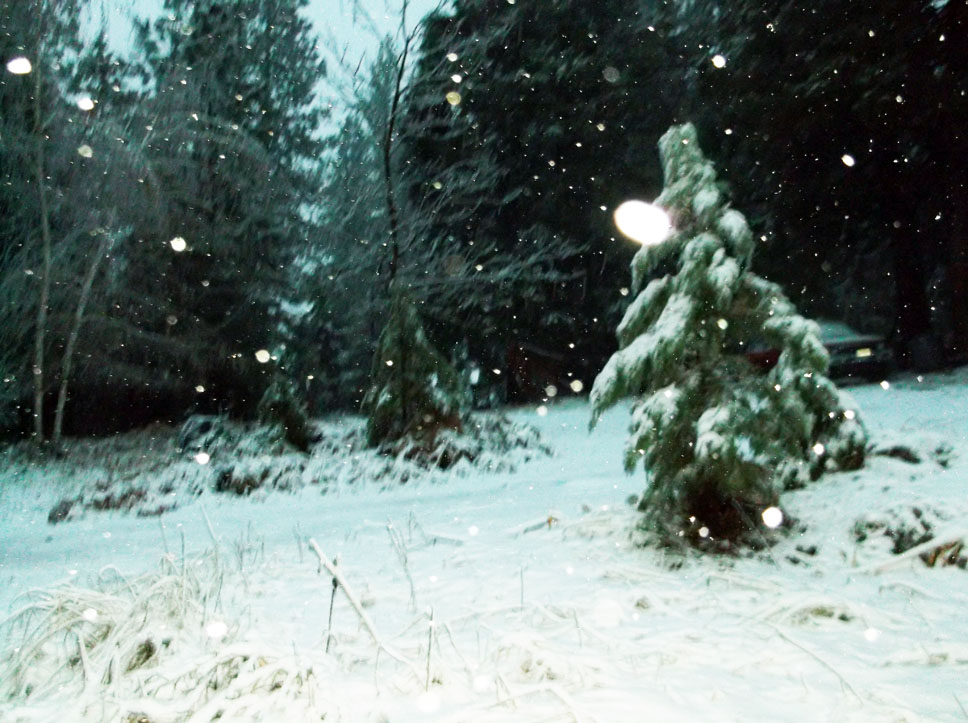 This was the view yesterday morning …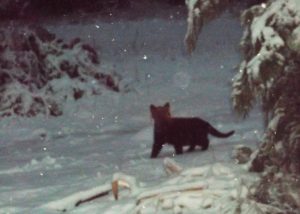 It was AC's first encounter with snow.
~~~
… finally, here is a thought amid the chaos …
"The best way to cheer yourself up is to try to cheer up somebody else."
— Bette Midler
'Til next week …