There was no blog posted on the 2nd or the 9th
Cause?  No ISP service.
We lost internet access on the evening of the 31st and didn't get it back until the 15th.
Reason?  We were told work on the node in Salt Lake City in preparation for a new service to handle high traffic loads caused local outages.  Then we were told our modem was bad.  Then that the satellite was being obscured by foliage.  Then that there was a local break in service.  I spoke with a total of 10 reps before I turned it over to my son.
Result?  No blogs, oodles of email to wade through, and
                         frustration.
But we did learn that we are "Valued" customers and when we call, our call goes to the head of the line, we get one free service call a year, and if we go over our allowed download limit (where they would start slowing our service) we can be forgiven twice a year.
Big  whoop.
After three service appointments where no one showed up, John arranged for us to receive service through a closer provider.
So here it is the evening of the 15th, a service person arrived earlier today and as a consequence … here are the missed blogs … without editing …
~~~
~~~
2 November …
Things are quieting down for the radio club.  This summer wasn't as busy as past years.  There were fewer events.  Maybe those things are on a curve as is so much of life and we have entered the down part of the curve.
So far, there are only four events scheduled for 2017 … two big ones, a medium sized one, and one which really amounts to nothing.
~~~
The Holiday potluck this year will be just a few days before  Christmas.  I've been trying to decide what to take.  I want to include those with special needs and so am looking for something gluten-free, vegetarian, and sugar free.
Any suggestions?
~~~
Weather has been wet.  Total precipitation since last wednesday has been 6.87″.  We are now in a three day (predicted) dry but cool spell.  More rain due tomorrow.
~~~
Pullet report (no longer a pullet surprise) … between three and five eggs a day.  I now have on hand two and a half dozen.  Time for egg salad (with a loaf of fresh, hot sourdough bread), maybe a quiche, and some baking.
~~~
I recently had a computer invasion.  All of a sudden the screen went bright red and there were two superimposed windows open.  In the background I could see something reading "troja…". 
As instructed by my computer-literate sons, I instantly shut off my computer, waited about two minutes, and rebooted.  Everything was the same as before, including the red intrusion when I opened my browser.  So I emailed John for help.  He researched and called me and we went through a two and a half hour session as he talked me through the repair. 
I am so fortunate to have two responders in the family.
The reason for posting this is that it could happen to you.  If it does … under NO circumstances open any of the superimposed windows !!! and get help right away.  It is a bad one.
~~~
Last monday we went to Yreka for George's semi-annual VA health exam.  It was Hallowe'en and the only one in the clinic who wasn't in costume was the doc.  The receptionist was Phyllis Diller and all the back office folks were vampires.
We also made a stop at the County Health and Welfare office and the folks there were all dressed as very colourful fairies.
~~~
Th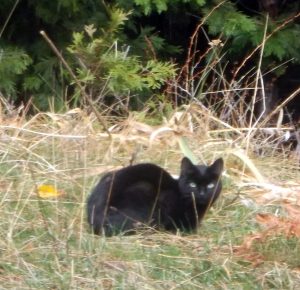 ere has been a change in AC's life.  My allergy has made it impossible for me to handle him any more so when I go out he comes to me, rubs my ankles (like cats have a habit of doing) and sits on my foot.  We talk and occasionally I have a tidbit for him.  He now takes meals with the barn contingent which is composed of Fluffy (black with long fur), Locket (black short-haired with a white patch on the throat), the Ghost (grey short-haired), and two of the Ghost's kittens. However, AC doesn't live with them.  We think he has taken up residence in the empty dog house just outside the back door.  From there he can see into the kitchen and dining room.  And he has learned that he can jump up the back of the house to the screen on a dining room window for a closer look.  Yesterday I took the screen off the window.
AC and Fluffy seem to have a play relationship (and Fluffy has become more tolerant of human closeness) so AC is not completely abandoned.  I miss the petting, but as I was told … another of my "boys" has grown up.
Oh well …
~~~
Don't forget to vote, either early or next tuesday.  Let's get this situation resolved so we can get on with our lives …
and regardless of the outcome …
 Once a day give someone a full smile.
'Til next week …
~~~
~~~ 
9 November …
Significant happenings during the last week … the Cubs won the Series after one hundred eight years, there is a new President elect, weather got wet again beginning with a downpour saturday evening, we again made a shift in time (I really dislike that and wish we'd pick one time and stick with it), we made a trip to Sacramento,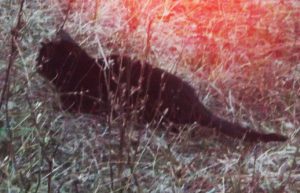 and AC continues to grow into an Alpha male.  He is even learning how to stalk (sorry for the red flash reflection). 
Last week he eyed a Junco (he missed).
~~~
The trip to Sacramento was the result of the semi-annual physical exam.  George has had increasing lung trouble.  He has COPD (Merchant Marine service in an engine room full of oil fumes during WWII where he learned to smoke, followed with raising cattle and bucking hay with the accompanying dust and mold) and his congenital kyphosis makes it worse, so we were sent to Mather in Sacramento for an evaluation.
I drove down to Marysville where we met John and he took over from there.  He knows Sacramento.
We left home about 0630 and got back about 1915, both in the dark.  It was a loooooonnnnnnnnnnnggggggggggggggg day and it will be at least the 11th before we know the results, if then.
~~~
As you know, I do genealogy.  In my research of both of my lines there is no sign, not even a hint, of any Native American heritage.  I seem to be about as white European as you can get … and I've been able to trace back before the 1600s.
However, I find the Indigenous Peoples' respect for the Past and the Earth resonates with me.  As a result, I have been watching the events in North Dakota with dismay. 
History shows they have been treated with disrespect and covetous intent over the 200+ years of this country.  There is not a single treaty between the United States and a Native nation which has been honored.
The peoples at Standing Rock are standing for their past and clean water in the future for all. 
I stand with them.
~~~
During Spinzilla I spun with the WebSters group again, and as a result I received eight ounces of rainbow coloured pencil roving as a gift from Dona (the owner of the WebSters) … she gifted all her spinners.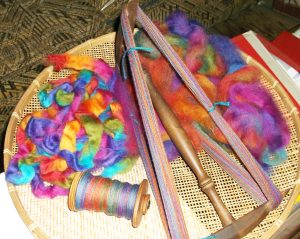 The fiber was a real eye-catcher.  After drafting, I've been spinning it cobweb and triple plying to lace weight. 
I think what I want to do with it is a two-handed Fair Isle vest using a light grey as the contrast.  I have some grey fiber called "Silver".  That should do it.
~~~
At the end of our appointment at the VA in Yreka for George's semi-annual exam (which went well except for the lung thing), we were given a cookbook.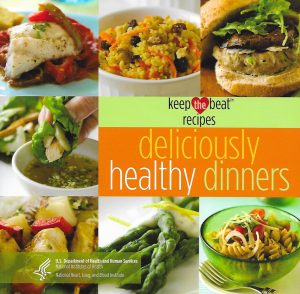 None of the recipes use processed food (i.e. canned or packaged … other than pasta).
So far, I've tried three of the recipes and they've been pretty good … sweet-n-sour chicken, sautéed green beans, and braised cod.
Trying one or two a month will keep our menus interesting well into 2017.
~~~
 It has been said … 
Life is meaningful and everything that happens to us has meaning. This means that if one stubs his toe he should not get angry at the stone he tripped over, but that he should ask himself, "Why did this happen to me?"  Perhaps the lesson is just that he should watch where he is going, but he should also think about where he has been.
I am still looking for the meaning in the internet outage. 
Oh well …
'Til next week …