21 September …
Last wednesday George and I went to a seminar to learn about creating a trust so when we die all the fuss of probate will be avoided. I went with a skeptical attitude expecting it would be a buy-it-now push, but also expecting to learn something about trusts. Both expectations were met.
It was a buy-it-now affair ($300 off if you buy now), but the fast-talking salesman didn't object to being interrupted by questions (even seemingly antagonistic ones) and his responses were clear and understandable. My take-away objection was the insertion of political opinion into the spiel and I mentioned that to the contact person when we talked earlier this week.
Yes … we did buy at the seminar at a cost $600 below the local attorneys' prices. The creation of the trust is in process.
Then at the Family History Center thursday, I heard a horror story about a trust created by a local attorney which contained additions by the husband about which the wife knew nothing, that the actual trust was never filed, and that the attorney is now billing her for consultations about the problems.
But on the pro side, an old friend (from when we first moved onto Hammond Ranch) had dealt with the company with whom we are dealing, and her experience has been good. So we feel we did okay.
Stay tuned …
~~~
Volunteer time at the Family History Center is becoming an iffy proposition.  My time was cancelled the first of the month due to the smoky air.  Then yesterday, the Sister I expected was ill and another showed up whose daughter was visiting and with whom she wished to go shopping. When there had been no takers for genealogy by 1230, we closed shop since I am not allowed to be there alone. I worry a little about what if someone plans to get there at 1300 or so.  Maybe we should ask those interested to call and tell us they plan on coming and when. However, I'm not on that committee. Oh well …
Next scheduled day … 6 October … right in the middle of Spinzilla.
~~~
Seasonal report … the year is moving rapidly toward full Autumn and onward toward Winter.  Completely dark by 2000.  And not really light until after 0730.
Weather has been clear and moderate.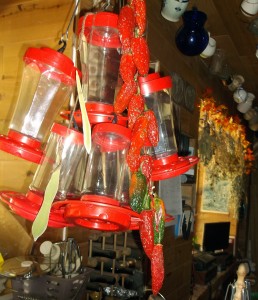 There are signs of Autumn both indoors (hummer feeders and drying chilies) …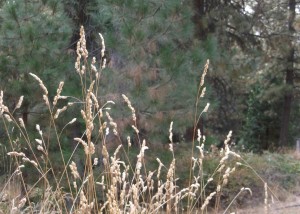 and outdoors (dried grasses).
The Gap fire down river is under control.  No new ones.
~~~
The trip to Medford last monday was a busy one.  The list of things to get done looked daunting.  But it all got done (with one exception) and we were home a bit after 1600.  Weather was nice and there was very little traffic.
Not much new at the retinologist.  George's right eye AMD is under control and we may be dropping back to every five weeks rather than every four.
We're on a fish and chips meal trip.  We had gone to McGrath's Fish House in Medford last month and went there again yesterday.  They post what seafood is fresh each day and its source.  Our fish and chips monday was wild caught cod from Washington state.  Next month we will be in Medford on a tuesday and plan to try the fish and chips at the Wharf in downtown Medford.
Comparison shopping …
~~~
Next to last radio event for 2016 will be the Biketoberfest in McCloud next saturday, 24 September. It was originally held in October.  Now that it is in September maybe it should be renamed Biketemberfest … but I'm not on that committee.
George and I will be manning our regular stations.
Other news for the radio club is that three members took on the job of sprucing up the exterior of the building.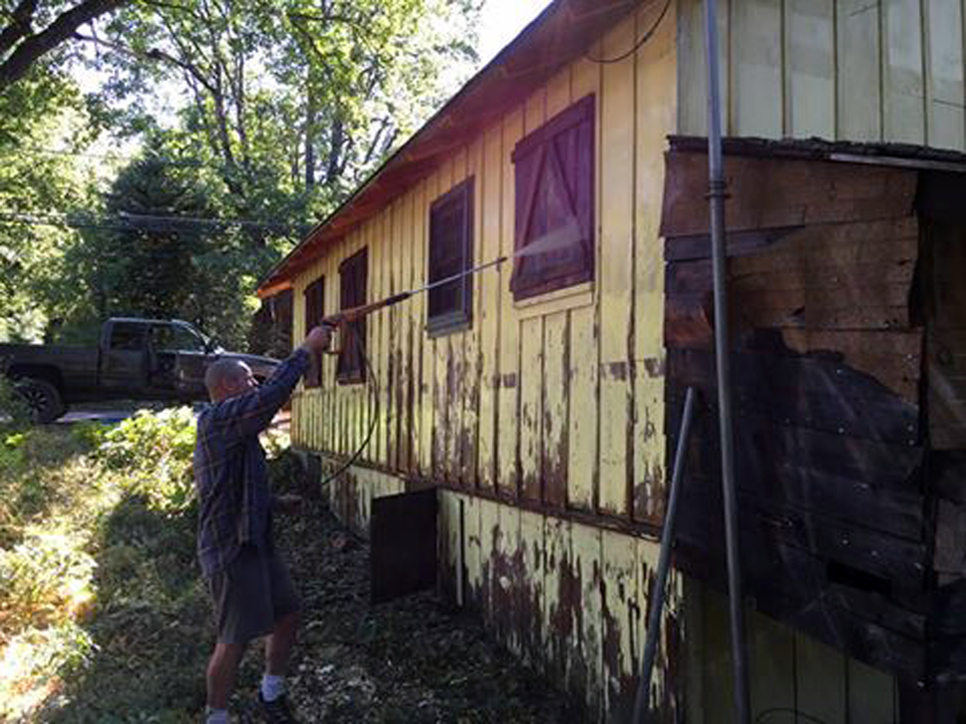 It had been in deplorable shape.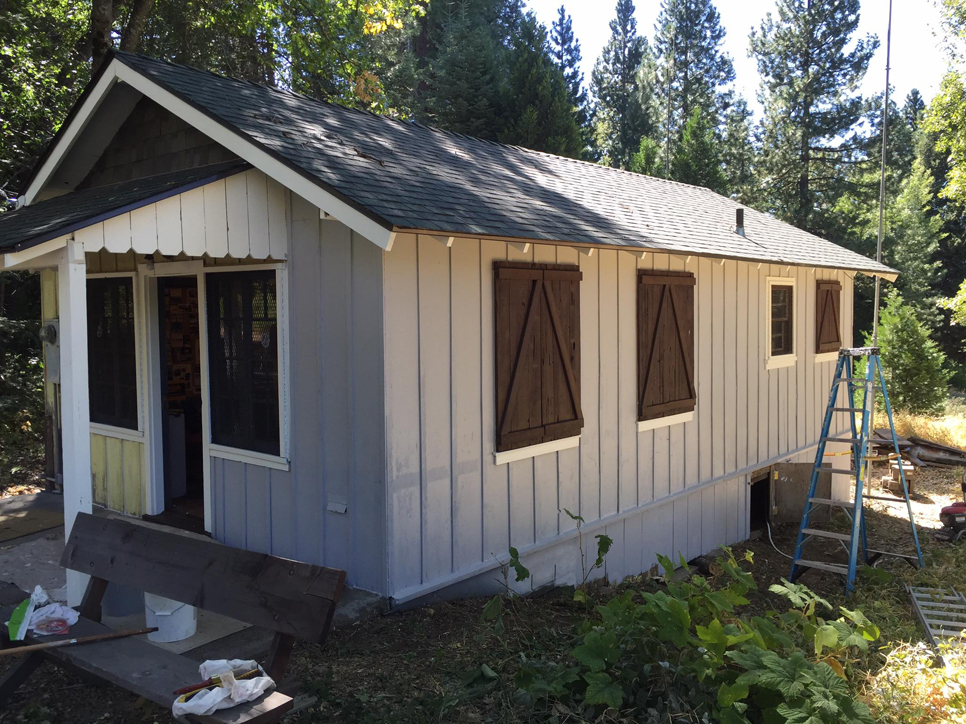 Now it looks soooooo good.
New eaves and roof. Obstructive trees taken down and antennas improved. Now a spruced up exterior.  Maybe the next step is to do something about the windows and interior.  We shall see.
~~~
I just finished reading "The Cursed Child", the 8th of the Harry Potter stories … and I'd been having a hard time with it.  However, I think I figured out why.
There were two Wilmas reading.
Wilma #1 is the Potter fan who wants to know what is happening.
Wilma #2 is the Wilma who has been involved with live theatre, mainly in the role of audience, for over 70 years.
Wilma #2 keeps getting in the way of Wilma #1.
Just one "for instance" … there is a scene in which the boys disappear under an invisibility cloak and the headmistress of Hogwarts is unable to see them (of course), but is able to see things move as the boys move.
Wilma #1 can see this in her mind's eye, but Wilma #2 says "How can you do that on stage? A black cloak, like Bunraku, and expect the audience to play along? Maybe."
Wilma #1 moved into the lead telling Wilma #2 that she is not on that committee so sit back and enjoy the ride.
It would have made a very good novel.
~~~
Received a story (told by a lecturer) from our younger son which struck a sympathetic note.  After all, Mt Shasta is dormant, not extinct.
How about an Iceland story?
I was speaking recently in Iceland when suddenly the fire alarm goes off. And it isn't one of those digital pulse ones, it's an old school metal on metal clangy one that makes your head hurt. It's so loud that I have to stop talking. Which is when I notice something interesting – no one is moving. They're just sitting there calmly smiling at me. Which I take to mean, "no big deal, it will probably go off in a second." But it doesn't, the alarm just keeps ringing. We've been sitting this way for a bit when two people appear in the back of the venue, open the double doors to the parking lot, and start gesturing to us to come outside because there's a fire. They actually say that – "There's a fire. Get out!"
The audience? They slowly start standing up and gathering their things while they're chatting casually with each other as they eventually make their way out of the venue. As I leave the room I smell smoke, which the others can smell, but it doesn't speed them up at all. We all stand outside in the sun talking and then we're told that the fire has been taken care of and we can go inside. So we file back in and when we're all assembled I can't stop laughing and I say, "Who are you people that you can be told there's a fire in the building you're currently in and you aren't even remotely phased?"
Immediately a woman in the audience says, "What do you expect from people who live on a volcano?"
~~~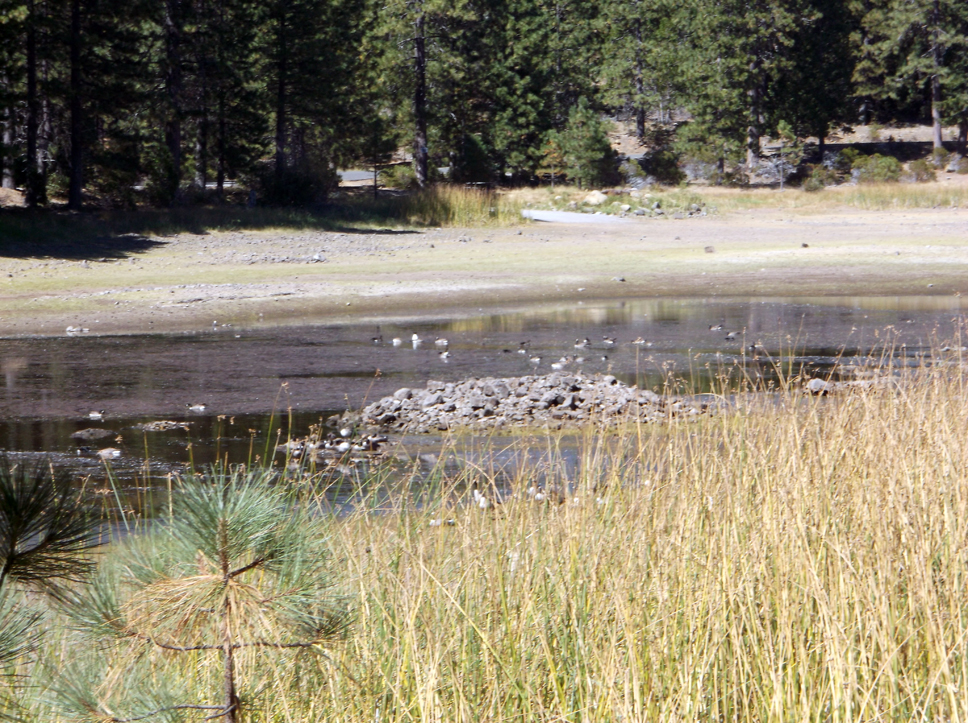 I had told you the reservoir is low.  Well, here's how low.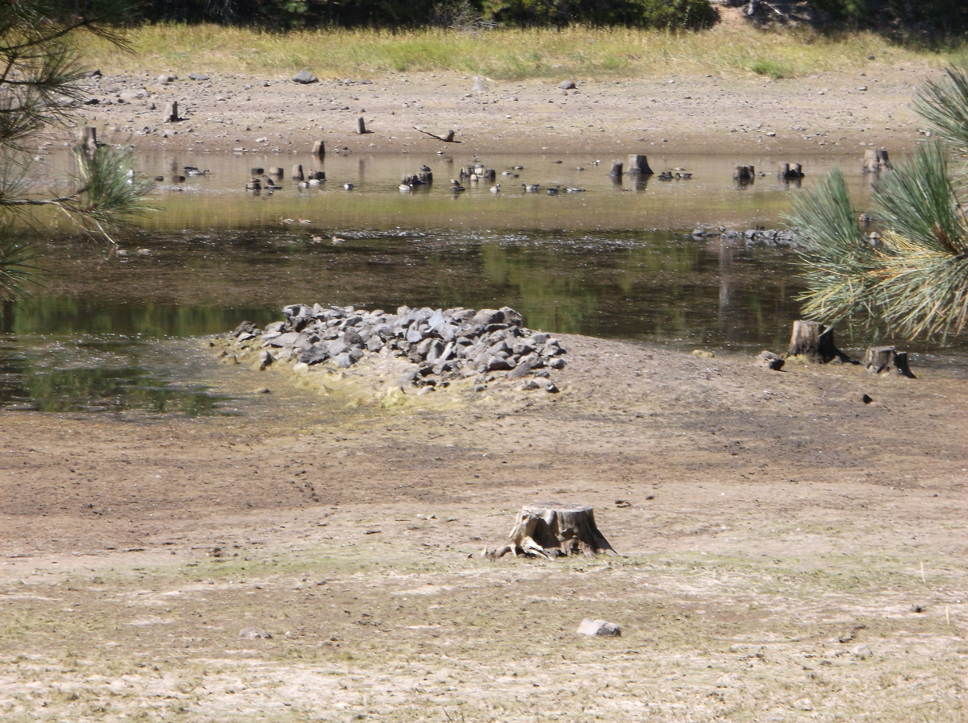 ~~~
That's it for this week.  Tyler and Tiffany will arrive this evening. There will be a cheesecake on the table.
Lesson for us all:
Sometimes an email or phone call isn't enough. Actually go see people.
So … 'til next week …