14 September …
The water level in the reservoir is dropping.  You can once again see the stone pilings of the old Durney Mill.  Chances are the reservoir will be down to the small spring-fed puddle by the end of the month.
~~~
Fire/weather report … the Gap fire to the north is coming under control.  There was a touch of smoke last sunday evening, but the wind has been with us.
A new fire broke out in Ft Jones but was under control rapidly.
We are under an almost constant red flag watch, but so far all is well.
~~~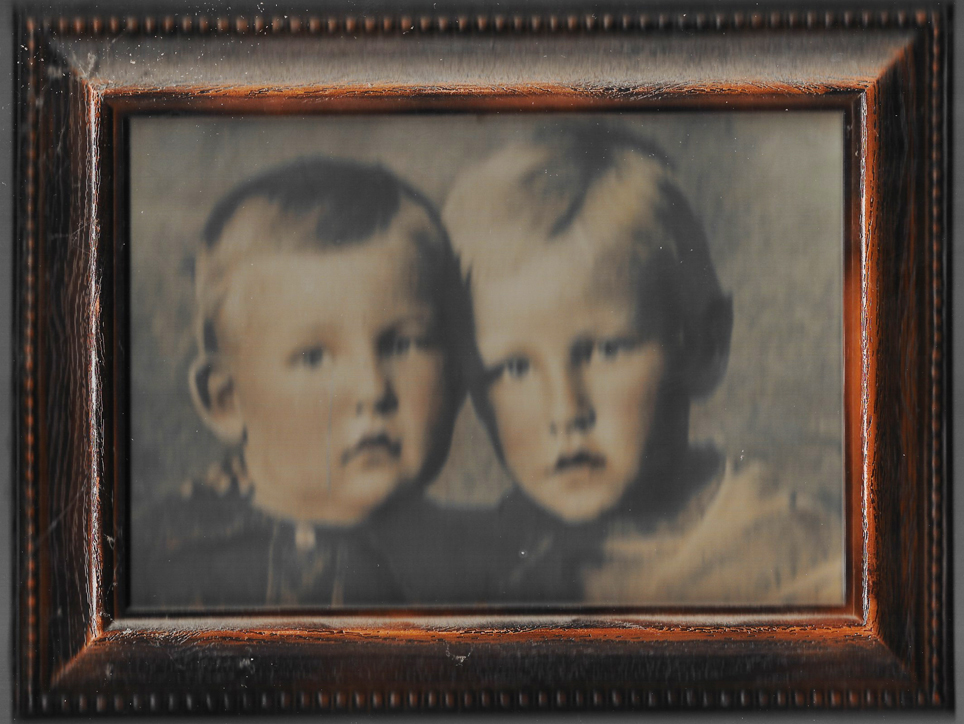 Last sunday was the 114th anniversary of my Daddy's birth.  That is Daddy on the left with his brother, Edgar.  Daddy was about 4 when this picture was taken.  He was the youngest in the family and is still very present in my life.
~~~
Getting lost is an adventure which is being denied to the younger generations due to MapQuest and Google Maps and GPS and APRS etc. etc. etc.
George and I have gotten lost more than once during our travels.  One adventure that comes to mind was the time we were moving to Milwaukee because of George's work.  We were passing through Joplin, Missouri and had an empty evening.  I had seem a tourist flier advertising the "Joplin Ghost Light" (also called the Hornet Spooklight, Hollis Light and Joplin Spook Light) and we ecided to go see if we could find it.
One story about the light is that it traces back to some boys lost during the Trail of Tears.  At any rate, it is said to be seen in the mountains between Missouri and Oklahoma.
We set out after dinner, following the map in the brochure, into an area we had never been in and of which we had no knowledge.
We found ourselves on narrow backroads (some gravel) with few or no signs of people.  We met no cars.
Eventually we came across a sign of people … a barn just off the road on the left.  But there was no one visible from whom we could ask directions.
We pulled a bit further down the road and a house up on the side of a hill to the right came into sight.  There was a light visible (of course it was after dark) and we decided to stop and ask directions to either the ghost light or back to Joplin.
Our oldest child was with us.  He was just five.  The movie "Psycho" had recently been released. He had been with us at the drive-in when we saw "Psycho", but I had made him lie down in the back seat and go to sleep.  "Deliverance" was still in the future.
After a short discussion, it was decided it would be best if I were the one to go up the steps and walkway to ask for directions while George stayed in the car with John to keep the engine running … just in case we had to leave in a hurry.  Logical, right?
Well … I was not attacked by any deranged householders, we never did see the light, and we did get back to Joplin and then on to Milwaukee.
And that was just one of our "getting lost" adventures.
~~~
In this part of Siskiyou County there are two railroad lines.  The main one is Union Pacific which bought out Southern Pacific and which runs freight through the canyon north and south.  That line is also the one used by Amtrak.
The other is CORP … the California Oregon Pacific line which runs from Weed, through the Shasta Valley into southern Oregon.
There is lots of traffic on the UP line.  I hear trains and train whistles often.
CORP however, is a much smaller operation so it is rare to see trains in operation.  But last friday we were on our way north on old 99 when about halfway between Gazelle and Grenada we came upon an engine headed north with four flatcars of plywood, a box car, and a tanker car (contents of both unknown).
I was so surprised I almost forgot to wave to the engineer as we passed, but I did wave and received a short "toot" in return.
I do love trains … even diesels.
~~~
Last sunday I received a surprise phone call.  Ginger Mattos had been Mark's third grade teacher.  She and I had met occasionally over the years, but did not maintain contact.  So when I heard her on the phone, it sort of startled me.
It turned out she had been trying to call a friend and had used a card on which was written my name and phone number.  But my name had been crossed out and the name of her friend written above.  Ginger had no memory of or reason for how that had happened.
We chatted for a few minutes during which I learned she had a fall a year ago resulting in a head injury which put her in the hospital for several days and now she is not allowed to drive, leaving her essentially housebound.  Ginger was calling her friend to ask when she would be coming next to take her to the store. 
Ginger invited me to stop by for a visit some time (I go past her place on my way into and back from Mt Shasta) and I said I would.
There is a connection between Ginger and me.  We share a birthday date.  The year Mark was in Ginger's class he had money for just one pair of earrings and wanted to give gifts to both of us … so I got one earring and Ginger got the other.  I don't think of her often.  The one time I for sure remember her is when I go to put on a pair of earrings and see that single bird earring,  I wonder if she still has hers.  Maybe I'll stop by and ask.
But I am wondering at the coincidence of the alteration of that phone card
 … if it was a coincidence.   
~~~
I've signed up for Spinzilla again.  This year it is the first week in October.  I've ordered some fiber and will look for some more.  No way do I want to run out.
Reports to follow.
~~~
Autumn truly is in the air.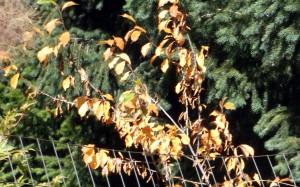 The yellow plum in the courtyard has changed ...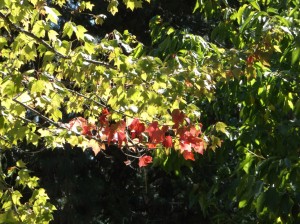 And the first signs of red are on the maple.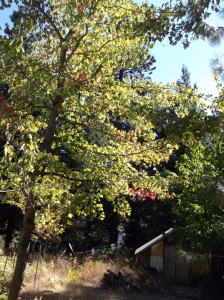 ~~~
And thinking back to getting lost … someone once said
A truly happy person is one who can enjoy the scenery on a detour.
So … 'til next week …