7 October …
 A few things caught my attention on our trip to Medford last week, but the blog was already so lengthy I left them until this week for comment. 
The alfalfa fields to the north have had their last cutting for this year and were full of 5-wire bales. The air was full of the scent.  George and the boys used to buck 3-wire bales when we were keeping cattle.  I'm not sure men can buck the 5-wire ones.  They are really big and may actually need loaders.
Emigrant Lake southeast of Ashland is nearly dry.  No gasping fish so far, but no longer deep enough for boats.  Oregon is sharing California's drought.
There are police cars in Medford which have big letters on the fenders saying "Volunteer".  They patrol parking lots and who knows where else.
When George checked out his purchase at Harbor Freight, a snip of a chick (about 15 by George's estimate) said "Thank you, Hon."  What ever happened to "Sir" and "Ma'am"?
There used to be someone who, during the year, built big piles of slash along old 99 south of Yreka for twice-a-year bonfires … May Day and Hallowe'en.  It's been about three years without them.  I hope wherever that celebrant is, things are well.
~~~
I was surprised by the Davis version of her meeting with the Pope when it was first reported.  It was made to sound as if the Pope sought the meeting and thereby endorsed everything she is doing and saying.
According to the Vatican, that isn't quite the way the meeting occurred nor the intent of the Pope.
I wondered if the Bible had anything to say about fact spinning and son John found this passage …
Proverbs 6:16-19: "There are six things that the Lord hates, seven that are an abomination to him: haughty eyes, a lying tongue, and hands that shed innocent blood, a heart that devises wicked plans, feet that make haste to run to evil, a false witness who breathes out lies, and one who sows discord among brothers."
(Underlining mine)
~~~
Spinzilla is under weigh.  My fiber was all drafted.   Matilda had been oiled and rebalanced. The new bobbins were ready and the old ones double checked.  I'm on my way to the 6,500 yard minimum I need to spin in order to better my total from last year.
  Here's the results so far …
I'm a bit disappointed. Life seems to be getting in my way this year.  Still, I may have found the routine.  If I spin for about forty-five minutes and then go do something else (toilet break, get a cuppa, make the bed, fix a meal, etc.) for fifteen minutes I seem to get something accomplished.  I'll post my total along with my team's total next week.  Maybe some pictures as well.
Spinners in Belgium, Norway, Germany, Spain and Sweden, along with Australia and New Zealand are in groups this year. I was a bit surprised there are none from the UK.
~~~
I am back on the volunteer list at the Family History Center for the first and third thursdays each month.  My first session back was last thursday.  Not much has changed.  Some new, more comfortable computer desk chairs were about it.
As soon as Spinzilla is done, and the home winter lock-down accomplished, genealogy here I come … again.  Found an obit (or rather son Mark did) of a Dibelka I need to fit onto the tree.  Also rediscovered a Bradford conundrum back in olde Connecticut which will be fun unraveling.
~~~
We have all heard "See a penny, pick it up. All the day you'll have good luck."  I still do that.  One day I found two in a WalMart parking area.
To that you can add "When you find a feather pure, your hair or cap it can adorn. Air borne luck will come to you before the next day's glowing morn."
For some time now I've been known to put feathers in my hair.  Maybe that's why I'm on my way to 90.
~~~
Mornings were getting chilly for a few days, but we seem to be moving into another warm spell.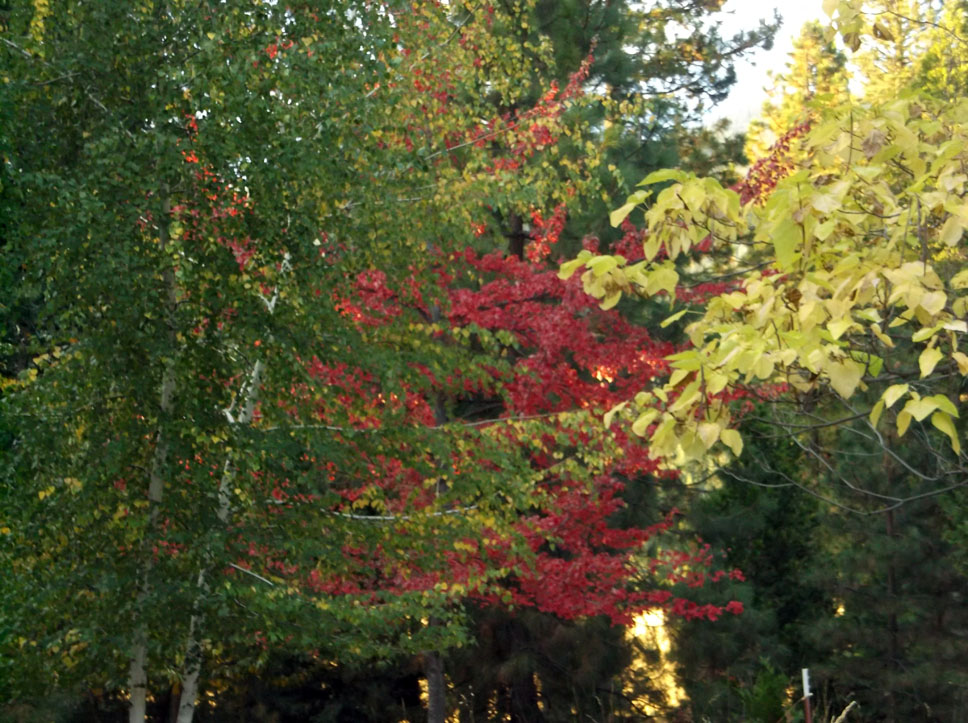 The autumn colours outside the front door are a wonderful greeting in the mornings.  It's a real 3-dimensional blessing.  Sort of like the old stereopticon photos with the yellow catalpa to the right, the light yellow and pale green birch to the left, and the RED maple shining through.
~~~
We're off to Yreka this morning … that's why this is posted early.  It is time for one of George's fasting blood draws.  That means we then go out to breakfast … probably at Poor George's, if we can find it.  We were told they were moving down to the center of town, but I have yet to see any sign of them there.  I'll take the camera with us and post pictures next week if we succeed in finding them.
~~~
And that's about all for now.
But here's a great word to remember …
ABRACADABRA, which means in Aramaic: I CREATE WHAT I SPEAK.
So … 'til next week …