20 July …
We are not having a large family of deer in the yards this year compared to years past.  I've seen only six or seven at one time.  We used to regularly see a couple dozen grazing together.  I can only guess it is due to weather change since we don't have more predators in the area.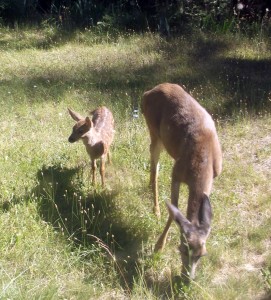 This year there is only one doe who regularly visits with her fawn.
Last thursday she was in the backyard and I got a surprise. She was joined by a forked horn male.  My guess is they are siblings.
It will be interesting watching them this summer.
~~~
Side thought following the visit last week with Merna … 
We got onto the subject of books (wonder how that happened). In comparing what we had read recently and were currently reading we found we both included histories and mysteries in our lists.
I guess it is true that genealogists are genealogists partly because they are mystery fans. We love tracking down lost ancestors and revealing family skeletons … then putting what we find into a historical context pleases us.
Mysteries and histories …
~~~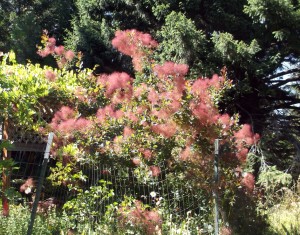 The smoke tree is in full bloom.  I remember when my close friend Elaine and I bought a pair.  I wonder hoe hers is doing since she moved and then died.
~~~
Things hit a bump with AC.
Sunday evening he wasn't interested in helping round-up the Ladies and didn't want to eat. Monday morning he wasn't watching for me and still wasn't interested in eating. He was subdued and seemed to want only to sit in the sun and be stroked. I began to worry that he was ill. He was still purring however.
Monday evening, back to normal … waiting for me, running to meet me, demanding the hens get in their house, and racing to his feeding area.
All is well.
~~~
An acquaintance had a bumper crop of red onions this year (he is at 3,700′ instead of 4,200′ like we are) and offered the extras to neighbors.  I went over monday morning and came home with some of the most gorgeous red onions I've seen (and they were really fresh – I watched them pulled from the earth).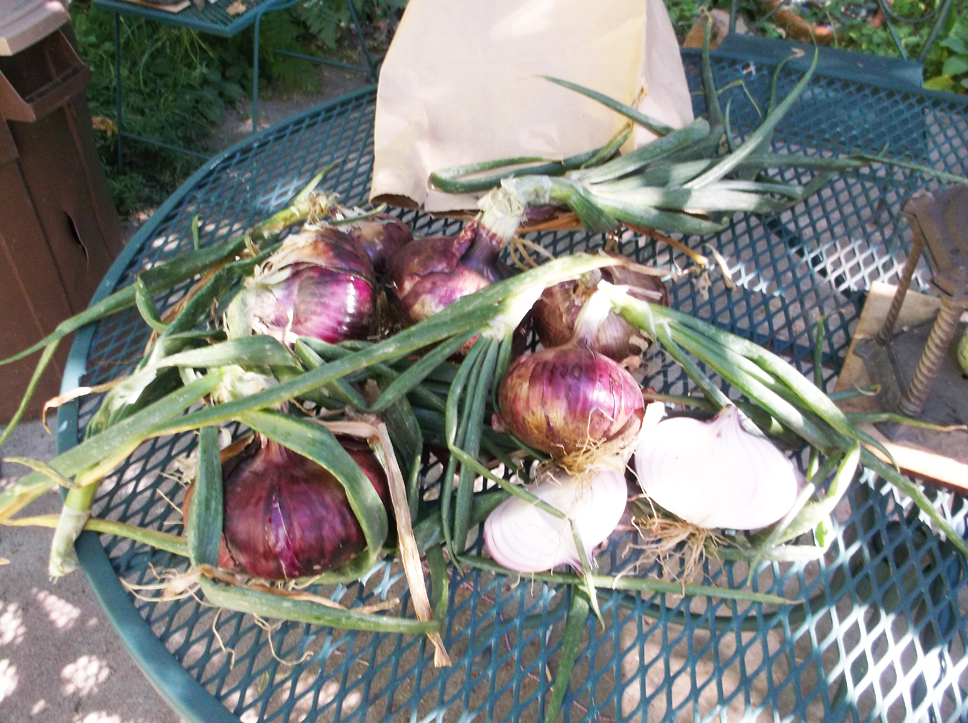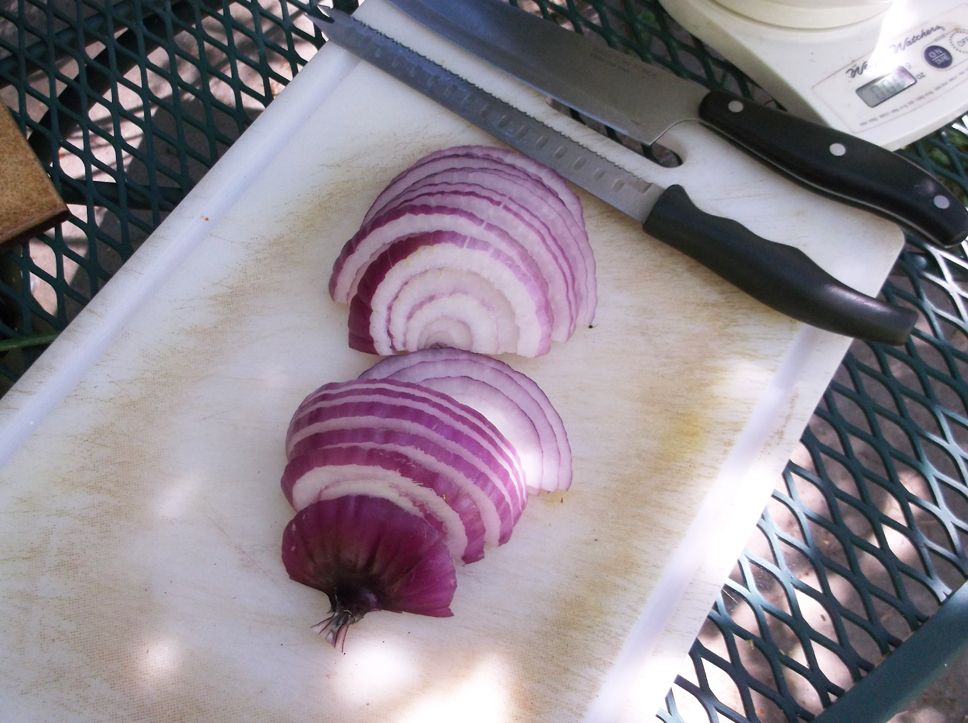 I spent the entire morning tuesday slicing …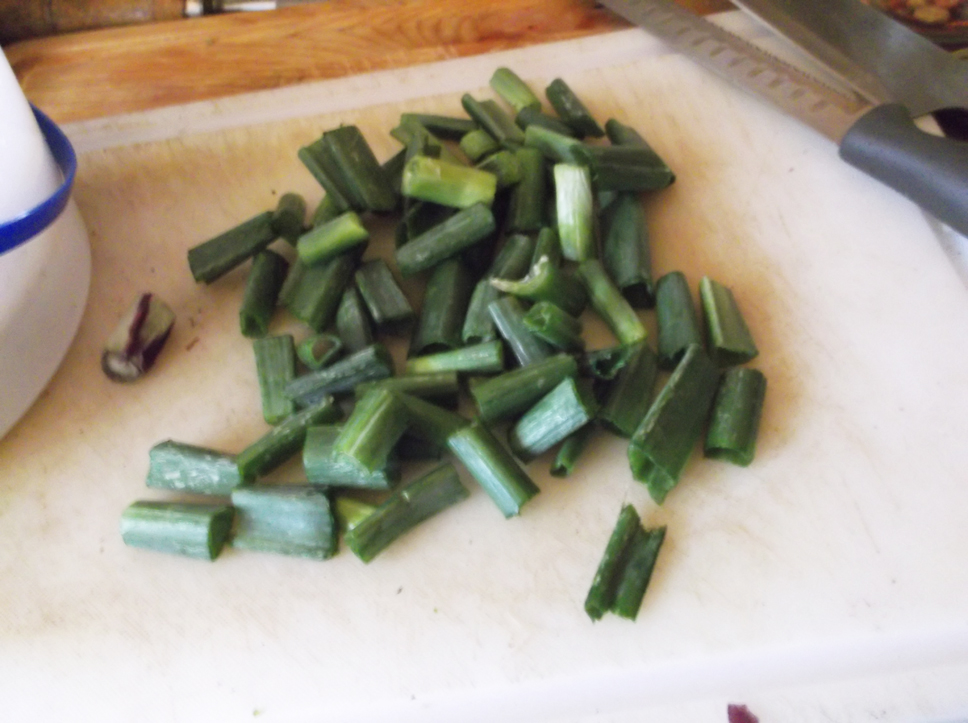 and chopping greens …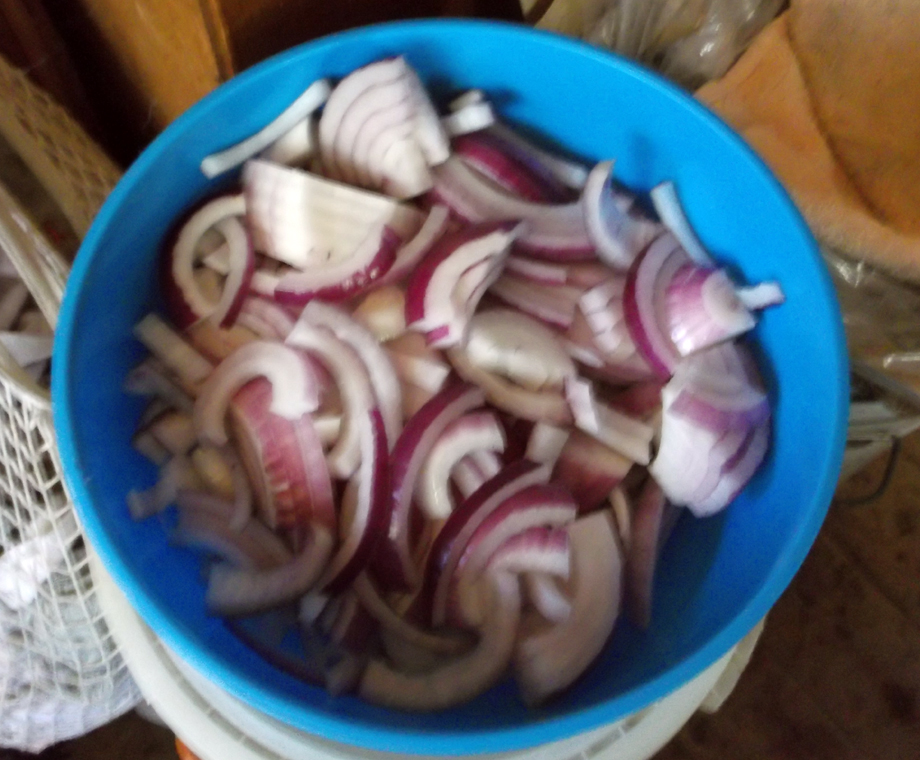 and prepping for freezer packets and relish and pickles (are your eyes watering yet?).
I ended with 7 packs of chopped onion for sauces and stews, 2 packs of sliced green tops for broth-making, the equivalent of 2 pints of red onion relish for use with winter meats, and who knows how many pints of pickled red onions (I'll be doing the pickling later this morning) plus the fresh slices I am using on salads.
I'm a bit tired of red onions right now but know they will be good later in the year when they cost too much and are probably not available locally.
(Sorry for the bad focus)
~~~
John arrives next sunday and will be here until thursday … celebrating his birthday. Will report next week.
~~~
Weather continues to confound … cool and damp one day, warmer but still damp the next.
Today is clear, drier, and a bit warmer.  The Shasta daisies are still blooming.  I got their start from friends who are now gone so when I see them I am reminded of Mary and Carmen Mazzei.  Her father was a bootlegger during prohibition and Carmen drank his red wine out of a pint jar and called us "Cousin" (seemingly an honorific used by local Italians). We were able to hear Carmen for years after he died because Mary left his message on her telephone answering machine.
They were good folks.
~~~
This is for anyone who has ever, under any circumstances, sung "We Shall Overcome" ..
https://www.youtube.com/watch?v=mfe010m57SM
~~~
Finally, as a pundit said … 
Headlines may grab attention but you have to dig deeper to discover the whole story. Once newly found information has settled into your psyche, you'll be able to move forward on more certain ground
So … 'til next week …