18 May …
John arrived last wednesday bearing presents …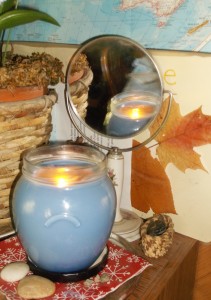 home poured candles, handmade soap (actually made by Michael), chili bread-and-butter pickles, Siracha ketchup, stones … You'd have thought it was a holiday or something (like Mother's Day and or a birthday).
~~~
Weather is holding in the guess-what-comes-next mode.  We've had showers and wind and sun and fog and …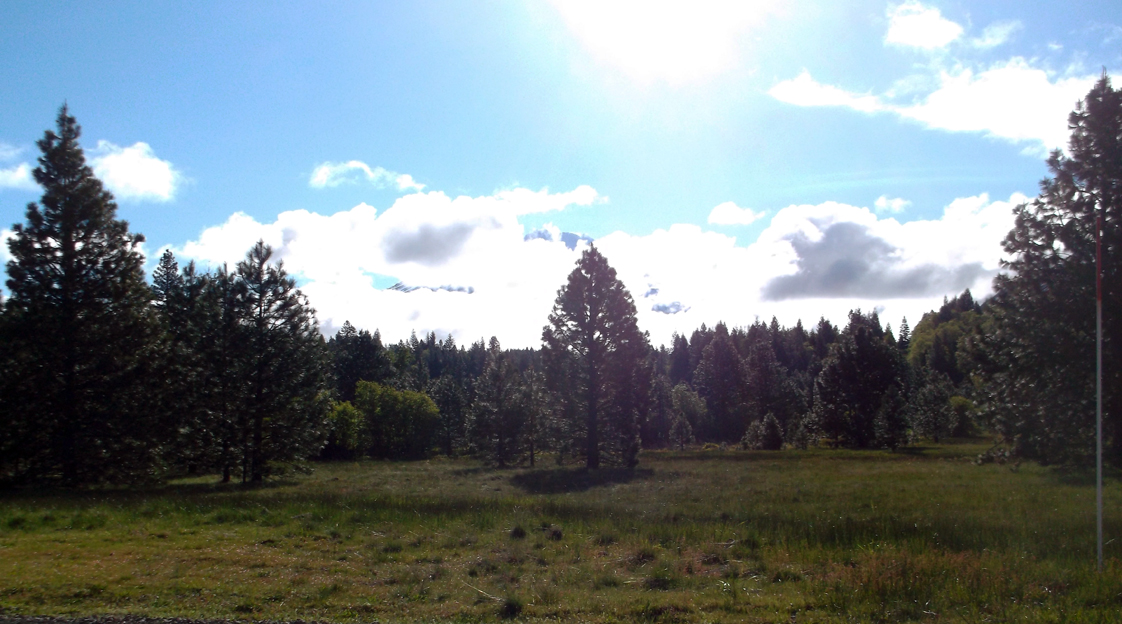 on my way into town last monday, the mountain was playing hide-and-seek.
~~~
John got the straw bale section of the garden started.  Now, for the next week, I need to water twice a day.  Then it will be ready to plant.  We will be doing squash that way this year.  Seemed like a good choice for a first experiment.
I am in the process of getting another bed ready for potatoes.  The starts are cut and hardening-off.
However, weather is still teasing.  It will be in the 80s today, but down into the 60s tomorrow.
~~~
It is a really purple spring this year.  In the past, the season had been yellow and purple, but this year the yellow came early and is nearly done.
The purple is giving us lilacs …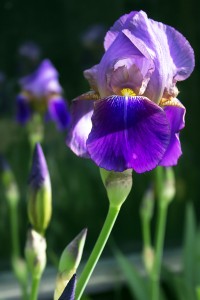 and iris …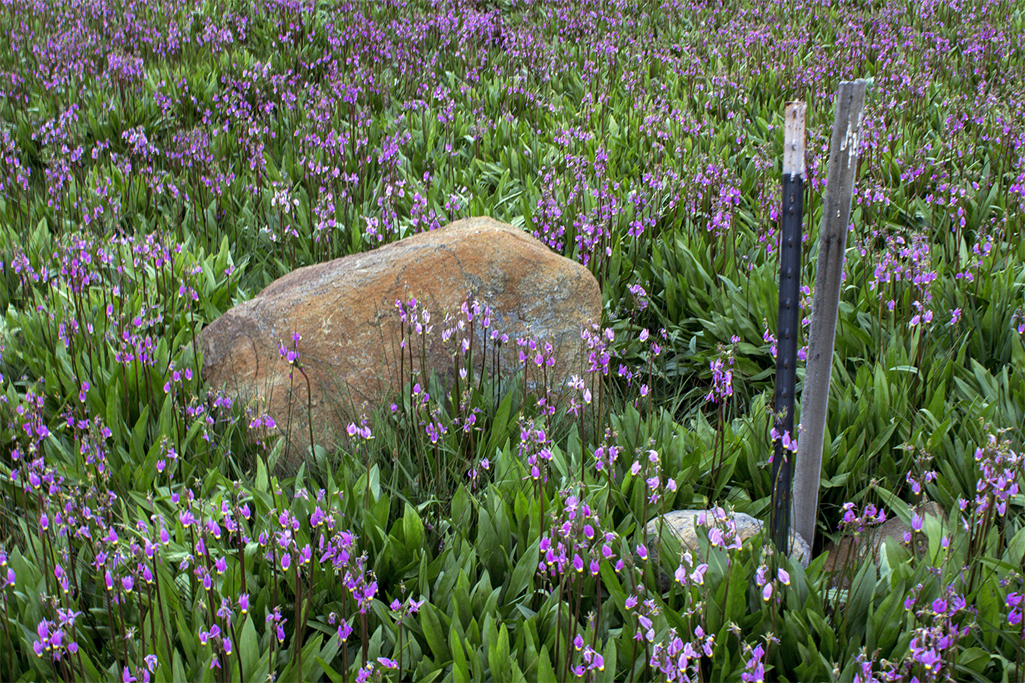 and shooting stars.  (Photos courtesy of son John)
~~~
Did I tell you the schedule for bicycle and running events this summer has been whittled down?  The TinMan Triathlon is no more and the Summit Century is now gone as well.
When we first started doing the amateur radio health-and-welfare thing there were only two events.  Two years ago, we did seven.  This year there will be five. 
Of course, as we get older, fewer events will be no problem.
Planning for the Castle Crags event is well under-weigh. I do the Mumbo rest stop for that event and the folks manning that stop always dress-up.  One year they were beach bikini bimbos. Another bikers.  I wonder what it will be this year?
With extra volunteer time available, I added a commitment to work with the County Tobacco Education Council at the County Golden Fair one day this coming August.  They have a facial morphing program which shows the changes to the face of a tobacco user as they age.  It seems to intrigue youngsters.  I'll be the adult-in-charge for four hours on 12 August.  Mark and family will be here, so George will be occupied.
~~~
The Met season is over.  Next up on saturday mornings is the Lyric of Chicago.
I noted a couple of days ago that the music world seems to have discovered Czech composers in addition to Dvorak and Smetana. Interesting.  I wonder how big a part Renee Fleming's success with the "Hymn to the Moon" from "Rusulka" had to do with that.
Another thing I've noticed is that Netrebko seems to be past her beautiful-young-thing era.  She won't be opening the Met season this coming autumn. 
Dimitri (remember Dimitri?) hasn't been heard in a while.  Too bad.  The throat situation seems to be taking one of the best baritones around.
But Placidisimo is now doing baritone roles (coming up … "Johnny Schiechi" with the LA Opera), so not all is lost.
~~~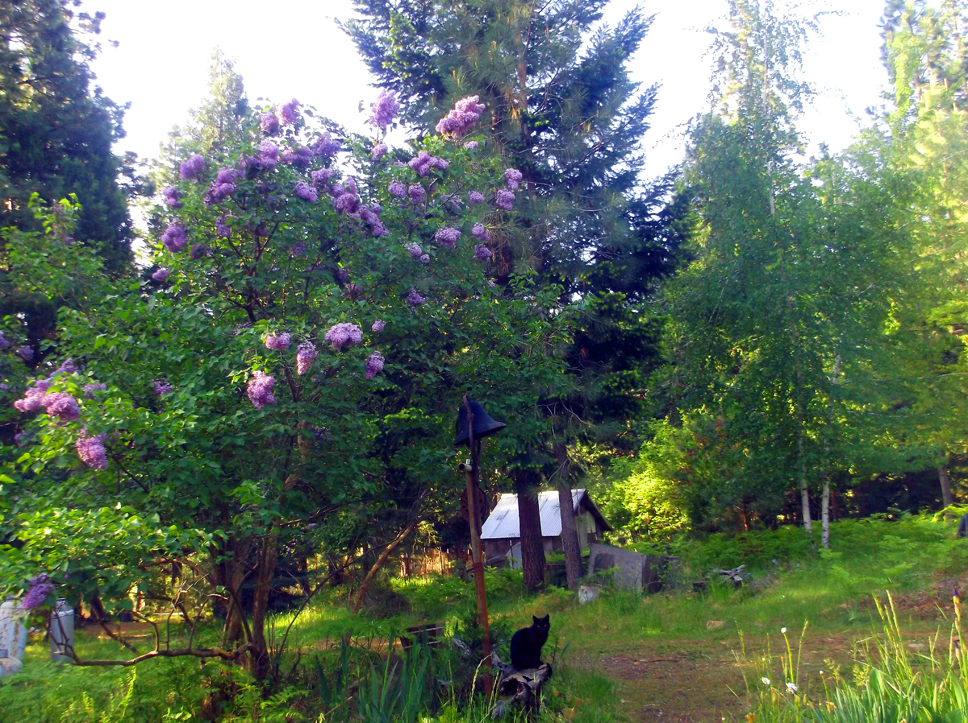 Sun this morning with the panthers on guard.
I used the solar dryer yesterday.  Will do it again this morning.
~~~
Saw this a few days ago.  It seems quite appropriate this election season.
"Knowledge not applied is just information."
-Nathan Curtis, inmate, Anamosa State Penitentiary.
And so … 'til next week …