4 May …
Weather is still playing a guessing game.  The end of last week was on the cool side with even a dip below freezing one morning.
Julie arrived for a two day visit late saturday and the weather turned nice for her time here.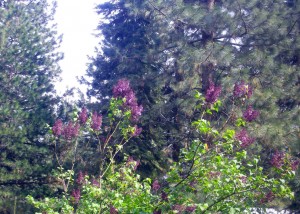 The lilacs came into bloom, there is fruit set on the plum, the Michael iris are blooming (but not the new ones yet)… and today it is raining.  I'll be making a pot of chicken noodle soup for dinner.
~~~
The trip to Medford last week was an interesting ride.  Because those trips are to the eye doc, we switch driving responsibilities after the appointment.  That means I get to do the rubbernecking on the way north, but not on the way home.
Last week some observations were …
There was a light snow and rime on the meadow and trees as we drove out to Old Stage Road  …  There is a very good calf crop this spring … There were two porta-potties setting on a rise in the middle of a field north of Yreka with no indication of why … The dogwood, locust, madrone, and catalpa trees down lower in elevation than Cold Comfort Farm are in bloom … The oaks are blush red with buds … The sides of the freeway are dusted with lupine bloom … and Emigrant Lake is fuller than it has been in quite some time.
At one spot in Shasta Valley I saw a cowboy on horseback out with his herd.  I also saw a rather large coyote crossing the road away from him.
We don't often see coyotes near the road nor in daylight.  Wish I had gotten a photo.  Oh well …
It was a nice drive.
~~~
The first of the 4th of July planning meetings was interesting in that there were fewer people in attendance but they seemed to be more involved than in the past.  The radio club will be doing security duty friday, saturday, and sunday nights and then working the walk-run and the awards on the 4th as usual.  A woman I first met sixty-two years ago while at the New Mexico State Insane Asylum will be visiting and so she will be with me on the 4th.  That should be fun.
~~~
Plans for this year's garden are underweigh.  We will be doing two straw bales to grow the squash.  It is sort of an experiment.  John and I had read about straw bale gardening and both thought it sounded like a go.  We shall see.
The rest of the garden will be as usual … manure and mulch.  I have leads on both straw bales and horse manure. 
John will be here next week and we'll get started.
~~~
As I said before, Julie (whose grandfather was my cousin Marvin) came for a visit.  We hadn't seen her in a couple of years so it was good to see her again.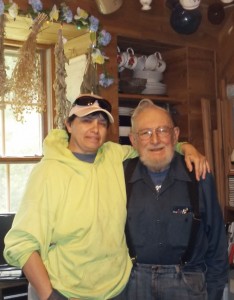 She was able to be here for two full days, but we just visited.  No tourist stuff this time.
She left yesterday morning and the house seemed a bit empty as it always does when company leaves.
~~~
Julie's visit triggered a cooking adventure.  She is gluten sensitive and I had a whole lot of bread planned for meals.  But I switched to potatoes and rice and found a gluten-free cake mix left from when Kamille was here and so we had a chocolate cake (which was more like a cake-brownie … heavier than a regular chocolate cake) and I mixed amaranth flour with rice flour and a teeny bit of Bob's Red Mill gluten-free flour to make a blueberry buckle for breakfast one morning.  It smelled great and tasted good too.  It was a bit more like a crumble than a buckle, but satisfying.
Although both George and I are gluten tolerant, I guess I will learn some fundamentals to gluten-free cooking and baking.
~~~
The eye exam and treatment went as usual, and George's semi-annual physical (the first since our Doc switched to VA) went well.  Next eye appointment is on the 24th.
~~~
I read an interesting thought in the Rebbe's column this week.  Sort of ties in with the idea that what you put out is what you get.
"If you train yourself to respond to people who ask you how you are with 'Quite well' or some other positive thought, then many times a day you will focus on what you have to be thankful for and you will also hopefully bring joy to others by your uplifting example. If you say, 'Can't Complain' you have fulfilled your social obligation of answering what is generally a social formality question of 'How are you?' — but you bring no joy to yourself or anyone else."
So … 'til next week …