17 January …
Last wednesday we made a trip out to Yreka.  It was a shopping trip.  George suggested we have dinner at Casa Ramos. 
What's to say "No" …
We go there most every time we do shopping in Yreka … unless we're in a hurry.  Then we go to Subway in the south-of-town shopping center.  I prefer Casa Ramos.
We always have the daily special.  Last week it was a Mucho Grande (Pollo) Burrito.  Yea … Mucho Grande.
You know those big, oval, heavy pottery plates Mexican restaurants use?  Well, those burritos filled the plates.  The chopped greens, salsa, tomatoes, and sour cream had to go on top of the burrito rather than on the side.
I always leave there with a full belly, a big smile, and three or four of their chocolate mints.
If there is a Casa Ramos in your area … try it … I'd bet you'll like it.  They are owned by a single family who insist on authenticity and quality.  And no, I was not paid for this commercial … but we do get a veteran's discount at the local places (one in Mt Shasta, one in Yreka).
~~~
Ever need an eye candy lift during your day?  I get one from my older son's page when I feel that need … http://occularity.tumblr.com/
~~~
The situation up in Oregon in re public lands has this area mesmerized.  There was a gathering in Yreka last week … men in cowboy hats, with sidearms, on horseback.  That was interesting.
I was unaware there was any federal land in this area being used by ranchers for grazing.  Guess I should have known. 
A bit ago there was talk of creating a National Monument for land protection in the northeast part of the county and signs saying "NO Monument" showed up.  There are still a few of them around, but no longer any big fuss.
I wonder what happened.
~~~
Two days before Valentine's Day there was an article on NPR about how folks buy Valentine gifts.  It said that when you've been together a long time, you tend to buy gifts which benefit both of you … George said  "Happy Valentine's Day.  I bought you an electric chain saw."
Let's see … what did I get for him ???   Garden seeds.
~~~
I had an interesting interlude yesterday morning.
When I am sitting at the computer, I can look out the south windows past the trees, across the meadow, toward the Eddys. Early tuesday (as the morning light began), I was concentrating on finding an agent for the work I've been fiddling with for a few years and I glanced out the windows just to get a boost from the view.  It was as I expected … soft, clear, green, and gold.
I went back to work and when I glanced out again, about 10 minutes later (the sun still wasn't up), I could no longer see the mountains.  They had hidden in mist/fog.  I could, however, still see the meadow.  Two minutes later the meadow had joined the mountains in the fog.  Another couple of minutes and the trees near the meadow were gone.  Another minute or two and trees near the house were getting gauzy.
Then all of a sudden the view was back to soft, clear, green, gold.  The air was so clear I was able to see the remaining patches of snow at the top of the meadow and on the mountains.
What a ride …
~~~
The death of Scalia … quite a surprise.  I was anticipating the loss of Ginsberg first.
~~~
It appears we will finally be able to elect the amateur radio club officers for the coming year.  The roads are clear so the meeting this evening is a go.  I think I know what the results will be … but stay tuned.
~~~
Latest misplaced modifier … "He never knew his father who died when he was two-years-old."
Neat trick …
~~~
Winter snow does us a favor sometimes not noticed.  It clears most of the moss build-up off the roof.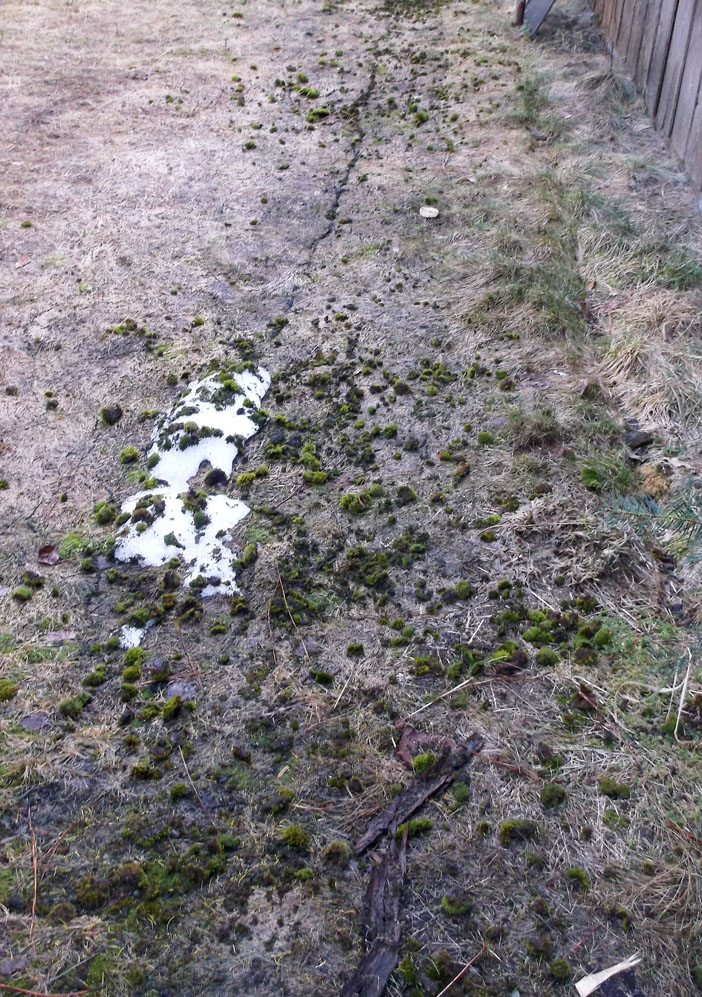 Rain this morning …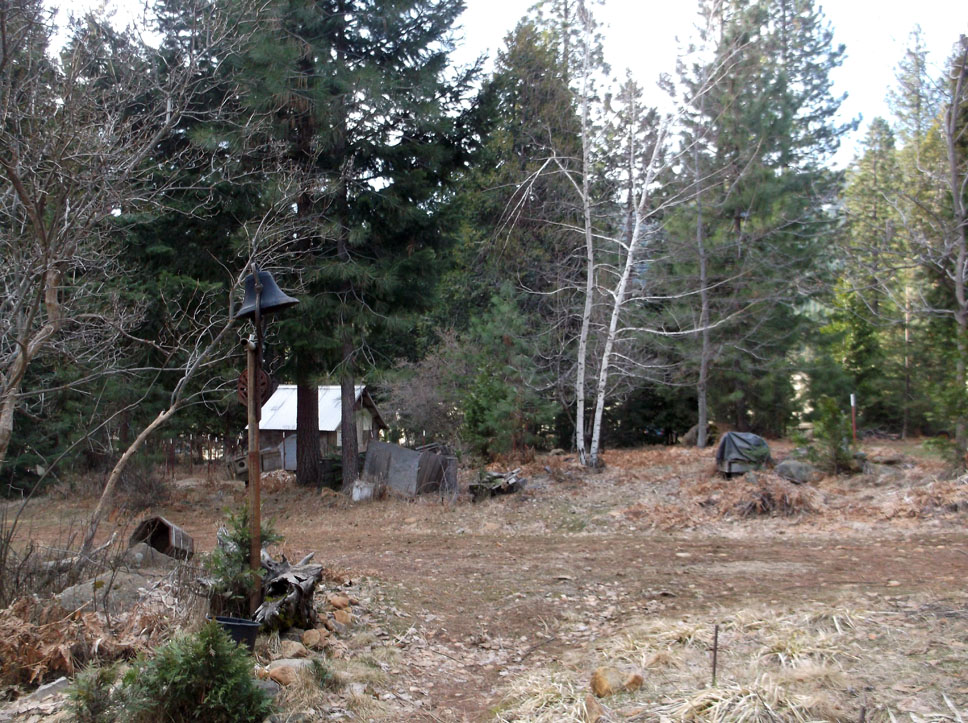 due to last through tomorrow with the possibility of snow above 3,500′. 
We're at 4,200′.
~~~
And finally, today is "Random Acts of Kindness" Day.  With that in mind, here is some advice for the coming week …
"Let your dreams be bigger than your fears and your actions be louder than your words."
So … 'til next week …