13 January …
My volunteer session at the Family History Center last thursday didn't happen.  The road outside the driveway was closed by the snow as was the church parking area in town.  Besides, who could be expected to be out for genealogy research when there was that much snow … 10″ new in the city. 
Next scheduled day will be the 21st.  I'm working on a family history line that needs access to European sources so I'm stuck with a mixed wish … no snow so I can use the LDS free sites or snow because we need it.  Guess I'll  go with SNOW.
We haven't seen the Mountain in a few days, but someone in town got this shot …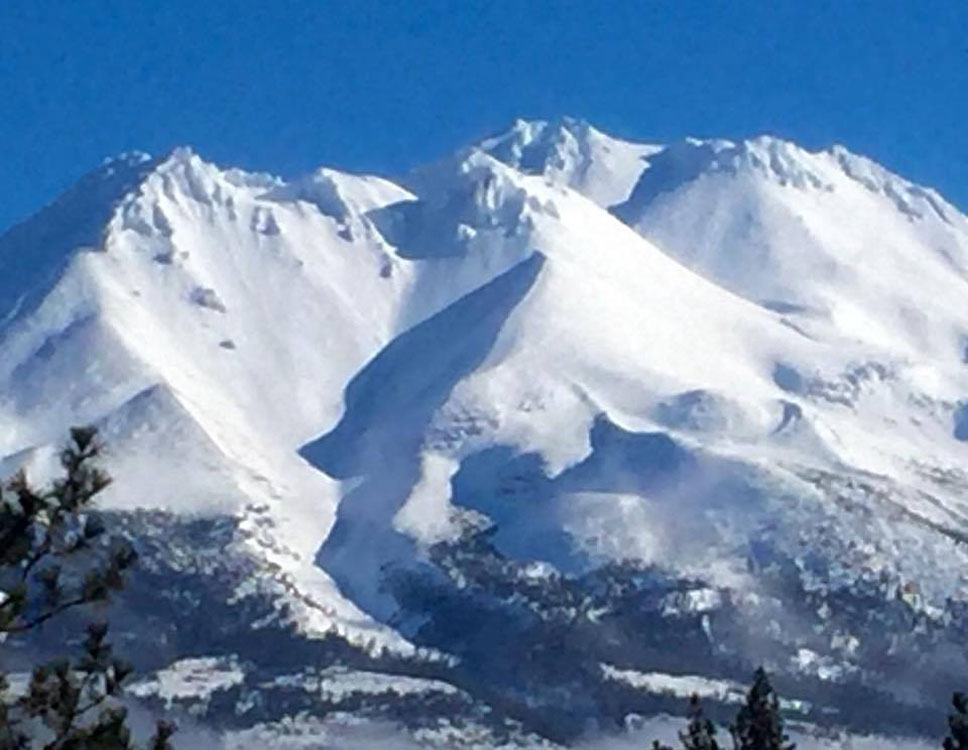 ~~~
During one of the snowfalls last week, I spent a morning making fresh tomato sauce for pasta from frozen summer bounty … freezer to table with green salad and cheese toast.
~~~
In addition to the movies to which we look forward at winter holiday time every year, there are two goopy items which come to the surface for me.  One I've written about before (and quoted to folks at dinners and potlucks) …
"Offer thanks for dirty dishes.  They have a tale to tell.  While other folks go hungry, we're eating very well."
The other is a radio clip I wait to hear.  I first heard it on NPR 30 or 35 years ago.  It makes George and our son roll their eyes.  It is sloppy sentimental, but it reminds me how blessed I am.
If that makes you wonder, you can hear it at …
http://www.npr.org/player/v2/mediaPlayer.html?action=1&t=1&islist=false&id=5028755&m=877229
~~~
A new year hasn't improved people's grammar any, not even on NPR.  The other day, within half an hour, I heard it announced that a man was refused a job because he had "… committed a felony on a job application," and that the father of a convict had "… died while he was in prison."
What kind of felony can be committed on a job application?  And it was notable that both father and son were in prison (eye roll here).
In addition, misplaced modifiers keep turning up … and they're getting better all the time.
In a blurb for a tv show … "A hard-charging prosecutor in a loveless marriage is accused of murdering a colleague with whom he had an affair after she turned up dead."
Facebook isn't much better.  There was a post about successful people who had initially been failures which noted about one man that "his fiancé died, failed in business, had a nervous breakdown, and was defeated in eight elections."  Tough luck for the fiancé.  I wonder what the man's history was like.
I knew what was meant each time, but my kneejerk is to despair and wish schools still taught grammar.
There are occasional sparks of hope.  In an interview with an educator on PBS, a UCLA professor, he cited a school which INSISTS each and every teacher teach literacy regardless of their main subject, i.e. math teachers are required to teach grammar and art as well as math, etc. etc. etc.
~~~
On the subject of language …
For quite some time now, I have advocated that operas be translated into English.
For too long, opera has been owned by wealthy, show-off snobs or immigrants whose first languages were German, French, or Italian. As a result, Americans whose ONLY language is English did not learn or appreciate opera. 
If opera is ever to be appreciated in this country it needs to come to those people.  In my experience, I learned to appreciate opera through my introduction to a translated production … "Tales of Hoffman" … in 1951.  My grandchildren's introduction was to a translation of "The Magic Flute" and then "Hansel and Gretel" both of which were holiday offerings at the Met.
There are great basic stories in opera but it is difficult, if not impossible, to enjoy them if you can't understand what the characters are saying without pulling your attention away from the action in order to read printed translation.
I know I've been on this soap box before.  Watching our DVD of "Die Fledermaus" last New Year's Eve highlighted the difference between Europe and America when it comes to language.  The Covent Garden production was in three languages (English, German, and French) with dialogue moving through them seamlessly.  Characters switch smoothly from one language to another within a single speech. We have watched it often, and we have snatches of both German and French, so we can enjoy the flow although there are still places I need to read the subtitles.  However, the European audience probably had little trouble since a lot, if not most, Europeans speak multiple languages.  That is most likely a result of European countries being small compared to the US, each with its own language.  Travel is easier which makes the need for more than one language a necessity.
I'm not sure what the purpose of this rant is.  I can think of many directions in which it might go … translate opera and stop looking down on bi-lingual people, or teach. really teach, English speakers some other language to the point of fluency rather than just enough to get a C,  or require immigrants be taught English.  I will undoubtedly return to this at some time in the future since it crops up fairly frequently … like every saturday when I listen to the Met.
Oh well …
~~~
It seems that in several cities there are businesses called something like "Party Bikes" which are bar-hopping tour parties on wheels defined by law as any purely pedal-powered and commercially owned "group cycle" with an independent driver and at least five passenger seats. The passengers can't just sit there … at least some have to pedal.
Before new laws which went into effect 1 January, the passengers could drink only during the stops at pubs and bars.  Now, in some places, open container laws have been modified so that party bikes can allow, or even serve, beer and wine while en route between stops.
The news report made me think of the title Ray Bradbury gave the fourth chapter of his book, "Zen on the Art of Writing" … "Drunk and in charge of a Bicycle."
~~~
Weather had a lot to do with the proposed trip out to the mail boxes (which George did on sunday) and to Yreka (which we did yesterday).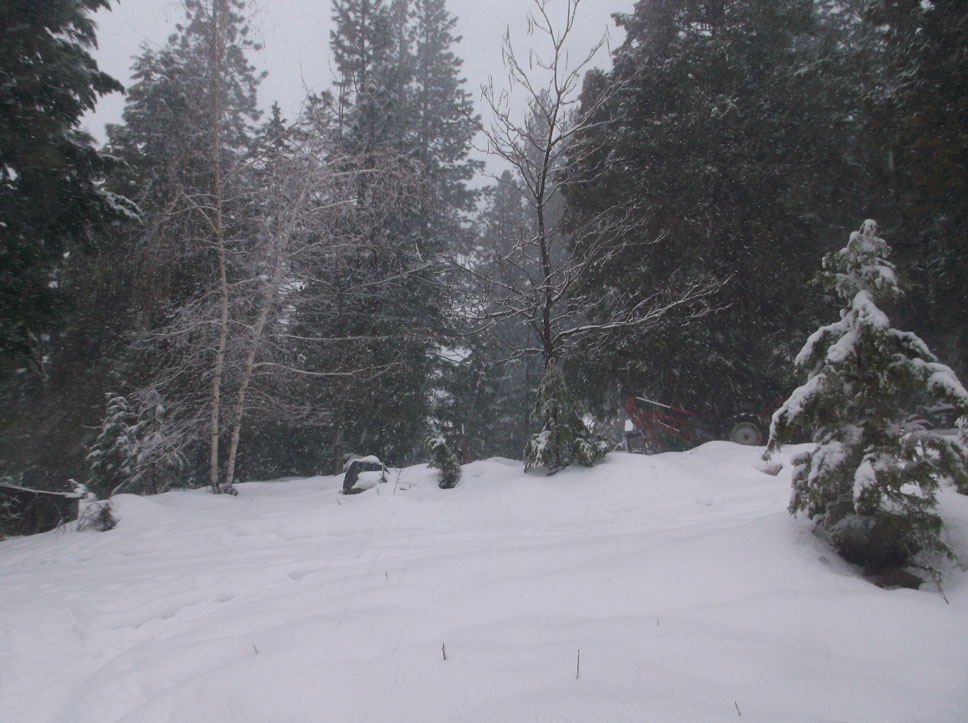 … the 6th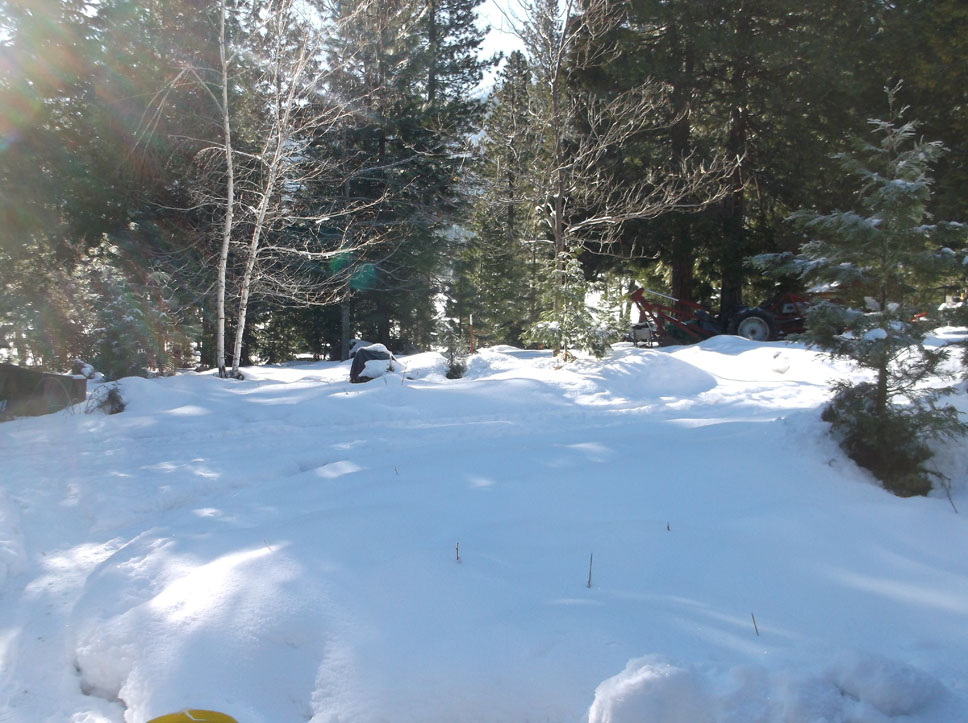 … the 8th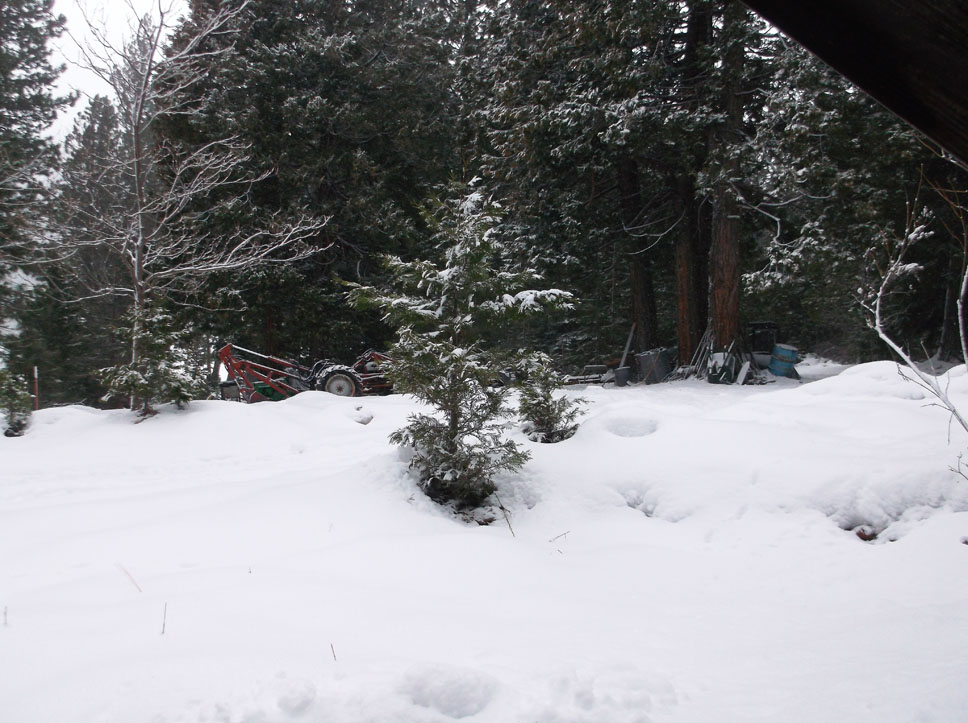 … the 9th
I posted the following on Facebook yesterday evening, but I'm repeating it here for those who don't do Facebook …
Out and return for the mail had been no problem. The trip to Yreka on tuesday was not too much trouble going out, just a bit of slipping going down the curved hill. 
Coming in was no problem until the same spot in the curve just below the driveway entrance.  At one point, it took two tries to get back on the road out of the north side ditch.  However, the big adventure came when we tried to make the 90°plus turn into the driveway.  The temperature monday and tuesday had been above freezing so the drifts, what with melting,had gotten soft.  At the turn, the truck dug down to dirt but by then there was a berm of about 18″ of gloppy snow in front of each tire so traction didn't help.
This is not the first time this has happened.  We talked, in the past, of putting a snow fence along the side of the drive where the wind blows the deep drifts into that intersection and a way down the hill.  Never got it done. 
It will be on the To Do list for next autumn!
George walked in to the house (about 500′) and brought the tractor back to pull the truck out.  It worked and we were home and unpacking by the time the news came on the telly at 1530.
And  … as an aside …
Yesterday, before we left home, I read that it was "Kiss a Ginger" day. In the produce section at the store I saw a young man with vivid red hair and beard. So I went up to him, told him to be careful because it was "Kiss a Ginger" day, and kissed him on the cheek. I walked away giggling. I heard him trying to explain to his buddy what had just happened.
We both had something to talk and laugh about the rest of the day.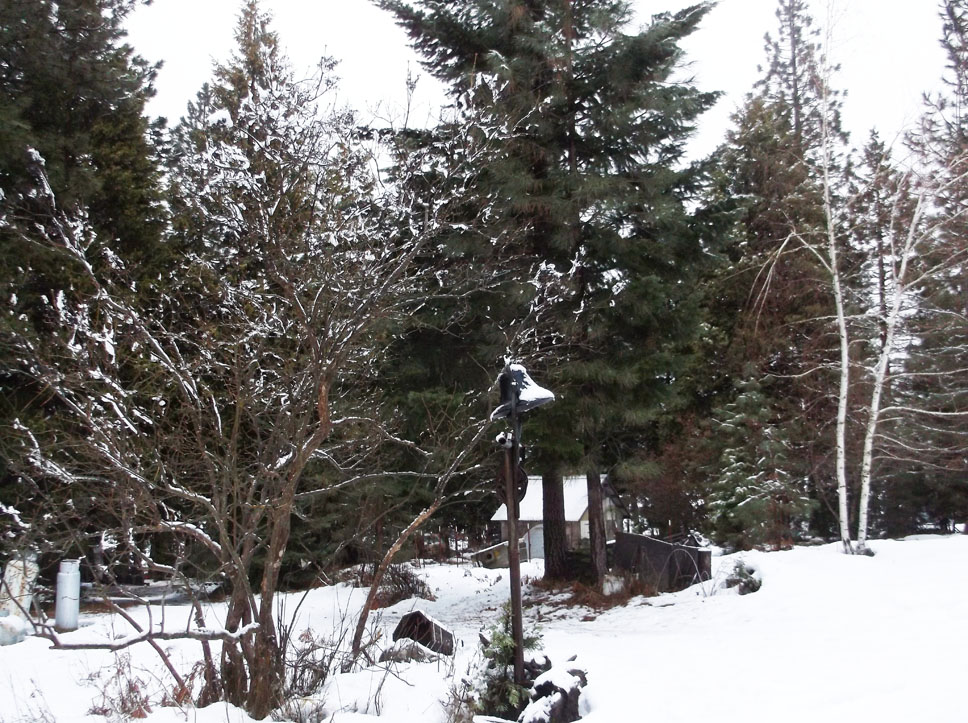 Here's what it looks like this morning and it is snowing again.
Next scheduled trip out? … wednesday the 20th.
~~~
How can I finish without mentioning the death of David (Jones) Bowie?  A teacher to the end … Do not go gentle into that good night … "Look up here, I'm in heaven …"   https://www.youtube.com/watch?v=y-JqH1M4Ya8
~~~
I am only a couple of weeks late offering a New Year's wish for us all …
May we have enough happiness to make us sweet, enough trials to make us strong, enough sorrow to keep us human and enough hope to make us happy.
So … 'til next week …