23 December …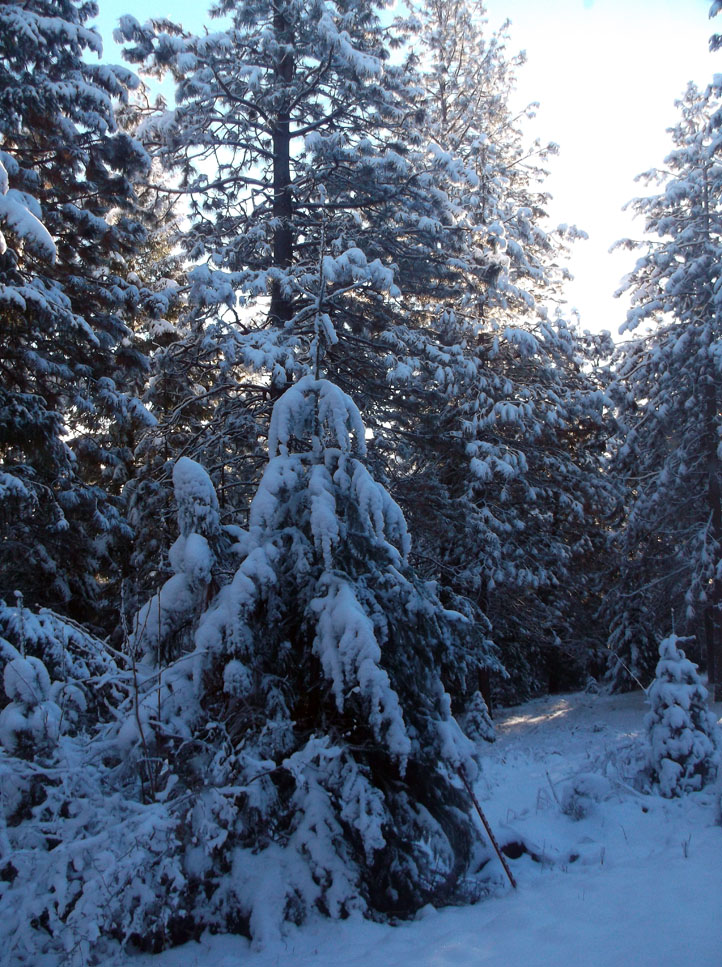 Last wednesday began cold and clear. 
As I go out to care for the ladies, I have the opportunity to admire my surroundings and give thanks.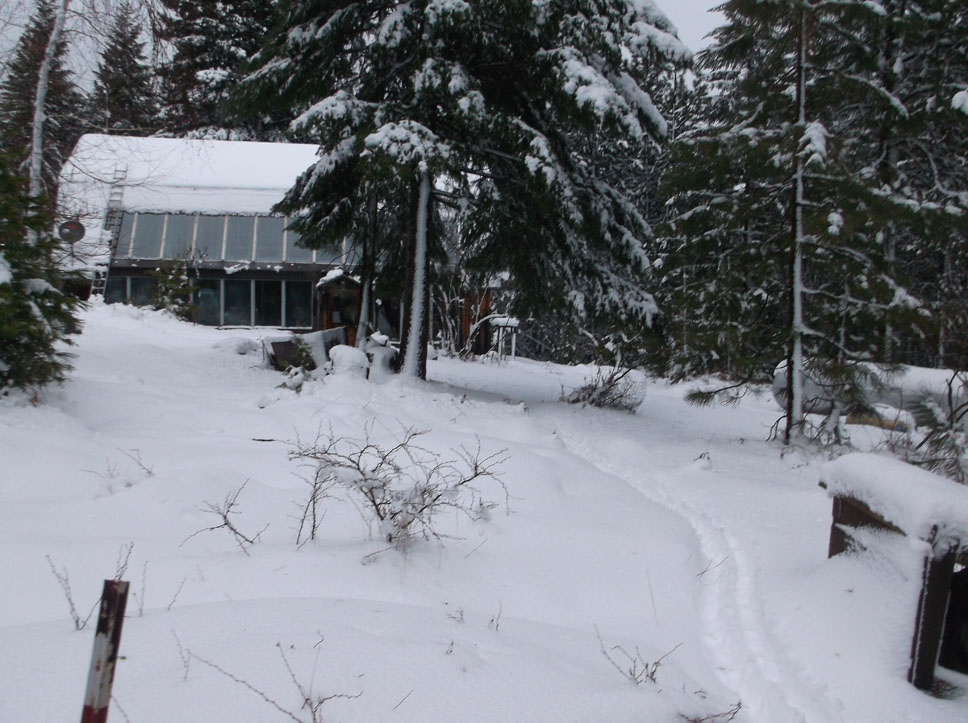 Each chore trip turns into a Blessing.  I am so fortunate.
~~~
The radio club's holiday potluck went well.
I know I promised pictures and I did remember to take my camera … but the batteries were dead.  So no pictures. 
Too bad because the club house was decorated beyond extravagant.  The lighting was exceptional.  The food was chef level.  The drinks flowed like the proverbial wine.  The music and singing sounded professional.  The dreidle games and their payoffs were on a par with Vegas.   Fabulous !
And you have no way to prove I may be exaggerating 'cause there are no pictures.  Oh well …
But honestly folks, we did have a good time.  George and another ham put tinsel and lights around the front door.  The food tables held trail mix as a starter; porcupine meatballs, spinach linguini, A-1 homemade mac and cheese,  slow-cooker yams and apples, and grilled tri-tip as main dishes; two green mixed salads and a jello salad; wine; and a berry pie plus pumpkin cream cheese moussè to end the meal.  And that (as Edith Ann would say) is the trooth.
One member showed up in a Santa hat and proceeded to lead the singing.
Before dinner stories about radio mis-adventures were shared.  After dinner there were three dreidle games going.  All three prizes (sets of crocheted pot holders in holiday colours) were won by men.
It was cold, but a member had gone by early and turned on the heaters.  And, of course, when folks started arriving their body warmth kept it all cozy.
As far as I could tell, a good time was had by all.
~~~
However … my volunteer session at the Family History Center scheduled for thursday didn't go so well.  It was cancelled. 
The Sister with whom I had been scheduled to work needed the day for holiday preparations and she was concerned about me having to drive home late in the snowy dark. 
Neither of us really believed any genealogists were going to show up that close to the holidays requesting aid in research.  So we didn't open. 
Next scheduled session … 7 January.
~~~
I went into Weed early saturday to finish off the holiday shopping and to mail the two packages … and  that trip was a story. 
The post office opens at 0930, so I left home about 0900.  It was snowing lightly.  Getting out of the drive was a bit iffy since we hadn't been out since the snows began in earnest.  By the time I got down the road to the KBar hill, the snow had picked up.  I thought "I used to drive this all the time. I can do it … but it's been years since this was habitual.  Can I still do it?"
My decision was that the worst of going out was past so I might as well go on into town.  Of course, once I was on pavement I was on roads which had been plowed and sanded.
The post office wasn't as busy as I thought it would be.  I did meet a couple of people I know and so spent time chatting.  Small town post offices and grocery stores are like that.  I then dropped off the library book (a Kellerman mystery) and went on to the grocery store. 
Four bags and forty minutes later I was in the truck on my way home.  The sun was shining in Weed but I saw the on ramps to the freeway were blocked.  I still don't know what that was all about.
By the time I got to Old Stage Road it had begun to snow and home looked to be under a dark cloud.  Just before I got off the paved road, I stopped and put the truck into 4-wheel high.  I took it slow and had no problem, not even going up the KBar hill. 
Thinking about the upcoming turns and the slope of our hill, I put it down to 4-wheel low and started up in 1st gear.  No problem … until …
The turn off High Meadow into our driveway is a fraction more than a 90° angle.
I made it.  It took a couple of tries and left the drive entrance in a sorry state, but I was home.
Oh well …
By sunday noon, every trace of my trip was gone under a new layer of snow.
Monday we had the first blizzard we've seen in years.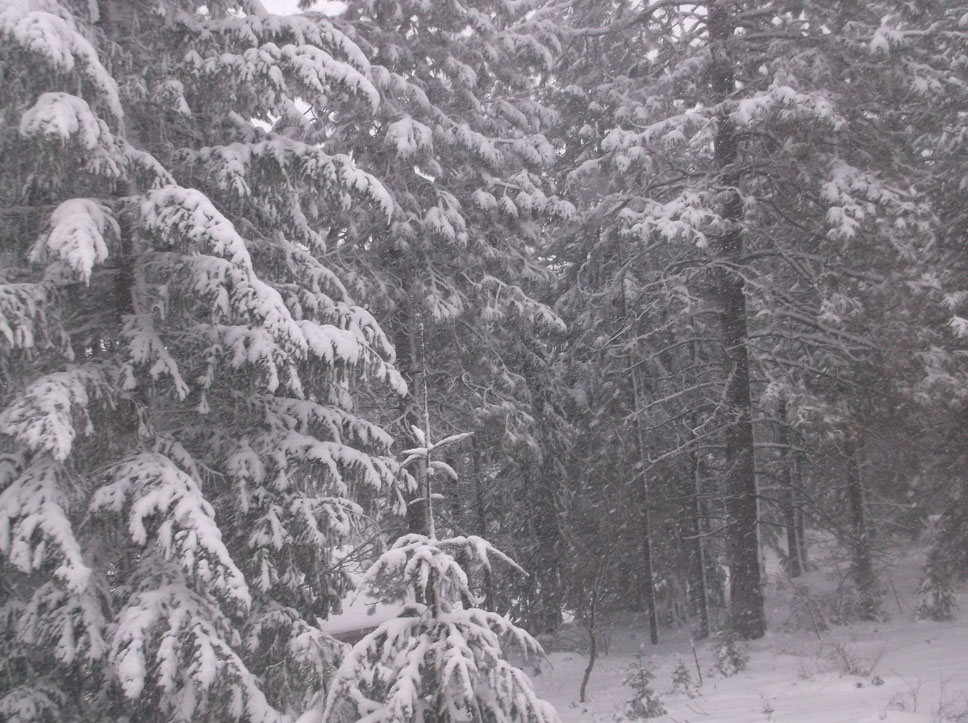 Nice.
~~~
Monday night, Solstice Eve, was interesting.
Everything was going well … until I put the rice bag in the microwave to heat.  Evidently the fridge and the water pump came on at the same time and the reserve power in the battery bank was challenged.  Instant blackout.
The system has a reset feature, so we decided to just wait rather than suit up and go out to the pump house to do a manual reset.  Besides, it was bedtime.
Next thing I knew it was after 0100 and the power was still off. That raised thoughts of a snow plug in the hydro system or some other catastrophe and I began to worry about the pressures on George.
However, knowing there was nothing to be done until it got light, I was able to go back to sleep. When I awoke again it was 0500 and the power was on … lights, radio, everything. 
George had gotten up at his usual 0400, started the day's fire, and went out to see what was going on.  The failure was the automatic reset, not the hydro system. 
All is well … batteries up to normal charge, hydro output normal, NPR coming in as clear as usual.
Conclusion … no more reliance on the automatic system until warmer weather facilitates repair.  We're still in better shape than neighbors on the grid.  They've had a series of outages over the last couple of weeks lasting as much as eight hours at a time.  We slept through ours.
~~~
One nice thing about this time of year is the memories. Remember Christmases on the radio (radio? what's that?) …
~~~
Climate change has been making weird with things around here.  So far we haven't seen any invasion, but bears have taken out chickens to the east (Dogwood Drive), north (Ponderosa Drive), and northwest (Rocky Road) of us and three cougars were seen to the northwest (also Rocky Road). Bears have also been tracked onto porches (Dogwood Drive and Maple Drive).  No housing break-ins however.
Bears should be hibernating and cougars should be higher on the mountainside mating.
Our hens are very old for layers so if something takes them it will be no big loss.  I'm toying with the idea of getting one of those metal storage units and turning it into a winter hen house … add doors, light sources, and insulation.
~~~
Here's a Christmas story to warm all hearts …
A pair of young friends are going through a REALLY tough time right now.  Friends and family are rallying around so things are mostly under control.
One of their friends knew of a new sandwich shop in their area which was run by a young couple who were naming their sandwiches after known folks.  The friend approached them and asked them to create a sandwich named after my ill young friend  and donate half the cost of the sandwich to his medical fund (I apologize if this is a bit confusing but I don't have permission to use names). The sandwich folks agreed and the friend put out the word.
Then the miracle occurred.
Folks started ordering the sandwich at such a rate the sandwich shop began running out of supplies.  They are a very small walk-in (made of two portable storage units) and they had folks lined up down the block.  In a few days they had to post a request that orders of 10 or more sandwiches be made 24 hours in advance. 
Real financial help for my friend and advertising they couldn't buy for the sandwich shop.
An "admiration" of heroes creating ripples.
~~~
Only one more sunday until season 6 of Downton Abbey.
~~~
'twas the night before …
https://www.youtube.com/watch?v=I5IXlfJSEi4
 In spite of the commercialism, if you celebrate Christmas … May this be one of the best you will ever have.
.. and here's a memory from years ago.  Michael did the sketch and Mark wrote the poem.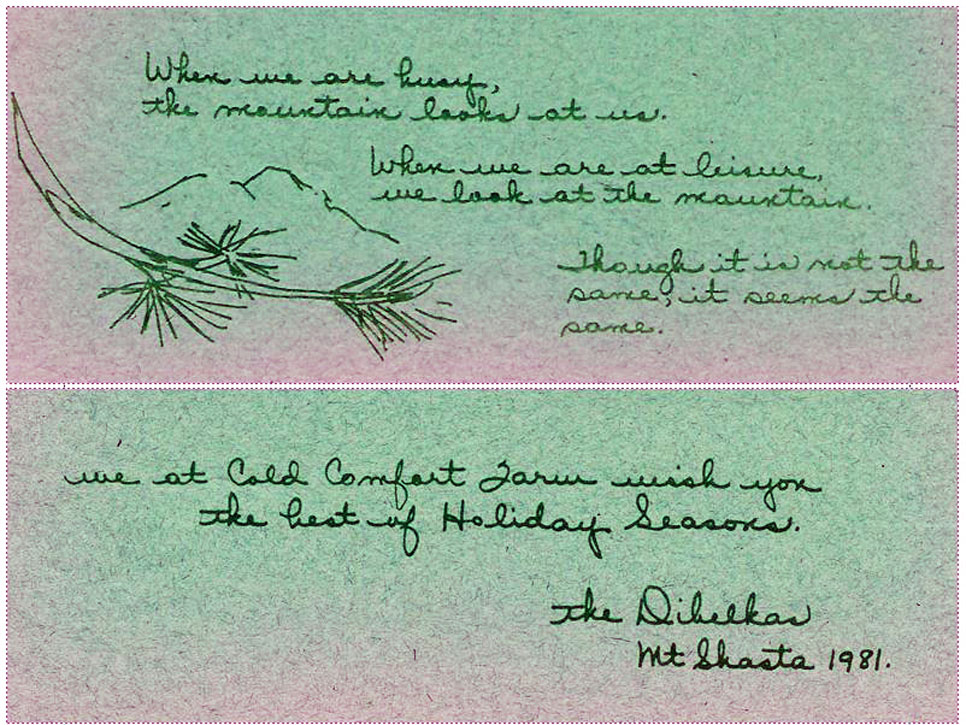 'Til next week …