2 December …
Thanksgiving Eve was a full moon and the moon on the breast of the new fallen snow …
Thanksgiving was cold and beautiful.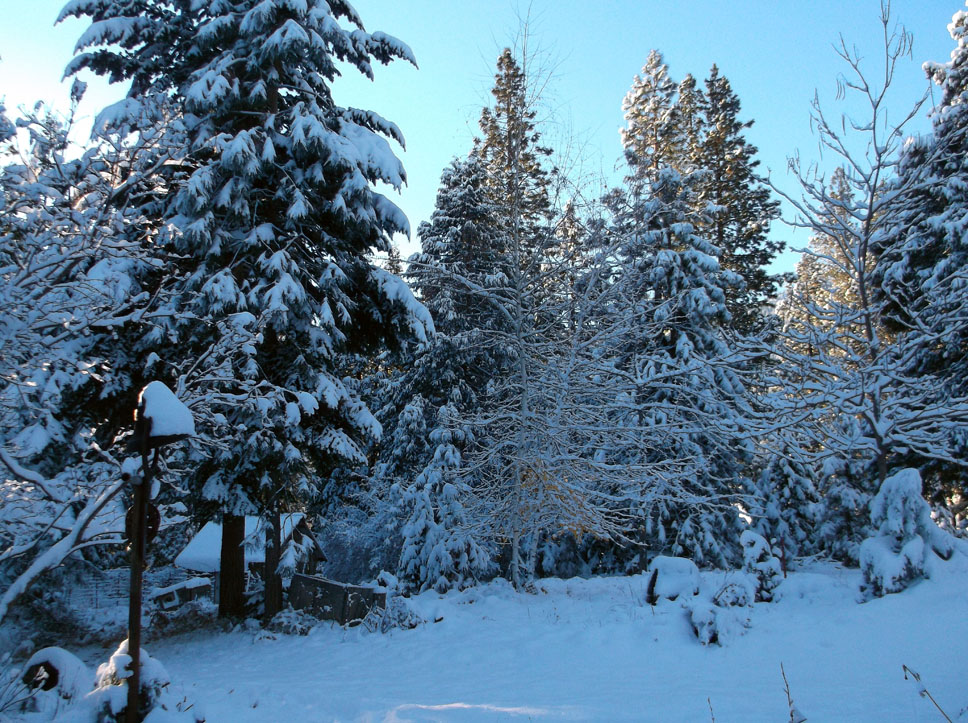 ~~~
Last night we had rather heavy rain for most of the night … but there is still a bit of snow …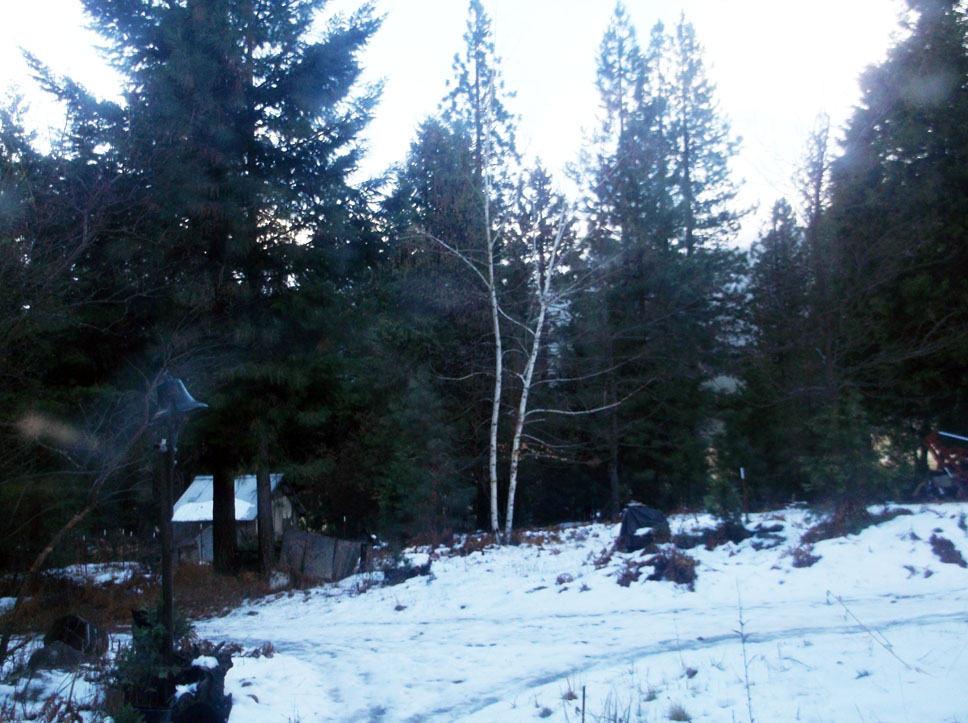 ~~~
I had not wanted to go out on Black Friday, but I had a couple of things which needed to go into the mail … so out I went.
I was glad I did.
Everything had been touched by magick.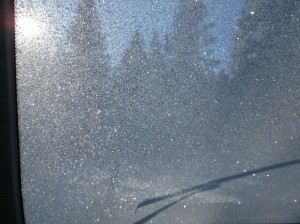 The ice sparkles on the windshield before I scraped it were beautiful.  
The meadow was full of diamonds.
I had my camera with me, but it is not top-of-the-line and wasn't able to capture what I was seeing. 
The sparkles on the ground were every colour you can imagine.  When soft snow globs fell from the tree limbs, they became glitter clouds.  The snow on top of the pick-up cab became sparkles I could see in the rear view mirror as it blew off.  
And for the first time in many years, there were vehicles parked at the top of driveways where they met the paved road … prepared for additional snow so they could get out easily.
Our road(s) were okay.  The only possible problem was on what we call the K-Bar hill (I've mentioned it before).  It is a pretty good slope and, although it had been plowed, it was icy going down.  I put the truck into 4-wheel low coming home so I was safe all the way.
The trip was a joy.  There's a section of road on the way to Cold Comfort which pleasures me every trip.  Friday it was … choose your own adjective.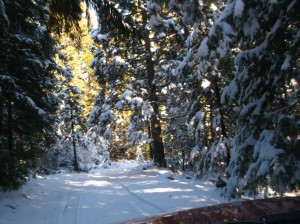 On the way out …
and on the way back in …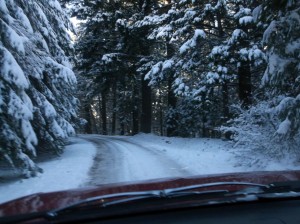 And the view of the Mountain from College Avenue was lovely …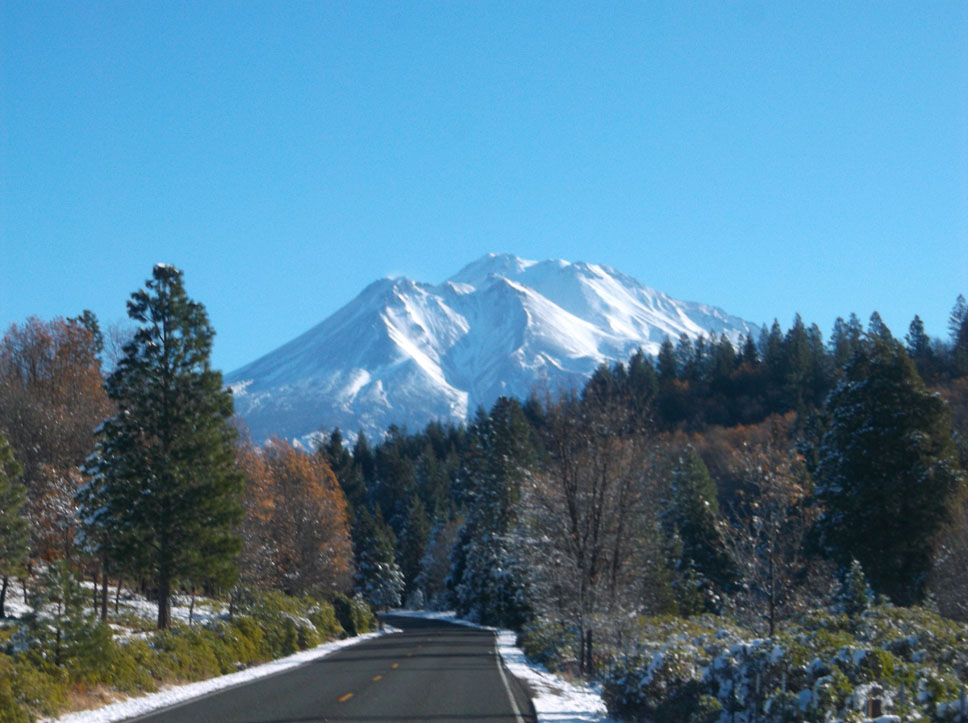 ~~~
While I was out last week, I checked the weekly grocery ads and was impressed by all the things on sale which I am able to make for us without chemical preservatives …dinner rolls, gravy from a mix, pie crust, mash potatoes, cranberry sauce.  I realize I have the time that a lot of others don't.  But it makes me happy to work from "scratch"… especially when the cardiologist tells George his diet must be pretty darn good.
~~~
It has been a while since I mentioned the earthquakes along the faults between the Gulf of California and the Salton Sea area.  There haven't been any big ones along there lately, but every day there are swarms of small ones.
In fact, the entire southern part of California is quietly rocking and rolling.
I wonder if that means anything?
~~~
I am still thinking on the morbid subject of grave markers.  I posted my bit last week and did get a response.  It was interesting that there has been only one response and that was about my choice, not about what they would choose.
I guess I'd better let it go … but as a genealogist, I find it quite interesting.
~~~
Tomorrow is a session at the Family History Center … this time with a "Sister".
I have started doing some research for a neighbor which is turning into a fun !!! challenge.  There are Hispanic names and German names and Chinese names and Jewish names and … and … who knows what I'll find.  Being at the FHC tomorrow will be good, if the traffic is light, because I'll be able to use the international data bases.
~~~
Just a touch of nepotism …  http://www.oldcountrydeli.biz/
Try it! You'll like it !!
~~~
One last thought about Thanksgiving …

So, 'til next week …
Books are your ticket to anywhere you want to go …