7 March …
Another week …
The next round of this winter's snow began a little after 0900 last Wednesday … very light snow … but by thursday morning we had a full six inches here at Cold Comfort. 
It was deeper both to the south and the north and the local schools were closed.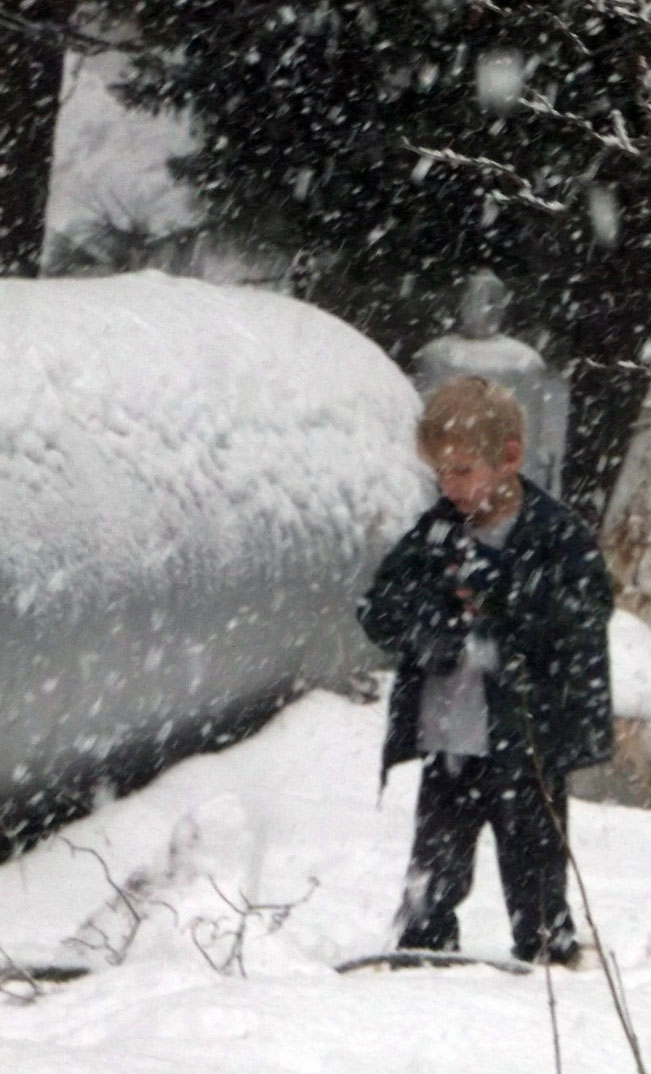 Because it was a heavy, wet snow the plows were having trouble moving it.
By Friday morning we'd had another four to eight inches, but it was light and fluffy so the roads weren't a problem.  My home job was to keep the front walk and the area between the back door and the wood shed passable, and to tend the fire.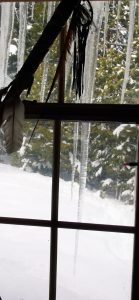 Sunday morning there were icicles more than a yard long hanging off the roof on the north side of the house.
~~~
The water heater situation has been resolved as has the tractor concern … with the exception of lights. 
Mark made a trip to Medford and got all he needed to get the tractor in working condition so he would be able to clear the drive and road of snow.
George had been able to wait until after morning light, but Mark has to plow in the very early morning.  Trying to drive, hold a flashlight, and plow correctly is a challenge, so getting running lights on the tractor is a high-priority project for next summer. 
~~~
I have joined a grief therapy group.  It was to hold its first meeting last Thursday.  Snow day.  So the sessions have been set back a week.  First meeting will be tomorrow.
I am not handling this part of my life as well as I would like.
~~~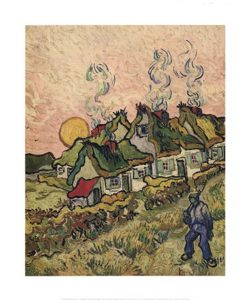 The Van Gogh for this month caught my eye because it seems to have been done during the very early stage of his later "seeing" which incorporated air movement as part of perception.  This was painted in 1890 and the lines are beginning to move.  Not as much as in the night picture we all know, but some movement.  What do you think? 
It is titled "Houses and Figure".  
~~~
I failed to report the adventure Paul and I had a week ago.  A typical Dibelka adventure.
Paul was supposed to come home on the bus and his Mom was to meet him at the stop and bring him the rest of the way.
About a quarter past three, I was curious to see where Kamille was and came up to check her APRS on the computer.  Instead, there was an email from her saying she had been asked to work late so would I please go get Paul.
The bus is due at Paul's stop some time between 1535 and 1550.  It normally takes me between twenty-five and thirty minutes to get to the stop in clear weather.  There was snow on the dirt roads and it had been a long time since I drove in snow (George and I usually just holed up when there was snow on the roads).  I did my best (praying all the way that I wouldn't have any trouble driving and that the bus would be a bit late).
I arrived at the stop at 1540 realizing that, if the bus had been there, I had no idea of the route it would take back to the school so trying to intercept it would not be possible.  I decided to wait until 1600 before I panicked.
The bus arrived at 1553 and I heaved a sigh of relief.
Paul and I got buckled in and settled and I turned the ignition … NOTHING!
No electricity into the truck at all.  No way to start the truck.  No way to radio Mark or Kamille, or to hear them if they tried to call me. 
Many, many cars went past without slowing at all. 
So Paul and I sat.  We read (which is part of his kindergarten homework).  We drew and coloured.  We told each other stories.  We tried to think of words which begin with the letter X (try it).
Finally, after nearly an hour and a half, someone stopped.  It was a longtime friend who lives on Hammond Ranch.  But he didn't have any jumper cables with him.
Kamille wasn't off work yet.  Mark had not gotten home from work yet … so neither of them was aware that Paul and I were missing.
My friend called a mutual friend to see if he had jumper cables.  He did (I thought George had a set in the truck, but I couldn't find them) and then the first friend left us to go to the mutual friend's house to get the cables.
When he got back to us, he hooked the cables up, discovered the clamp on the battery's positive pole was loose, attached the cables (which tightened the clamp), and told me to start the truck.  It started right off.
I was told to tell Mark about the loose connection and sent on my way home.
We arrived home without further incident. 
Mark had just gotten home.  Kamille was on her way home.  I told Mark about the connection and set to work preparing dinner while Paul explained his homework.
Did I forget to tell you the temperature was hovering around freezing?
A typical Dibelka adventure.
~~~
 And here's the thought for this week …
I was asked "Why do you always take the hard road?"
I replied "Why do you assume I see more than one road?"
So … 'til next week …