4 October …
 My chosen sister's daughter and her family were in California for the High Holy Days (they are stationed in Lima, Peru with the diplomatic corps) and plan to drop by to see us on their trek between LA and Portland.
They are due here early this afternoon.  Report next week.
~~~
The final radio event for the season was last Saturday.  It is a running event featuring 10k, 30k, and 50k courses through the wild back areas of southern Siskiyou county.  We had stations at three hard-to-reach sites (that means you had to have good 4×4 trucks and know how to drive narrow, rutted roads). One area looks like this …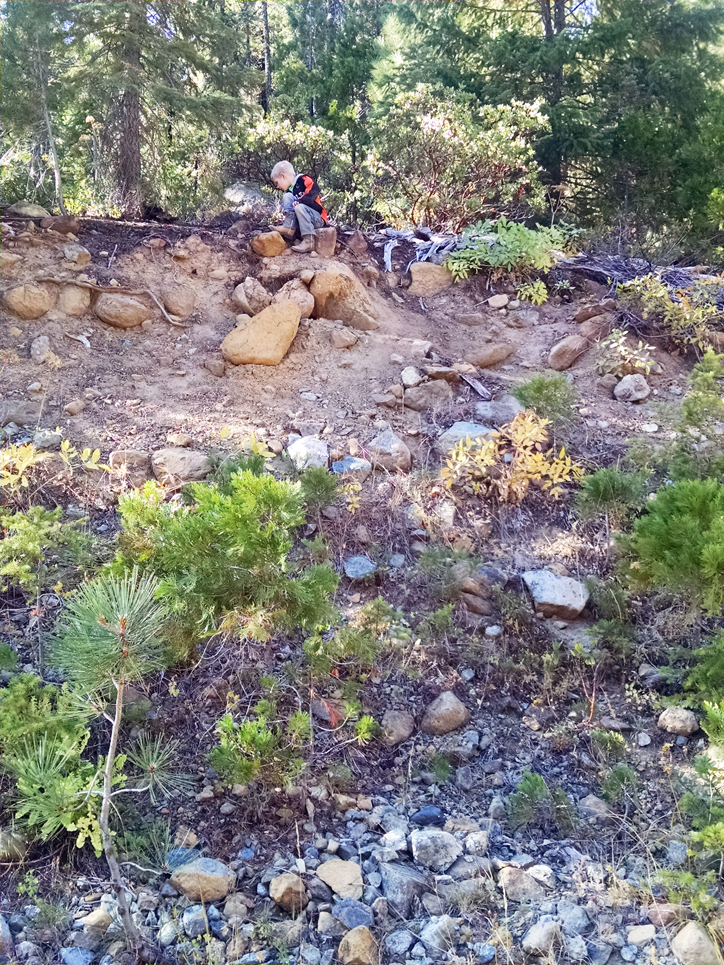 and this …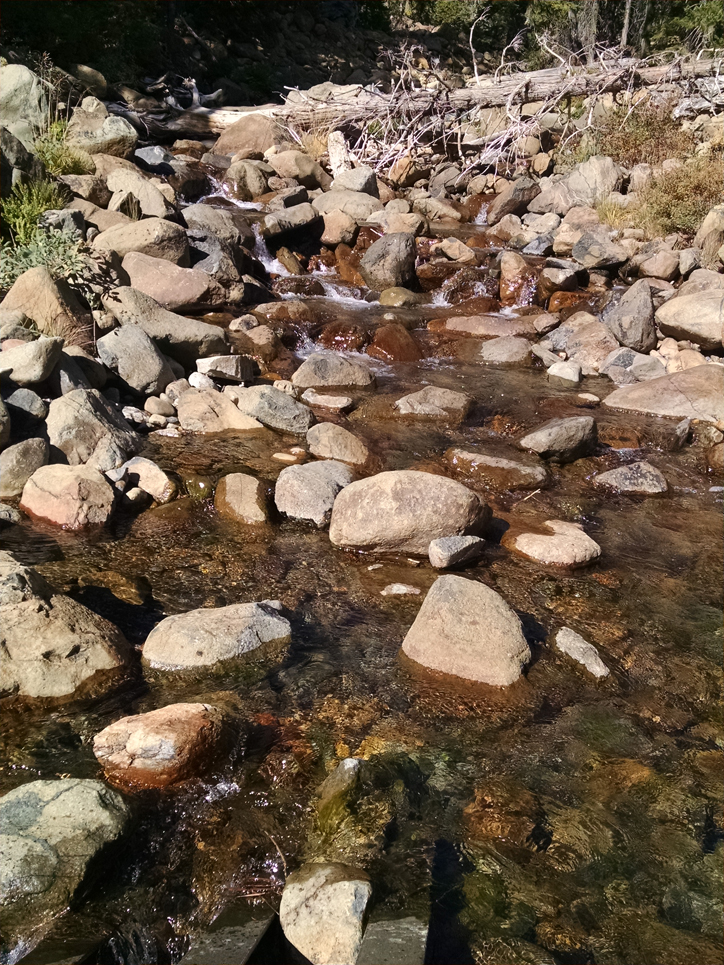 George and I are the "elders" so we got to do net control at the start/finish line.
Last year the weather had been chilly so we dressed for it.  I had on a shirt, a sweatshirt, a jacket, and my communicator vest.  I stayed pretty warm except for my legs.  But George was a layer short and the chilly wind got to him.
There were about 150 participants overall, and because they are running in rough territory, we have to keep a pretty close check on them.  We had some interesting things happen. 
Two runners in the 50k decided they weren't up to the long run and so were switching to the 30k.  We changed their numbers from one tracking sheet to the other.  Then they must have gotten a second wind and decided to switch back to the 50k, but didn't tell anyone and for a time we had no idea where they were.
A young woman decided to run even though she had badly strained her knee two weeks ago.  She made the first 13 miles and then had to sit with ice on her knee until the station closed and she could hitch a ride back in a volunteer vehicle (the course is so bad and narrow in places only runners or bicycles can navigate).  Turns out her folks are the ones who run the ambulance service.
Campers with trash and a campfire were seen in a closed, fire-not-allowed area and we teamed with the USFS providing lat and long location.
Two runners got lost but made it back onto the course without help.
The lasagna served was excellent, but it was not gluten free so Kamille had to do without as did Michael who has been put on a carbfree diet by the cardiologist.  There was lots of crisp green salad with a dressing concocted by the caterer which was a basic creamy with basil and just a touch of wasabi.  No garlic bread this year and I had to skip the beer because I was driving.
But by the end of the day everyone who had started had crossed the finish line.  We did our usual competent job and have been asked to do it again next year.
That is the end of the radio events for 2017.  Next one?  Spring Equinox 2018.
~~~
I am still having a bit of trouble with my throat.  My vocal range and decibel level is inconsistent.  I range from silent mouthing to almost normal with no way to tell before I open my mouth what will come out.
My baritone is very reminiscent of the femme fatales of the 40s and 50s … Marlene, Lauren, Lizabeth, Veronica …
Oh well …
~~~
Our forest is mostly evergreen so the colour display is not as vivid as those in the upper midwest and the northeast.  However, we do have enough of a variety of deciduous trees to make a trip down the road a pleasure.  It is sort of like the winter holiday season when some houses are lit with decorations.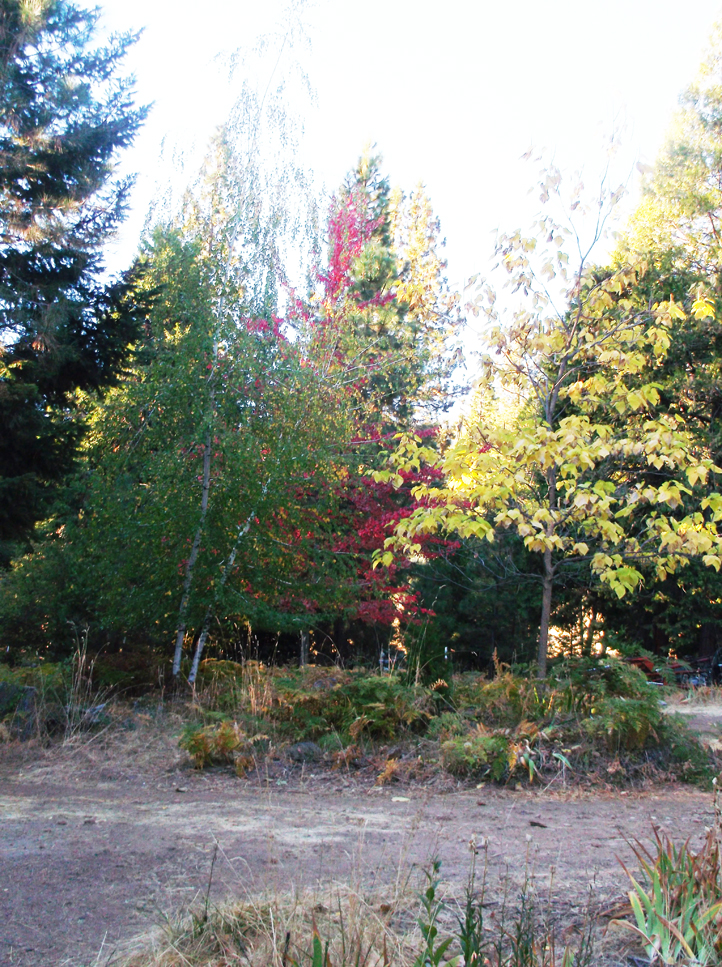 The maple in front of the house is vivid red,  The catalpa is sparkling yellow.  The birches are a mix of deep green and neon yellow. 
Out back the smoke tree is whispy greybrown.  The dogwoods are varied between soft green and bright red.  The oaks are just beginning to turn, and the roadside bushes are full of colour.
A really nice time of year.
~~~
Speaking of colours … I am three days into Spinzilla with a collection of vivid colours …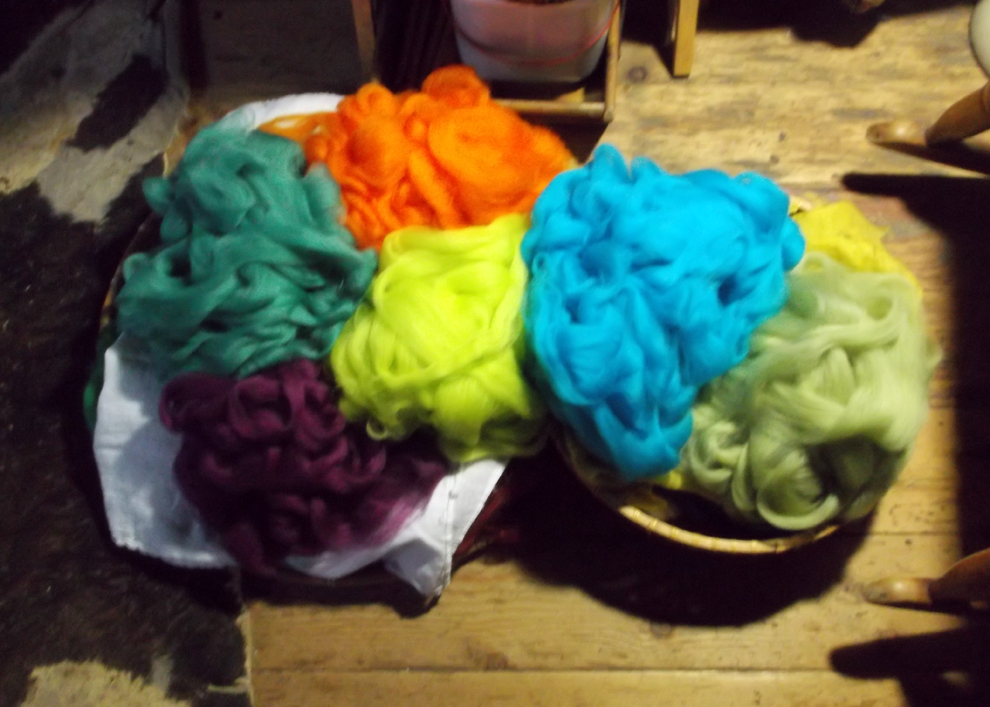 all drafted and ready to go. 
What with family rearranging and visitors, I don't expect to do as well as I have in the past. 
Oh well …
~~~
And a piece of advice from a friend …
If you cannot find a good companion with whom to walk, walk alone.
'Til next week …