13 September …
The skies opened up last Thursday about noon.  It was a bit of a gully washer.  But all the thunder was to the northwest and we didn't see any lightning.
The land was grateful, as were we.
The rain cleared the air of smoke for a few hours but the pall, in varying degrees, was back before long. 
It finally got to me on Friday.  My eyes were watering and my nose running almost non-stop.  I remember my Nana, when she was 100, sitting as she read her Bible with Kleenex plugs in her nostrils.  At the time I thought it was pretty gross. 
These last few days I've begun to think it might not be a bad idea.
The inner corner of my right eye is sore from being dabbed and my nostrils are nearly raw from blowing.  Oh well …
~~~
Tyler and Tiffany left today to go back to New York.  It will be nice next year when they are in far western Nebraska where they will be only eighteen hours away.
The weather was not-the-best while they were here but we did see clear blue sky at least three times.
The two of them made a trip to the Sundial Bridge and Tyler brought me a river rock full of sparkles.  I guess collecting stones is a family trait.
Tiffany and I talked fibers and spinning.  She took some of my homespun with her.  What she does with it will be interesting.
And one day Mark and Tyler walked the property perimeter assessing what has to be done so bummer calves can be put to pasture in spring and the family can once again raise our own beef.
~~~
Last Saturday we (Tyler, Tiffany, Paul, George and I) went into downtown Mt Shasta and gave away lollipops ( Mark and Kamille were doing a walk in Redding to raise funds for depression awareness).    
Last week I had written this to the local newspaper …
On Saturday the 9th of September I will be in Mt Shasta at the Plaza on the corner of Lake and Mt Shasta Blvd beginning at 10 o'clock to celebrate my 87th birthday.
If you remember me (or not) and want to wish me a Happy Birthday, I will be sharing gifts with the first 87 of you who show up.
I hope to see you there.              Wilma Dibelka
Mark told me one of his Lodge brothers, who had been a Siskiyou County Supervisor, told him he had seen the letter and planned to come by.
Kamille's third grade class asked if anyone could come, even a father who was a cop.  However, none of them showed up.  The parents must have been distrustful.
One person asked "Why such a weird number?"  (Guess they didn't read the letter.)
We had four kinds of lollipops … chocolate, vanilla, butterscotch, and latte.  We made sure only adults got the latte.
I woke up that morning thinking "What if no one comes?"
But they did come.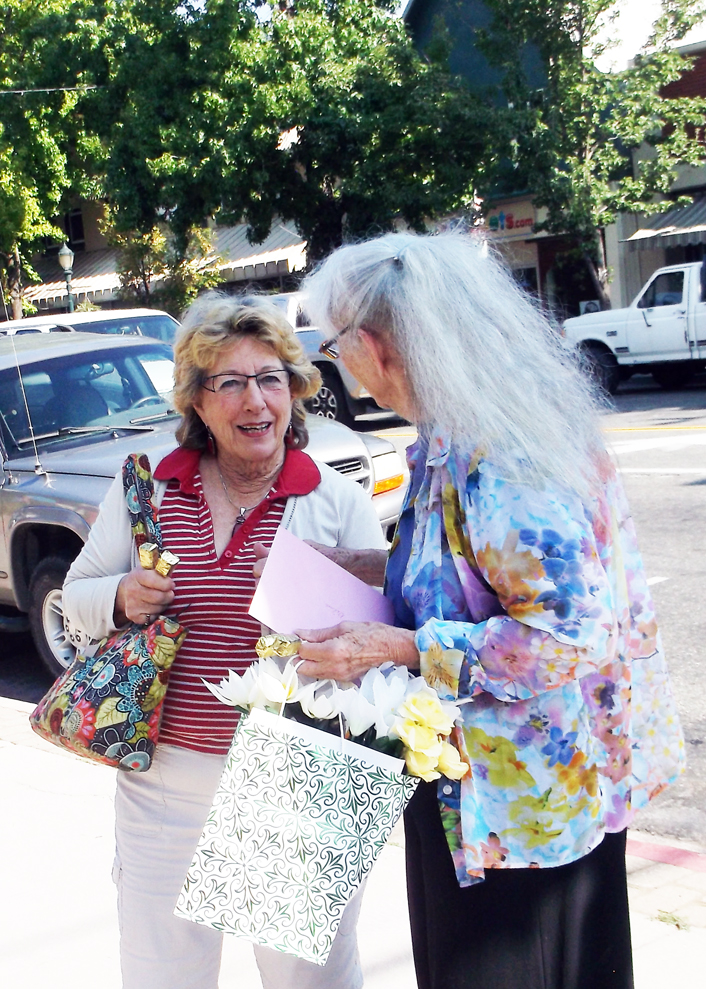 One was a longtime friend who brought a card and an invitation for an afternoon together.
Some were strangers.
We gave lollipops to approximately 77 people.  We had aimed for 87 but I had to retire after only an hour and forty-five minutes due to the heat and smoke. 
Oh well …
Tyler suggested I put the remainder in my purse (two or three at a time) and pass them out as the occasion arises, maybe with an explanation.  Sounds like a good idea.  The first two are ready in my purse.
Four or five people declined to take the lollipop saying they don't or can't do sugars, and two ladies did the city thing of refusing eye contact and hurrying past as rapidly as they could.  Too bad for them.  We were giving away See's lollipops … the best available. 
We gave each person two lollipops telling them one was for them and the other was to give away to someone else. Sort of a "pay-it-forward" deal.  A spoonful of sugar makes a lesson go down.
One young woman (the one who sang a birthday song for me) came back to tell me she gave her extra lollipop to the clerk in the music store who seemed depressed when she went in.  She says he was smiling when she left.
A man came up calling me "Darling".  He said as he drove by he'd partially read the sign the kids were holding (telling it was a birthday celebration etc.), went until he found a parking place, and came back to get in on the celebration.
A group of four high school boys who were making a documentary film as a senior project accepted the lollipops and then interviewed me for their film.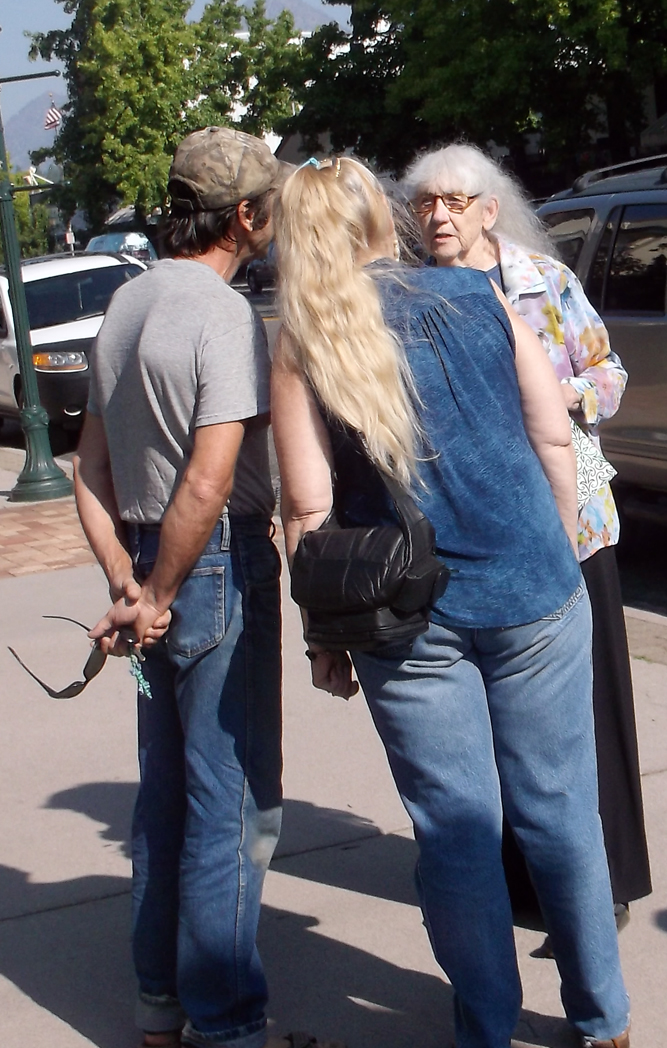 Several people from the past showed up with items like birthday cards, stories about me caring for them in the Emergency Department, other memory gifts,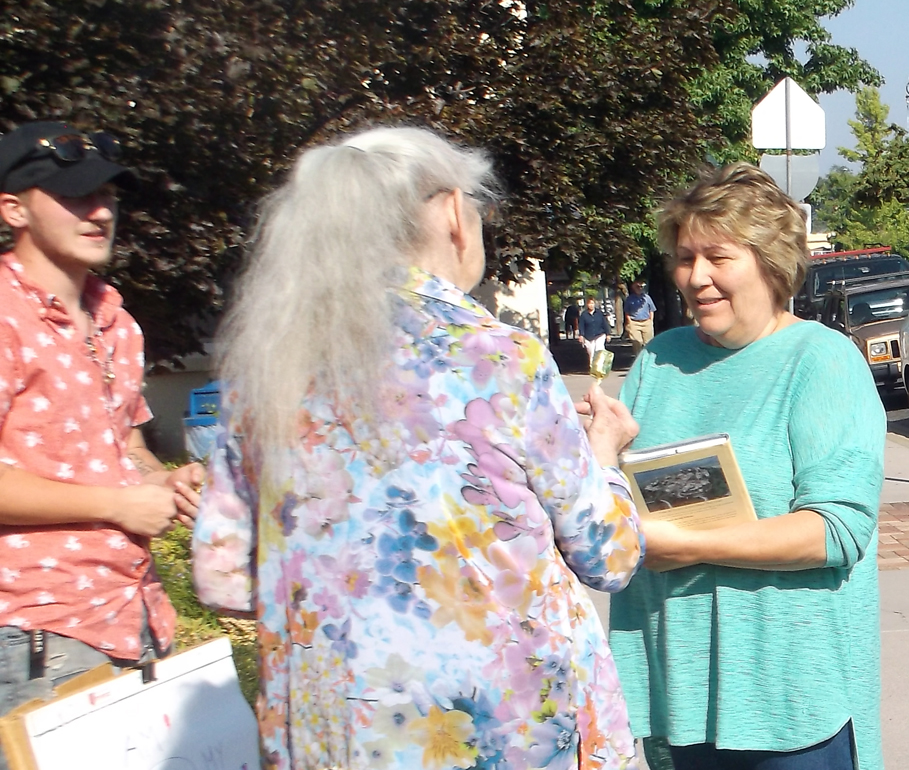 and an attorney friend returned a book that had been borrowed almost twenty years ago. 
Two (one who arrived on a bicycle with a card for me) said it was a great idea and they want to do something like it for their birthdays.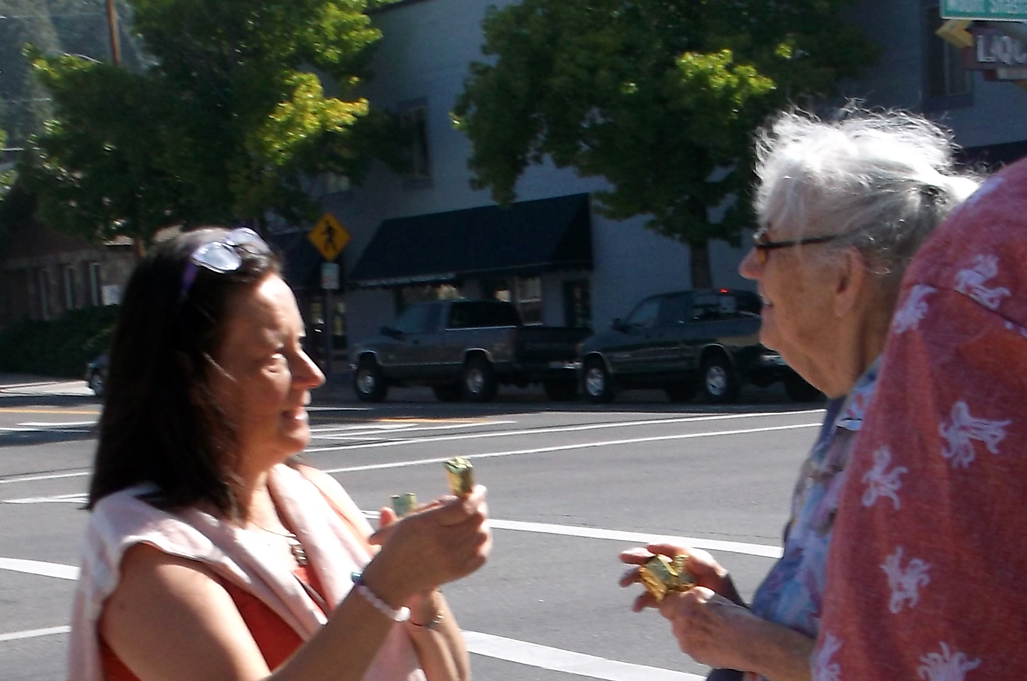 One lady laughed and said she was surprised she had come all the way from France just to receive my lollipop and give me a hug.
A couple of GREAT gifts were people who came to tell me how an interaction in the past had changed their lives.  That is a gift you think about but don't often receive. One was a nurse who had been a patient of mine and the other was a retired Chief of Police.  Knowing you made a difference can make a difference.
And I collected hugs as well …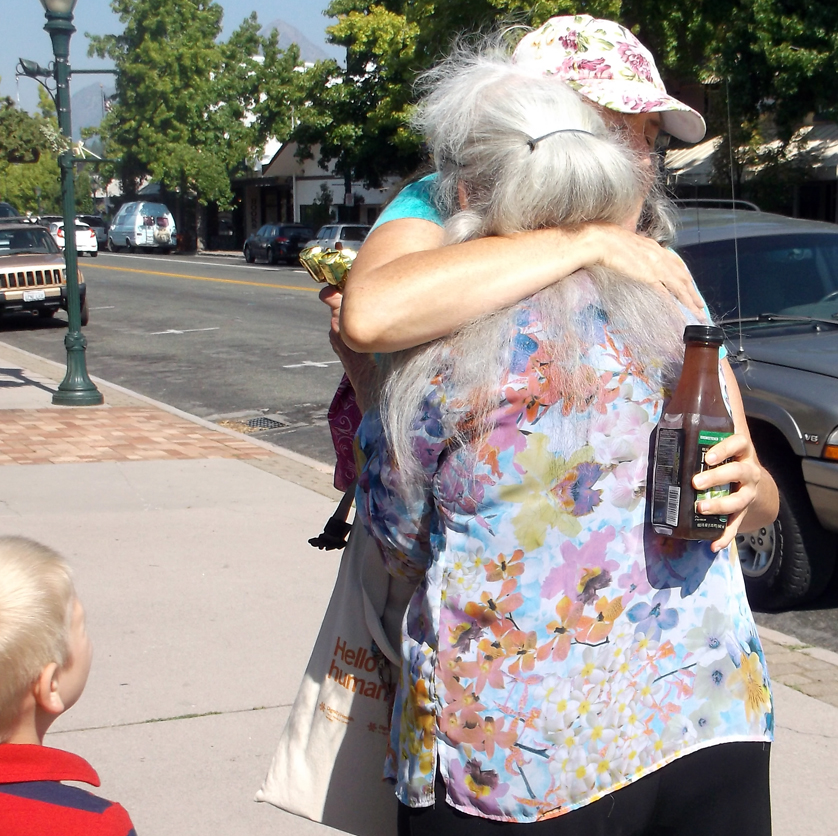 from complete strangers …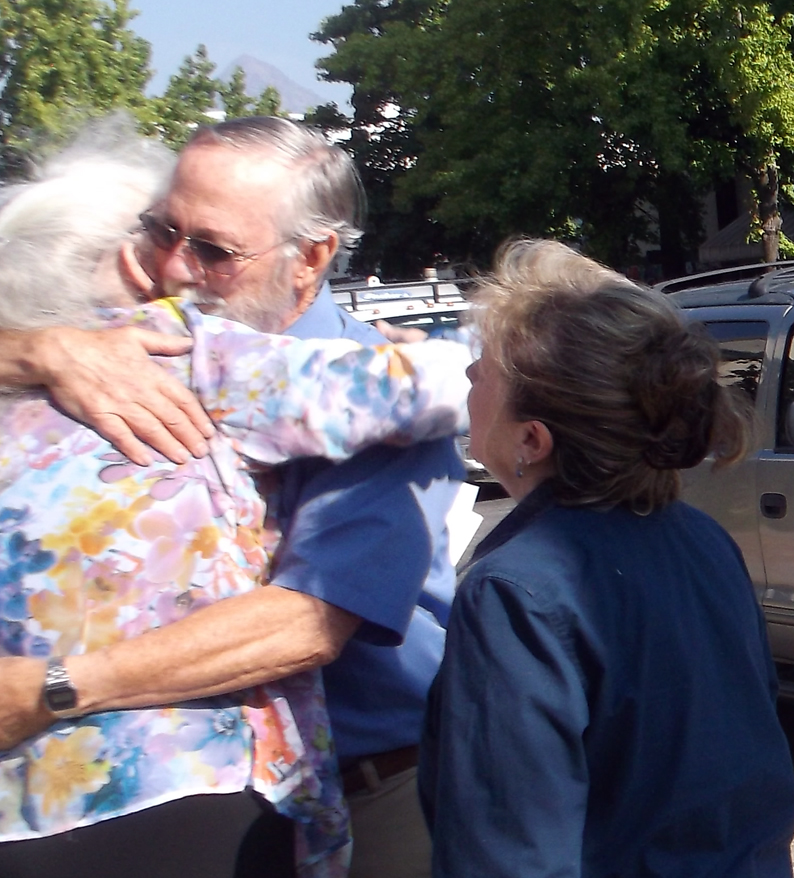 and from people with whom I worked and have called "friend" for years.
The smoke was moderate, but the event went off fine.
Now I am in the position of wondering what I can do next time to at least equal this. 
Such fun.
~~~
Saturday evening was family movie night and Tyler had asked to watch "Chicago".  There were no objections so we did … and the evening proceeded with a lot of singalong.  We even watched the credits roll all the way through because the music is so good.
That movie is good fun.  Each musical number is my favorite until the next one begins. Still, I wish I could have seen Gwen Verdon and Chita Rivera do it …
https://www.youtube.com/watch?v=g9_fi5ZmqyU
or Bebe Neuwirth and Ann Reinking … 
https://www.youtube.com/watch?v=A4LZlWGK0nE
~~~
Paul is making headway with one of the kindergarten requirements.  Every day until last Thursday he got off the bus with both shoelaces flapping.  Thursday only one was flapping.  The other was tied … in an interesting way … but tied.
Maybe by the end of the month he will have the "make-a-bunny-ear-now-push-the-other-lace-through-to-make-another-bunny-ear-now-pull" down pat.
Aaaahhhhhhh … challenges.
~~~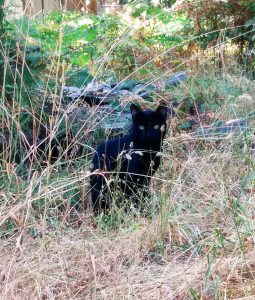 To end the week, here is a picture of AC taken by Tiffany.  I can't get a good picture of him because when he sees me, he comes running and huddles around my feet;
and a reminder …
Don't throw up your hands and say all is hopeless. If we start small and treat each individual better, then eventually we will build a society and a world of love and peace.
So … 'til next week …