9 August …
The heat finally broke last weekend.  In fact, Sunday morning I had to pull up the comforter.  It had dropped to 60°.  Isn't it interesting how 60° feels cool now, but feels warm come December.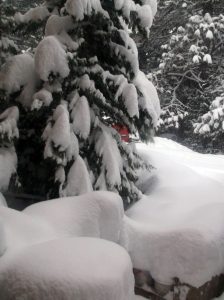 This picture is just to remind me …
We plan on going to the county fair next friday.  I hope it stays cooler.
~~~
This past weekend was the radio club's one-night fund raiser … a security watch at the State of Jefferson Brewfest down in Dunsmuir.  George and Mark did the final shift from 0400 to 0800 sunday morning.
Evidently it was a quiet night since there were no calls for the sheriff or an ambulance.  Only event was around 0230 when two drunks decided they wanted to get up on the stage and do a show.  They were talked out of the idea so there was no danger to them or to any of the equipment.
Next event will be the re-instated TinMan triathlon the first Sunday in September.  It's been two years since we did that one because it had been cancelled due to low water levels in Lake Siskiyou.  Hard to hold an event in which the first leg is swimming when there is no water.
Oh well …
~~~
Sometime ago both John and I saw articles about the re-discovery of an old style corn called "glass" corn (so named because the kernels are brilliant, translucent colours) and both wanted to try raising some.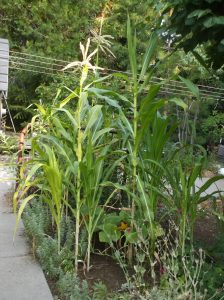 We planted a handful of seeds in the upper courtyard (along with a single pumpkin plant),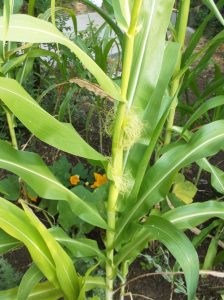 and now have a good stand with both tassels and silk showing. 
That is exciting.  Just two ears would be fantastic.  Even one would be a blessing.
Stay tuned.
~~~
In addition, the grapes are nearing jelly-making size.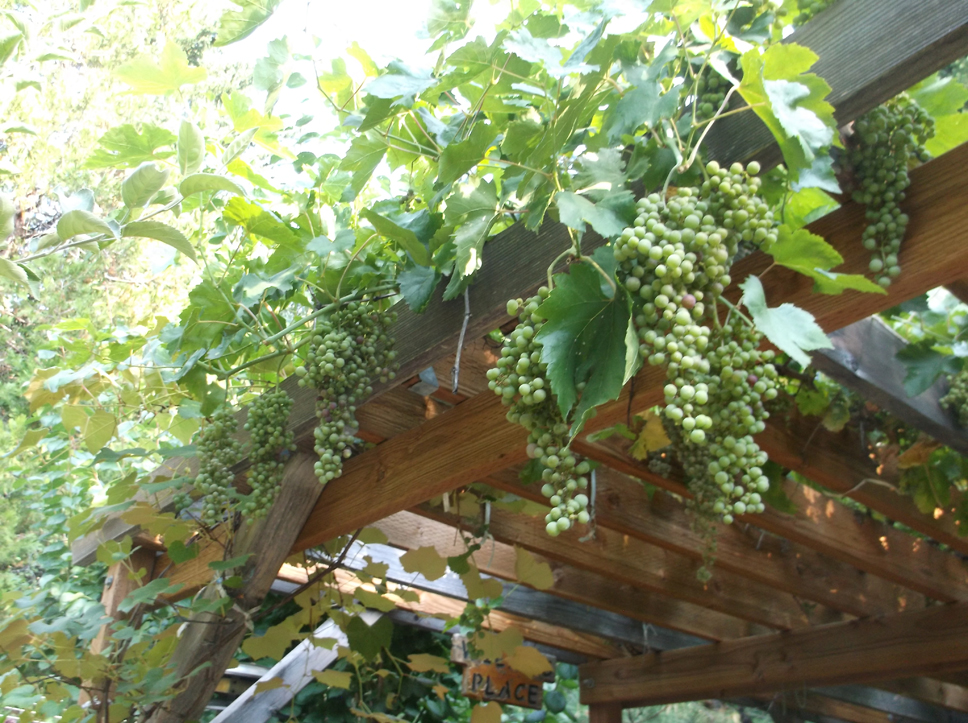 ~~~
Last Saturday Mark and Kamille rebuilt the boardwalk leading to the front door.  The boardwalk had been in place for nearly forty years and had rotted out in one place.
Watching them work was a trip down memory lane …  remembering when it was first put in.  It was done the same time we were putting the floor in the solarium.  In those days I could help with the building just as Kamille was doing last weekend.
Instead I cleared out a hoard of Tupperware I've had since the 50s.  Back in those days I was the expected housewife in a neat dress and apron (but without the string of pearls) keeping a Tupperware kitchen.  Over the years, as my family size and  kitchen changed, the Tupperware fell into disuse. 
So last saturday I cleaned (it had gotten dusty), sorted (some of it I will start using again), and got the remainder ready to go to the New2You shop in Mt Shasta.
There is another area to clear, but it can wait a few days.
~~~
We finally saw a fawn.  Usually, by this time of year we have seen several small ones.  This one still had its spots, but was almost big enough to be past nursing.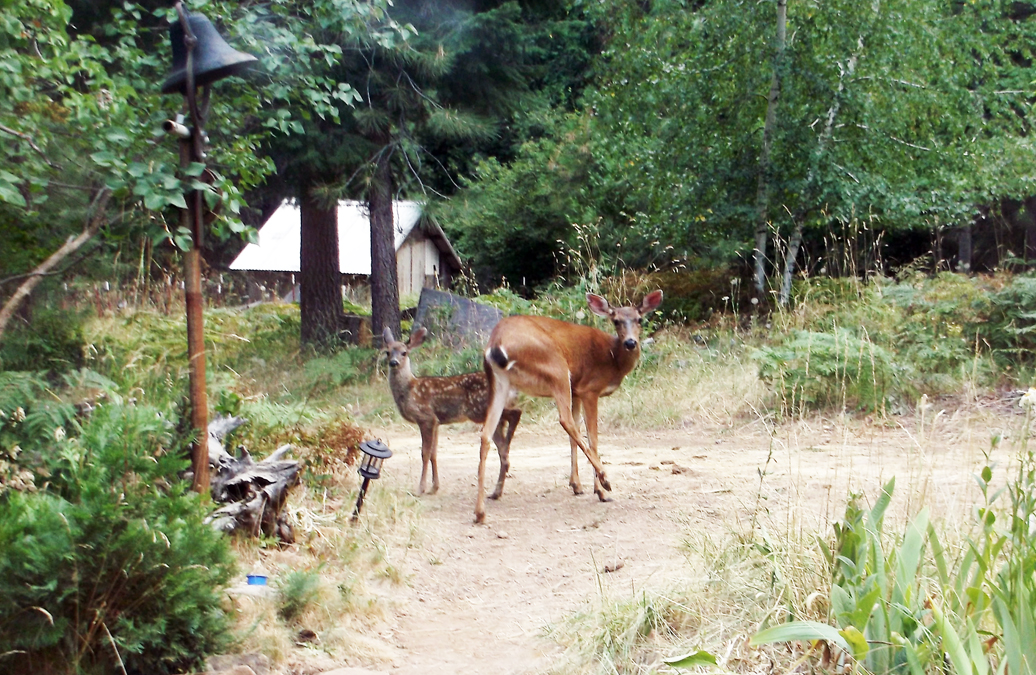 The nearest neighbors have a "puppy" which is rather rambunctious.  I think that may be the reason we are seeing fewer deer in the back yard this year.
Oh well …
~~~
Just remember (and remind me) …
Omni fine initium novum.
So … 'til next week …