2 August …
It has been a series of hot … Hotter … HOTTEST days of the year.  We have had a string of days over 100°.  This picture was taken at 1700 last Monday out John's office window in Dunsmuir.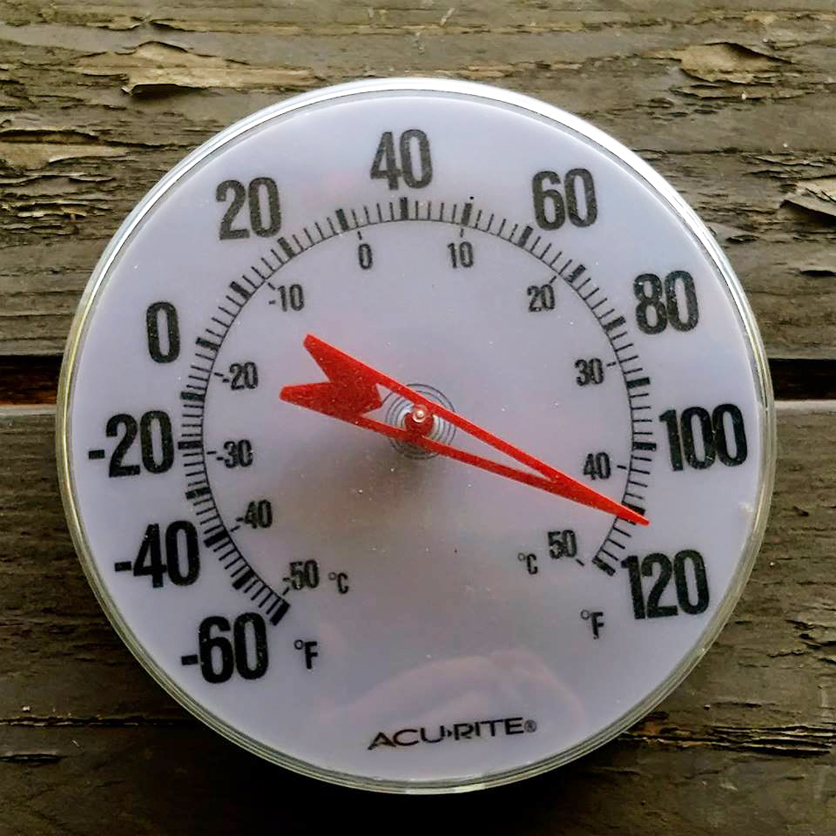 The garden is loving it.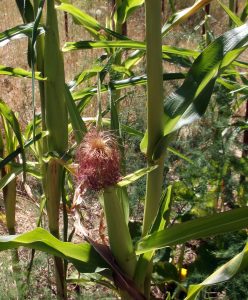 The ears on the corn are rounding out.  There is squash for breads and salads.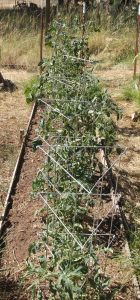 We've picked three tomatoes.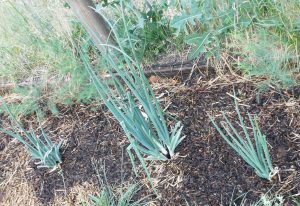 The red onions are doing well.
And last Monday we discovered the first cucumber.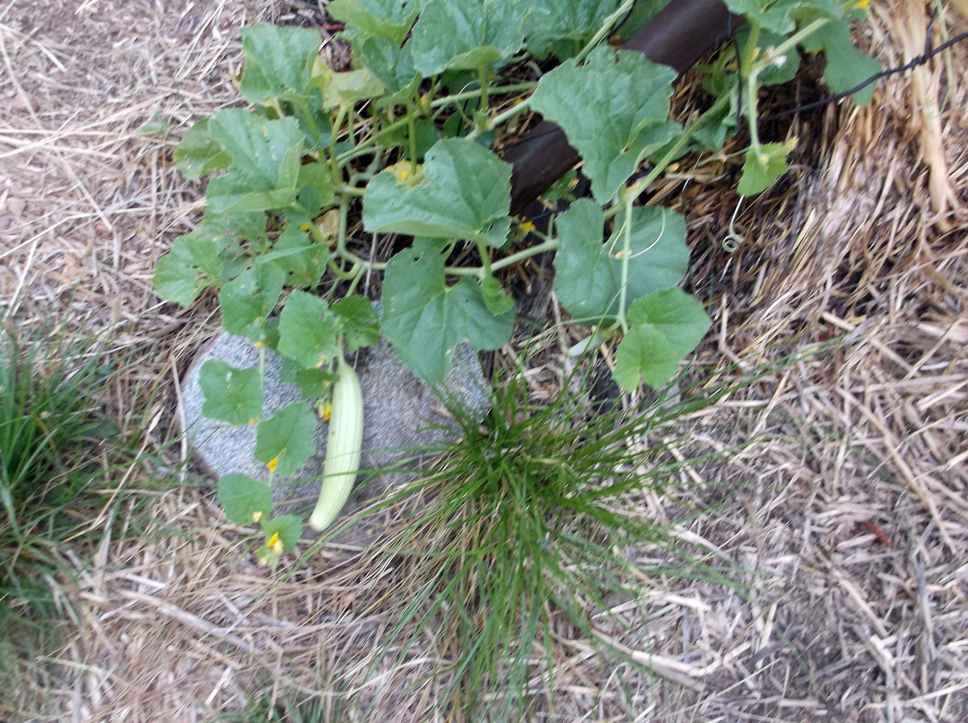 But these days get to me and I spend a lot of time in front of a fan. 
Oh well …
It has been so hot that if I fill a glass of water from the well, which is near 35° or at most 40°, and let it sit on the table so I can use it to take more supplements later … by the time I need it next it is warmer than body temperature. Haven't yet tried to fry an egg on a hot stone but there are plenty of available stones.
In a few months I'll probably be telling you of days close to freezing with snow depth measured in feet rather than inches.
Kvetch … Kvetch … Kvetch.
~~~
I will be having surgery (nothing dangerous, no emergency) later this season.  This is a heads up because I might miss a week or so with the blog.  If and when that happens, it will most likely be followed by lengthy tales of what happened when.
Be prepared.
~~~
In the face of all the heat, here's the cool reading woman for the month.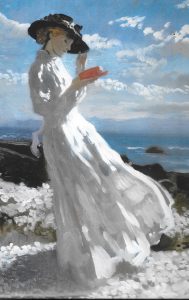 "Grace Iesend in Howth Bay", date unk, painted by Major Sir William Newenham Montague Orpen.
It is such a soft, lovely image, I wanted to know more about the painter.  I learned he is better known for his paintings of World War I.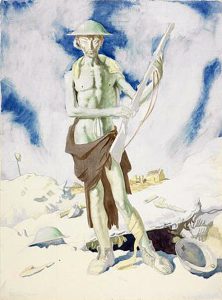 What a contrast.
~~~
I was in Yreka last Monday for the annual eye exam.  The cataract in my right eye is a bit worse.  The doctor wants to see me again in six months.  I'll bet he'll want me to have the surgery. 
I'll decide in six months.
~~~
I am feeling blessed that we have made it this far through the summer with only a small grass fire close.  There are a couple of large fires in this area (far northern California and southwest Oregon), but none very near.
Of course, there are still a couple of months to go in this year's fire season.  It is a concern, but not too great a one since we have the foam for the house, a fire-safe area mowed, and 5,000 gallons of water stored in readiness.
~~~
Last Sunday Mark and family went to Chico (he was filling in as pastor for a friend) and we were all impressed by Paul's clothing sense.  He was wearing blue tartan shorts, a yellow tartan shirt, and a red and black tie. 
He certainly can't be faulted for obsequence to fashion.
~~~
Today I was to go after the third load of horse manure but cancelled due to the heat.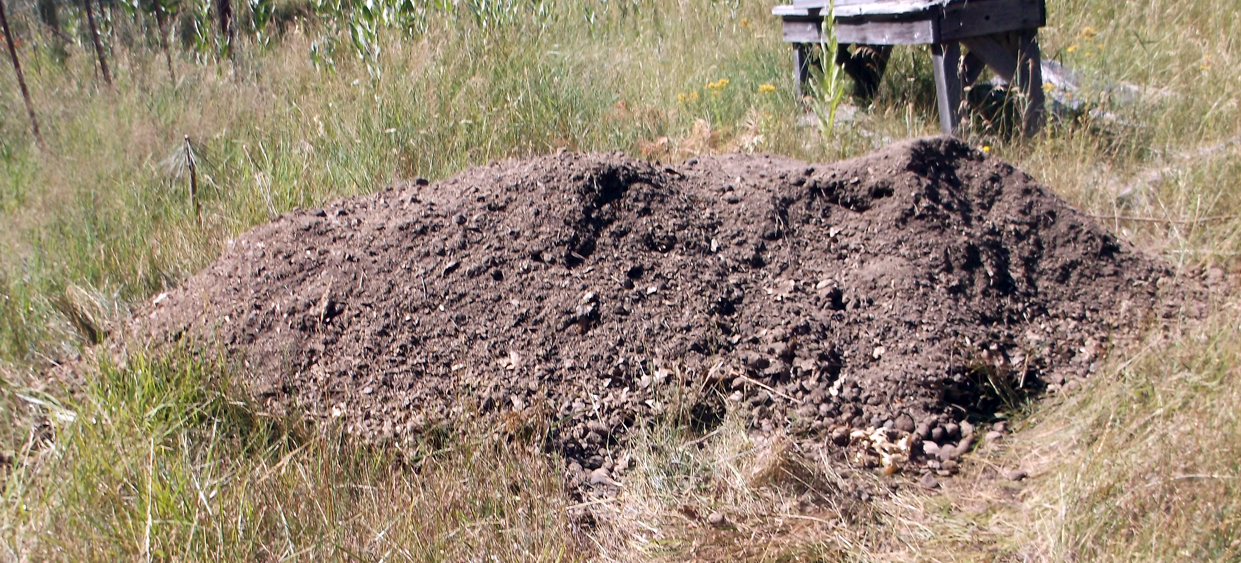 The two loads have made a nice pile so far and I will add more when the weather cools a bit. 
Eighty-seven years old and knee deep in —-.  Who'd a thought it …
~~~
Just a reminder that grief doesn't always require a death …
Fate will break your heart … and break your heart … and break your heart … over and over again until it stays open.
— Sufi proverb
So ..,. 'til next week …