22 March …

Well, here we are … finally in Spring.  It has been raining since last wednesday.
John was scheduled to be here last week to help with the tree pruning.  Didn't happen. Rain … so he will be here tomorrow.  A break in the rain pattern is predicted. 
We shall see.
~~~
During the last trip north, I was given a walkthrough of the WinCo in south Medford.  What a revelation.
When I was growing up, there were two kinds of grocery stores … the one in town and the one in the close neighborhood which was often a gas station, a farm supply, and a nosh spot as well.  Now there are the day-old, the surplus, and bulk, the gourmet, the organic, the farmers', the ethnic, the super, and the quick as well as the neighborhood and the town.
Making a shopping list is getting complicated … where do I go for the best deal on that item?, can I get that someplace easy or do I need to go to a specialty store?,  will that be at the farmers' market this week?, is the coupon price at the super market better than the regular price at the discount store?, are the savings worth the extra time and gas?,
Such a such.
~~~
Some time ago I wrote about how to turn a child into a reader.
A cousin told me her mother took her and her brothers to the city library every couple of weeks to peruse the children's section and choose something that interested them in order to encourage them to read on their own.
She also offered the following … Our grammar school had a summer reading program where you earned stickers for every book read over the summer.  The kids with the most stickers (1st, 2nd, and 3rd place) all got prizes of some sort.  And everyone who turned in a reading list signed by their parents got something, no matter how many/few books were on their list.  Parents could take this same concept and encourage reading that way.
Good ideas.  Our local library is quite small (I grew up with a Carnegie Library and a large school library, neither of which survive in today's world) and I'm not sure what the local library does for reading children.
Maybe I should check.
~~~
The wheel of the year is actually turning.  The advent of warm weather is palpable. in spite of rain.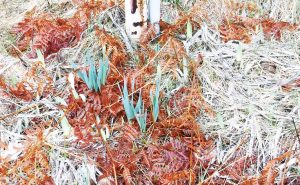 The first of the iris shoots are showing.
We no longer need to put the heated rice bags in the bed before we retire.  But we are not quite to the point where we can begin to shed comforters.
But with Spring comes the surprises.  As Years said …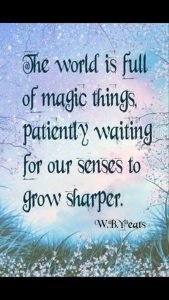 ~~~
And finally a thought from my grandson … 
And time slips away like ice cream melting off a spoon, leaving barely a trace behind as life seems to move on without you.
So … 'til next week …